One of the hardest gemstones and the most valuable in the market today are sapphires, and they are mostly associated with blue colors. However, you may want the yellow variety of the famous sapphires. They are as beautiful and captivating as the other colored or colorless sapphires.
Yellow sapphires would be great substitutes for other more expensive yellow gemstones, such as the diamonds' yellow variants.
You might be looking for sapphires for several reasons, but there are overwhelming choices in the market today. So, we have narrowed your choices to the best ones in the market today.
Below are the best yellow sapphires carefully selected to give the best quality and look for your precious collection, jewelry, or gift. You can take your pick in a variety of choices that would best fit your style. Dig in and don't miss out on the best yellow sapphires today!
Top 9 Yellow Sapphires Reviewed
---
Specifications:
Size (mm): 8.56 x 6.89 x 5.22

Type: single oval-cut crystal

Carat: 2.67

Treatment: heated
The classic oval-cut shape of this yellow lone sapphire crystal makes it flexible for storing in your gemstone collection or be customized on a piece of jewelry. It is fairly sized for a decent center gemstone as an accessory.
Its facets are incredibly cut to exhibit maximum brilliance. It is expertly cut from the front to its back, which can be reflected at any angle. It gives a variety of angles from its multi-faceted surface, giving an eye-catching pattern and light reflections.
Its classic shape and decent size make it perfect for various jewelry to customize for your accessory to enhance your outfit. You can choose to give this yellow sapphire to your loved one as a single lone crystal or customize it to make it more personal.
Personalized jewelry for sapphires is becoming popular, especially if you plan to give a ring for a wedding proposal or a special grand gift for an anniversary or your wife's birthday. Some prefer gemstones as pendants or necklaces, which would also be great for formal occasions.
It has a pineapple-yellow shade that gives a bright pop of color that can match various outfit themes and styles. James Allen offers this yellow sapphire crystal at a reasonable price. You can do a lot with this yellow sapphire, making it versatile and a great pick among all the other yellow sapphire crystals.
| Pros | Cons |
| --- | --- |
| Maximized facets giving utmost brilliance | Some collectors may prefer a higher carat crystal |
| Decent size for a center crystal | Shape is not unique |
| Has a balanced, yellow hue | |
| Classic oval-cut shape | |
| Reasonably priced | |
| Versatile | |
---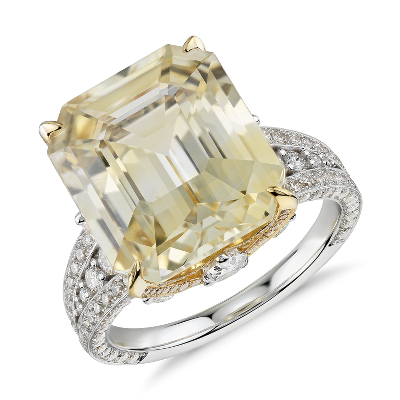 Specifications:
Size (mm): 14.24 x 11.23 x 7.54

Type: emerald-cut on a ring

Carat: 12.03

Treatment: heated

With 4 pear-cut (0.71 carats) diamonds, 4 marquise-cut (0.26 carats) and 234 round-cut (1.14 carats) diamonds
This luxurious ring is mounted with a big center yellow sapphire and surrounded by various diamond cuts that further enhance it. A pear-shaped diamond is put per side of the center yellow sapphire, while a marquise-shaped diamond is put on its edges. 
Some 234 round-diamonds complete this ring's look, forming intricate shapes around the other diamonds, and line the silver ring along two-thirds of the metal. The ring gives maximum brilliance at every angle. 
The center gemstone, yellow sapphire, exhibits a bright pale-yellow color that gives your skin a flattering glow. Its majestic size makes your fingers look narrower and slimmer. Anyone will be captivated with its valuable look at first glance.
For those looking for a yellow sapphire crystal to customize for a ring, you won't have to, as this ring has already been designed for your luxury. Your long-time girlfriend or your wife will be thrilled with this gift. You can also buy this ring as an investment for yourself. The multiple diamonds make this gemstone set a more valuable investment.
You can also wear it on formal events or special occasions and not left wasted on a collector shelf to accumulate some dust. If you search for an already mounted sapphire on a fancy ring, this would be a great choice and investment for you or your loved one. 
| Pros | Cons |
| --- | --- |
| Multiple-shaped diamonds enhance its brilliance | Incompatible with collectors who want a lone single crystal |
| Pale-yellow color flatters the skin | Extra diamonds increase their cost |
| Already set on a pretty ring | Risky for everyday wear |
| Large, eye-catching crystal | Too pale for some |
---
Specifications:
Size (mm): 7.80 x 5.80 x 4.00

Type: single pear-cut crystal

Carat: 1.38

Treatment: heated
The captivating blend of a subtle orange in this yellow sapphire crystal makes it captivating. This rare color almost makes it look like a Padparadscha sapphire crystal, a rare and variable variant of sapphire. Its decent size will make it compatible with customizing a piece of personalized jewelry for you or your loved one.
You can mount it on various jewelry options and wear it at formal events. Its relatively small size can also make it compatible with business casual outfits and other special events. It is lightweight and manageable, especially if mounted on some high-quality metal.
Everyone will be stunned by its rare color and unique shape. It will also be compatible with other gemstones since its size is not too overpowering. However, if they opt to pair it with small and lighter colored crystals, they can blend perfectly and emphasize this yellow sapphire instead of overpowering it. 
Classic round-cut diamonds would be its perfect pair, to give maximum brilliance and shine at different angles. If you're looking for a pretty, uniquely colored yellow sapphire crystal that you can use for your jewelry or gift for your loved one, this yellow sapphire is exclusively being offered by James Allen at a great price!
| Pros | Cons |
| --- | --- |
| Lightweight and manageable | Too small for some, especially for collectors |
| Relatively more affordable | Can be lost if not set on a larger material |
| Unique, elegant shape | Additional cost for customizing |
| Rare pretty color | |
---
Specifications:
Size (mm): 15.10×11.70

Type: single emerald-cut crystal

Carat: 16.34

Treatment: heated
You can have one of the highest carat-graded yellow sapphires at the palm of your hand with a few clicks from James Allen! Its lemon candy yellow hue gives a pop of color, pleasing to the eyes. It would be the center of attention among most smaller crystals owned by other people.
This yellow sapphire crystal will be a decent size for your precious gemstone collection. If you still don't have a yellow gemstone, this yellow sapphire will give your jewelry box more life and vibrance. 
You can customize it as a center gemstone for a ring, which will perfect classic due to its emerald shape, making it look more luxurious. You can also mount it as a pendant so you can easily wear it on and off, especially for formal events. Expect it to be an eye-catching accessory due to its relatively large size and vibrant yellow color.
If you want a large, high-carat yellow sapphire gemstone, you can add it to your collection or set it as a center gemstone for your customized jewelry. This crystal would be a fine choice.
| Pros | Cons |
| --- | --- |
| Can be customized to a captivating center gemstone for jewelry | Incompatible with an everyday wear jewelry |
| Generous carat weight and size | Expensive |
| Elegant emerald-shape | Heavy |
| Vibrant yellow color | |
---
Specifications:
Size (mm): 11.10 x 11.00

Type: single emerald-cut crystal

Carat: 10.21

Treatment: heated
You will be captivated by this yellow sapphire crystal's deep yellow color and evenly cut emerald-shape that give an elegant shine. You can conveniently store it on an evenly shaped box or container, making it manageable despite its generous size.
This yellow sapphire crystal will make a great center gemstone for your customized jewelry as it gives a strong yellow hue for those who go for bolder colors. It will complement most gemstones, as they make your jewelry more brilliant without other stones overpowering it.
Your ring will give an illusion of a larger sized gem due to its square and boxy angles. It will be a perfect gift for those who like unique, strong colors and precious gemstone pieces of jewelry. A more personalized one will also be more heartfelt. With this stunning high-carat crystal, anyone will be thrilled!
If you have been looking for a strong colored yellow sapphire emerald that is cut at the right angles to form a square-shaped form, this would be a great choice for you.
| Pros | Cons |
| --- | --- |
| Perfect center gemstone for jewelry | Incompatible for those who want simpler jewelry |
| Evenly cut emerald-shaped crystal | Heavier than most jewelry pieces |
| Deep brilliant yellow | Not for everyday wear |
---
Specifications:
Size (mm): 8.00 x 8.00

Type: single princess-cut crystal

Carat: 3.06

Treatment: heated
This yellow sapphire is cut at a unique princess-cut. It is the second most sought after shape and usually used for engagement rings. You will be getting the most out of this yellow sapphire as the original crystal's weight is kept due to the efficient polishing done to princess-cut gemstones.
Its angular facets make inclusions less visible than other types of cuts. It will have a dazzling effect as you see the intricate angles that make it interesting. It also gives an elegant square shape, convenient for most boxes or storage containers.
It has strong edges and angles that make it look classier, making it compatible with customized jewelry. It will stand out, making it a great center gemstone. It has a pale lemon-yellow color that prevents it from looking over-the-top. It just exhibits the right amount of color to give a statement.
If you want a yellow sapphire cut at an elegant princess-type fashion to have those sophisticated angles, giving depth and a kaleidoscopic look, great for a classic engagement ring, this is for you.  
| Pros | Cons |
| --- | --- |
| Sophisticated angles that hide little imperfections | Reflects less light than the other cut types |
| Perfect classic stone for an engagement ring | Too pale for some |
| Manageable shape and size | |
| Popular princess-cut type | |
---
Specifications:
Size (mm): 4-5 (each sapphire crystal)

Type: 11 various cut sapphire crystals on a bar necklace

Carat: 4.92

Treatment: heated

Length: 17in

With nine round-cut diamonds
If you want different yellow sapphire shades, you can get them in various cuts in this one bar necklace with additional two orange sapphires. The colored crystals are arranged in an ombre fashion, graduated from pale yellow to dark yellow, and orange sapphires. Additionally, nine diamonds are also spread throughout the bar necklace to give added shine.
The eleven sapphires are cut into various shapes, namely, heart, oval, and pear. They are lined from the lightest yellow to the darkest orange that gives a bold look. The necklace showcases a play of colors that will go well with a well-styled outfit. 
You will love this necklace if you love to play colors in your style and enjoy mix-matching outfits. As a gemstone collector, you can have a variation of the colors of the yellow sapphire crystals in one bar necklace.
This gemstone necklace would be a perfect gift for daring fashionistas that want to rock unique styles or stand out on special occasions. It can also be a great investment for you if you want to collect various shapes and colors of yellow sapphires yet want to save some money from buying separate crystals.
This gemstone studded bar necklace is worth its price, which you can get exclusively from James Allen at a great price!
| Pros | Cons |
| --- | --- |
| Varied yellow to orange hues of sapphire | Individual crystals may be too small for collectors |
| Diamonds enhance the whole look | Metal material can be improved |
| Three sapphire cuts in one | Unconventional |
| Uniquely designed jewelry | Too bold |
---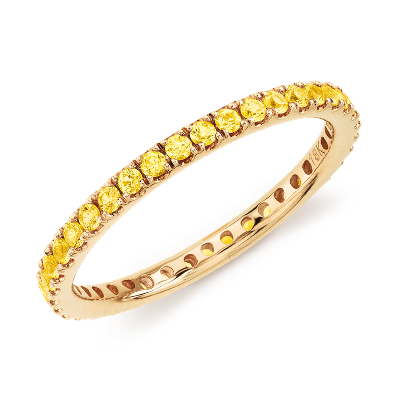 Specifications:
Size (mm): 1.5 (individual crystal)

Type: miniature round-cut crystals lined into a ring

Carat: ~0.78

Treatment: heated
One of the bestselling items in the Blue Nile is this yellow sapphire studded ring. Bright yellow miniature round-cut sapphires line the entirety of the surface of this 18k yellow gold ring. Its metal material is of high-quality that completes the bright color of the ring with the yellow sapphires. 
The vibrant color of the sapphires and the yellow gold shine of the metal material complement each other, giving a flattering glow for your skin. This simple yet elegant ring will make a thoughtful gift for your loved one. 
People who don't appreciate extravagant jewelry will find their satisfaction with this low-key yet elegant yellow sapphire ring. It gives a unique glow and subtle pop of color that can match your outfits.
Its relatively small crystals make this jewelry a great accessory that you can use for your everyday wear. You can fully utilize the jewelry with the yellow sapphires to showcase their beauty to everyone. 
If you are looking for some yellow sapphires to be worn for an everyday look in various settings, this is for you!
| Pros | Cons |
| --- | --- |
| High-quality metal material setting | Individual crystals are too small |
| Can be worn with everyday outfits | Too simple for some |
| Gives a flattering glow | |
| Budget-friendly | |
---
Specifications:
Size (mm): 5.1 x 5 x 3.3

Type: single heart-cut crystal

Carat: 0.75

Treatment: heated
This uniquely shaped heart yellow sapphire is cut to accommodate the needs of those who want a subtle romantic or sentimental touch to their crystal. This heart-shaped crystal will be a perfect gift for your loved ones, especially if they adore jewels. Those born in September would appreciate this sapphire as a personal gift because it is their birthstone.
Its flexibility as a single lone crystal gives you the flexibility to keep it as a pure gemstone or have it customized into a piece of jewelry you'd like to wear or match with your outfit. It can also be fashioned into various types of accessories due to its lightweight and manageable make-up.
It has multi-facets that exhibit eye-catching brilliance. Even with its relatively small size, it can catch someone's attention with its glittering facets. It has a buttery yellow color pleasing to the eyes, making it a great center gemstone for accessories.
If you have wanted to own a precious yellow sapphire with a limited budget, this item will be worth its price even with its relatively cheap price offer. You can get this yellow sapphire from James Allen at a relatively more affordable price than most precious gemstones in the market today.
| Pros | Cons |
| --- | --- |
| Gives a romantic or sentimental touch | Additional cost for customization |
| Flexible for customization | Unconventional shape |
| Relatively affordable | Too small for some |
| Unique heart shape | |
| Lightweight | |
---
Top Pick – Best Yellow Sapphire
James Allen's 2.67 Carat Oval Yellow Sapphire earns the top spot for among the best yellow sapphires on our list with its pros that reasonably outweigh its cons, making it a great buy. Its size and classic oval-cut shape make it ideal for keeping either for your crystal collection or your customized jewelry. On top of all that, it is offered at a great price, making it worth every penny.
Other yellow sapphires that made it to the list proceeding James Allen's 2.67 Carat Oval Yellow Sapphire also have some great and unique features to offer that may better suit your needs. You can read our Buyer's Guide below to find out more about how to know the notable features to look for to find the best yellow sapphire fit for you or your loved one.
You can read on to know more about sapphires to have a brief background about them. You never know if you can find the top special pick for your own as you know them better. Ensure that you know where you put your money and get the most out of it!
---
Sapphires
Sapphires are precious gemstones made of aluminum oxide, a mineral called corundum, second to the diamond's hardest mineral. Corundum has varieties of variations depending on its intrusions, such as titanium and iron. 
Corundum that contains a trace percent of titanium will appear colorless. With iron as a trace element, it would result in a pale yellow. A little bit of chromium can put an orange or pinkish tinge. However, if both elements, titanium, and iron, are present in corundum, it results in a deep blue color, forming the most common blue sapphires.
---
Buyer's Guide: Notable Features to Look for Before Buying Your Yellow Sapphires
Type of Use and Style
Some might prefer a lone yellow sapphire crystal to keep for their collection or for flexibility in styling or customizing it as an accessory. However, some might simply want to own a sapphire crystal that is already set-up as a piece of jewelry to wear like rings, pendants, earrings, etc.
You can also consider what style of cut you want your crystal to have. The most common cuts are the oval, round, cushion, and emerald ones. Other unpopular and unconventional ones could be harder to cut and can have limited compatibility with some outfits or occasions.
Carat Weight
The sapphire's carat would mostly refer to the sapphire crystal's overall weight. It can give an estimate of your sapphire's size, but it won't always be accurate. Usually, the higher the carat weight, the more valuable your gemstone will be. However, it may not always be the case, as your yellow sapphire can also vary in value based on its purity, clarity, color, and the like.
Crystal Size
Sapphire crystals can be measured in inches or millimeters running throughout its diameter. They usually range from 6-11mm cuts to be conveniently set into jewelry pieces as an accessory. The larger the sapphire crystal is, the more costly it would be. However, it will also be more captivating, a great accessory for formal events.
Color and Clarity
A clear yellow sapphire that is pleasing to the eyes would be highly-priced. Although color preference may be subjective, generally, bright yellow colors are given the most appreciation. Most feel that it is the truest and purest yellow pleasing to the eyes, which most can also refer to as the canary yellow.
You should invest in your sapphire cut quality because it may seem yellow but can appear lifeless and dull if the clarity is compromised due to its cut. A great cut would exhibit maximum brilliance and clarity. 
Treatment
Most sapphire stones that are sold on the market are treated to enhance their clarity. Heating is usually used to dissolve or remove some inclusions that interfere with the yellow sapphire crystal's clarity.
Untreated crystals are rarer, especially if they are naturally formed as bright yellow and clear, making it a greater investment. Treated crystals exhibit maximum clarity, so they are still on demand and valuable as well. Heating treatment effects would have a lasting effect throughout your sapphire's life.
Durability of Material
Lone sapphire crystals are naturally harder than any other gemstone apart from diamond and its corundum counterparts. However, they can still be ruined with pressure, as toughness is different from hardness. If your yellow sapphire is set on some metal material to be used as an accessory, it would be best if they are protected with rims or plating to prevent scratching other gemstones and protect from accidental impacts.
For the metal material attached to your sapphire jewelry accessory, ensure that they have a high-quality metal material to match the elegance of your sapphires. Most jewels would use white or yellow gold metal material added with some protective plating to make them resistant to tarnishing.
Verified Authenticity
It would be smart to purchase gemstones from verified sellers specializing in jewelry for those who plan to buy authentic yellow sapphire crystals. Reputable brands and sellers would include a Certificate of Authenticity with your purchase to guarantee your gemstone's legitimacy.
Good Reviews and Ratings
If you were to be meticulous in choosing your products before buying them, you would read reviews from verified purchasers who've already seen the product first-hand. You can assess noteworthy features and what makes your yellow sapphire purchase worth your money through their testimonials. 
Within Your Budget
When you compare numerous products in the market, you can assess what features set them apart from the other products. Using the factors named above, you can prioritize the features you find most important to you.
You may sacrifice some negotiable features for your yellow sapphire if you have a minimal budget to buy the most extravagant ones in the market today. You may start by selecting the carat, size, and style or the type of use you want it for that would best fit your budget. Then you can ensure the authenticity and wear-resistance and be happy with how it looks on you or your collection overall. 
If you buy sapphire crystals as jewelry, it would be best to invest in its durability and overall design, so you love how it looks on you while making it cost-effective in the long run. The seller should also have satisfaction guarantees, money back, and other warranties that would be useful throughout your sapphire jewelry's life. 
However, if you plan to invest in a lone-yellow sapphire crystal, you would only be limited with features, considering its main properties that make them pretty and valuable, which are carat weight, size, clarity, and color.
---
Conclusion
Sapphires are of the most valuable gemstones in the market today. Their rarity, hardness, color, and captivating brilliance make them highly-priced. They are bought by collectors or by those who want to wear them as an elegant accessory. They signify royalty and is the traditional birthstone of September babies. 
Yellow sapphire crystals are now being offered in the market today, which can be quite overwhelming. Luckily, a list of the best yellow sapphires you can pick from has already been made for you. 
James Allen's 2.67 Carat Oval Yellow Sapphire was considered our best pick among the best yellow sapphires sold today due to their quality and carat weight offered at a reasonable price. Moreover, it is also a lone crystal, making it more flexible for keeping as a display for your collection or customized as your jewelry accessory.
Other yellow sapphire picks proceeding James Allen's 2.67 Carat Oval Yellow Sapphire also offer other unique features that you may find to be a better fit for your use or as a gift for your loved ones.
Knowing what features to consider when buying your yellow sapphire crystal helps you get satisfaction with your purchase. You can equip yourself to know what you're looking for by reading a buyer's guide for the best yellow sapphire crystals on our list.
---
FAQs – Frequently Asked Questions 
Is sapphire considered more valuable than a diamond?
Traditionally, sapphires were used by the royalties as engagement rings and are usually preferred over diamonds due to their rarity over them. History and its color made sapphires associated with royalty, especially the blue ones. 
As diamonds are considered the hardest mineral and exhibit pure, clear brilliance, they are much more valuable today. However, a sapphire can be considered more valuable if found with exceptional natural untreated clarity and perfect color as they are extremely rare too.
In what other colors can sapphires occur?
Sapphires can also appear colorless, yellow, green, or pink, depending on what element intrusion is dominant. However, blue is the most common color for sapphires due to the mixture of titanium and iron intrusions in the mineral corundum. With the right mix of titanium and iron, a rich bluer color can be achieved. However, other elements may intrude, or the lack of the elements may exhibit a different color for your corundum, which gives a different color for your sapphire crystal.
How can I tell if my sapphire is authentic?
First, you must ensure that you buy your sapphire crystal from a trusted seller, especially if it's online. A reputable seller such as the Blue Nile and James Allen would have a long-running reputation in the industry. They usually offer great deals, good customer service, and gemstone certificates.
If you already have sapphire at hand, you can check for inclusions, as natural gemstones would usually exhibit inclusions or some minor imperfections. If you want to be sure, you can have them tested in an accredited lab for other non-intrusive tests that will retain your sapphire's beauty.
What is considered the rarest sapphire?
The Padparadscha Sapphire is considered the rarest type of gemstone due to its unusual and captivating orange and pink mix. They are unknown to most people but instantly becomes a favorite when discovered. Most appear salmon-colored, but some are not evenly colored and exhibit a color zoned pink and yellow color.
Related Resources: