Have you ever heard of the saying that the diamonds are the girls' best friend? It may not sound right if you take these words literally. Yet, if you analyze the deeper meaning, you will understand why Marilyn Monroe said it. 
In this review, you will learn more about pave diamond rings. You will learn some of the best examples on the market and how to select the best one for your partner. 
Top 7 Best Pave Diamond Rings Reviewed
---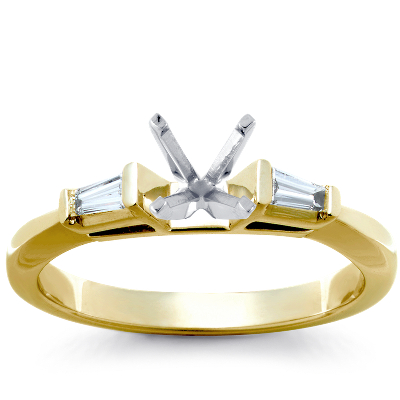 Specifications:
Carat weight: 1.34

Cut grade: Astor Ideal

Clarity grade: IF

Color grade: D

Metal: white gold
It is almost impossible to find a diamond with perfect 4-C grades. If you can find one, it will be extremely expensive. However, the almost perfect ones do exist. One example is the Blue Nile Petite Twist 1.34-Carat Round-Cut Ring in White Gold. It is the best choice if you do not mind paying a lot to find a ring with almost perfect qualities. 
The ring is made from 14-karat white gold and has a classic design with an unconventional twist, adding interest to it. It has a pave-set of diamonds to complement your 1.34-carat diamond. 
The diamond is among those that have the highest quality on the market. It has the highest cut and color grades. The clarity grade is next to the highest, which is still a rare one. Even though it only has the 'internally flawless' grade and not the 'flawless' grade, you will never spot the difference unless you are a trained gemologist. 
The only problem is the price, which is worth it, considering the ring's characteristics. 
| Pros | Cons |
| --- | --- |
| Unique classic design | Expensive |
| Internally flawless | |
| Astor ideal cut | |
| 14-karat gold | |
| Colorless | |
---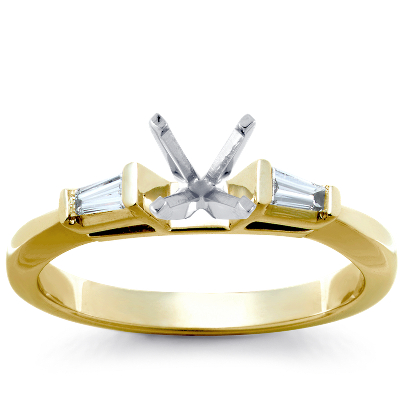 Specifications:
Carat weight: 0.25

Cut grade: ideal

Clarity grade: Sl1

Color grade: D

Metal: rose gold
Blue Nile Heirloom Petite Milgrain 0.25-Carat Round-Cut Ring in Rose Gold is your next choice if you want a high-quality pave diamond ring without having to spend tons of money. Although its diamond is not as near-perfect as the 1.34-carat round-cut ring mentioned above, it does not mean that this one is mediocre.
The diamond itself costs less than 300 USD and already has excellent qualities. The cut grade is ideal next to Blue Nile's highest cut grade, the Astor Ideal. The color grade is D, describing that this diamond is colorless.
There are a few downsides, though. The diamond has noticeable inclusions at 10x magnification but may be eye-clean.  Also, the diamond is small. 
However, these downsides are minor, considering the value of what you can get at less than 300 USD. 
Aside from that, your partner will love it if she loves vintage designs. The ring is made from 14-karat rose gold with two pave-set of diamonds with a milgrain edge around. 
| Pros | Cons |
| --- | --- |
| 14-karat rose gold | Small diamond size |
| Highly affordable | Inclusions present |
| Ideal cut grade | |
| Vintage style | |
| Colorless | |
---
Specifications:
Carat weight: 0.73

Cut grade: ideal 

Clarity grade: VVS1 

Color grade: G

Metal: white gold
The James Allen Petite Pave Flush-Fit 0.73-Carat Round-Cut Ring in White Gold is the best choice if you are looking for a ring with an excellent design that goes well together. The pave diamond ring has a design that maximizes the light that goes to the diamond. It has a V-shape underneath that allows the gem to sparkle.
Aside from that, the customized prongs ensure that the gem will sit securely on the ring. 
The diamond has a good quality, although not the best. 
| Pros | Cons |
| --- | --- |
| Inclusions not visible to the naked eye | n/a |
| High-quality color grade | |
| Excellent ring design | |
| 14-karat white gold | |
| Ideal cut | |
---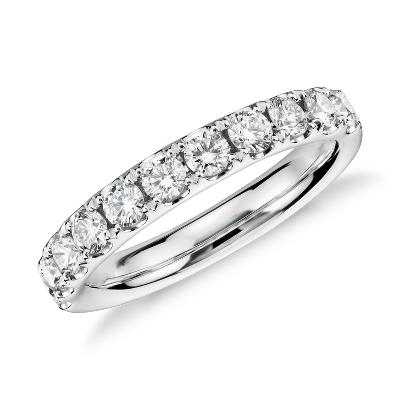 Specifications:
Carat weight: 0.70

Cut grade: ideal

Clarity grade: VS1 

Color grade: D

Metal: platinum
Blue Nile Riviera Pave 0.70-Carat Round-Cut Ring in Platinum is your next option if you are looking for a ring that has a high-quality design. The Riviera pave design has an elegant appearance, making your partner feel like royalty. 
The 0.70-carat diamond's quality does not disappoint. The cut grade is ideal, and it is colorless. Although there are inclusions present, these are not visible.
| Pros | Cons |
| --- | --- |
| Inclusions not visible to the naked eye | N/a |
| Colorless | |
---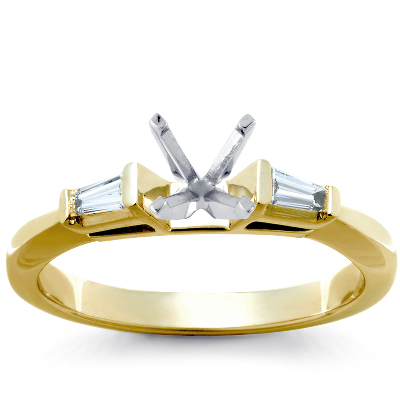 Specifications:
Carat weight: 8.42

Cut grade: very good

Clarity grade: VS1

Color grade: H

Metal: platinum
If you are willing to splurge just to give your girl a ring with a large chunk of the center diamond, you should consider the Blue Nile French Pave 8.42-Carat Emerald-Cut Ring in Platinum.  
The French pave ring complements the 8.42-carat diamond, letting everyone around you know that your partner is engaged. The ring directs the eyes to focus on the center diamond. 
The 8.42-carat diamond is more than just its size. The H color grade is not the best, but it is still considered a quality grade because it is near-colorless. You can only notice the difference when compared to diamonds with a higher rating. 
There are inclusions present, which are difficult to see at 10x magnification. 
The 'very good' cut grade is not the best, but it is not as crucial if the diamond is as big as this one. 
| Pros | Cons |
| --- | --- |
| Inclusions not visible to the naked eye | Not the best cut grade |
| High-quality color grade | Expensive |
| 8.42-carat weight | |
---
Specifications:
Carat weight: 4.96

Cut grade: ideal

Clarity grade: IF 

Color grade: D

Metal: white gold
If you are filthy rich and willing to splurge for your proposal, James Allen Trio Micro Pave 4.96-Carat Round-Cut Ring in White Gold will not disappoint you. It costs less than half a million dollars, making it a nice family heirloom to pass to generations. 
The trio micro pave design allows the ring to sparkle at every angle. The three rows of pave-set diamonds plus the 4.96-carat center diamond will surely make your partner feel like a princess. 
Although this diamond costs a lot, its quality does not disappoint. 
First, the 4.96-carat weight is a huge chunk of diamond. 
Second, the D rating is the highest color grade, indicating that the diamond is colorless.
Third, the clarity grade is internally flawless, second to the flawless rating that is rare and expensive. 
Fourth the cut grade is next to James Allen's best cut grade, which is True Hearts. This diamond's quality is only among the 3 percent worldwide. Besides that, the pave diamonds on the side adds to the diamond's sparkle. 
| Pros | Cons |
| --- | --- |
| Three rows of pave-set diamonds | Expensive |
| Large diamond size | |
| Internally flawless | |
| Colorless | |
| Ideal cut | |
---
Specifications:
Carat weight: 0.51

Cut grade: ideal

Clarity grade: l1  

Color grade: K

Metal: white gold
If your only goal is to have an affordable, authentic diamond to offer to your partner, you might want to consider the James Allen Sleek Accent 0.51-Carat Round-Cut Ring in White Gold. 
The ring compensates for what the diamond is lacking. It has a rounded shank with a classic evenly spaced pave design that adds to the diamond's sparkle. 
The diamond is not the best quality that you can find. There are inclusions visible and exudes a warm color. However, if your goal is to buy a ring that will surely fit your budget, this ring is an excellent choice.
Despite its flaws, the diamond has an ideal cut rating next to James Allen's highest cut rating, the True Hearts. 
| Pros | Cons |
| --- | --- |
| Affordable | Inclusions are visible |
| Ideal cut | Noticeable color |
---
Top Pick
Blue Nile Petite Twist 1.34-Carat Round-Cut Ring in White Gold is this review's top pick. This ring has almost perfect qualities that are excellent for your engagement. 
The ring is 14-karat white gold with a classic design with a twist that adds interest to the ring. 
The diamond's 4-C qualities do not disappoint or may even exceed your expectations. The cut and the color grades are the highest. It has the Blue Nile's Astor Ideal cut grade and D color grade. 
The clarity grade is internally flawless, indicating that it is free from internal blemishes. The carat-weight is large enough for other people to recognize. 
That is why it is not surprising that it is expensive.
---
Best Pave Diamond Rings Brands
The Blue Nile and James Allen are the two leading brands for online jewelry shops. Both are reputable, and customers trust them. Besides that, they have website features that allow you to inspect the ring as if you are inside a physical jewel shop. 
Buying from the best brands in the next option if none of the mentioned rings satisfy your preference. You can find more high-quality rings and diamonds from these brands. 
James Allen
James Allen is the manufacturer of many famous retailers that include the Tiffany Co. It also won the Bizrate's Circle of Excellence award in 2018. 
Its mission is to provide its customers with a huge selection of diamonds and gemstones at a great value. It is one of the online jewelry shops that innovate the way customers should shop for jewelry online.
James Allen claims to be the only retailer that provides a 360-degree HD magnified view of their over 200,000 products' images. It is also the first one to provide a real-time diamond inspection service.
Dean Lederman, Michele Sigler, James Schultz, and Oded Edelman were the ones who founded James Allen in 2006 using their combined 60 years of experience in the industry. The company has many US offices, particularly in Maryland, Washington, DC, and New York. 
Blue Nile
The Blue Nile has proven its reputation in the industry since 1999. The Time Magazine featured this company as one of the Best Websites for Business and gave it the Best Indulgence title. It is among the 20 establishments that received the Circle of Excellence Platinum Award from Bizarre.com.
The Blue Nile adheres to its customer-first philosophy. It wants to offer the best quality diamonds and jewelry to its customers at the best price because it believes that customers deserve exceptional services and a wide range of choices.
The Blue Nile came into the industry when its founder, Mark Vadon, bought the 85 percent share of the jewelry company where he bought his engagement ring. In 1999, he improved the company's website and changed its name to the Blue Nile. 
---
When Is the Best Time to Gift a Ring
Nobody can stop you from gifting a ring if that is what you want. The problem is the ring choices' dilemma that will make you think twice about gifting it to your loved one. That is why people usually end up settling for other thoughtful gifts to give. 
People hesitate to give rings as a present because of three major reasons. 
First is the price. People hesitate about giving a ring as a gift because it is expensive. They do not want the recipients to think that the ring is cheap for their taste. 
The second is practicality. The ring may not be a practical gift if you can give something cheaper but useful to the recipient. 
The third is the value. You cannot just give a ring that costs a serious amount of money to just anyone. The recipient should be an important person or has a close relationship with you. 
Although you can give other gifts for many occasions, there are instances when it is best or excusable to give a ring because of the meaning it holds. The following are examples of the best occasions when it is right to give a ring as a gift. 
Graduation Day
Graduation day rarely happens in one's life; it is the best time to give a special gift to commemorate the occasion. Giving a gift to your loved one on graduation day shows that you recognize your beloved's effort, dedication, and perseverance. 
On this occasion, you can give almost any kind of gemstone or ring. It can be as precious as diamonds, pearls, or gold. It can also be as ordinary as charms and class rings.
Birthdays and Baby Showers
The ring for this occasion is something that you can give to just anyone, because the ring may not be as pricey as the couples' ring. 
The common types of a ring given on these occasions are charms or birthstones. Giving someone a birthstone ring is a gesture that you wish the birthday celebrant or the baby some good luck. It is because birthstones are believed to drive away negative vibes. 
Each type of birthstone is believed to exhibit certain powers. For example, Blue sapphire exudes power for mental focus, inner vision, and psychic awareness. Diamond is for invincibility and strength, and the tourmaline is for good health and reconciliation.  
Making Promises
The ring given in this situation symbolizes commitment. It is what a partner gives to the loved one before the engagement. It may also be given to a friend to symbolize the promise of eternal friendship. 
Engagement
It is the occasion where the couple exchange rings to express their vows of commitment and wedding. Diamond is the most preferred because it symbolizes how strong their vows should be. 
Wedding
The rings given on the wedding day represents that the couple has already exchanged vows and promised eternal love. The rings are worn at the left hand's ring finger because there is a belief that its vein is connected to the heart.
On this occasion, any gemstone for the ring will do, although diamond is still a favorite. The metal shank used can be simple or white gold. 
Anniversary
Gifts given during anniversaries aim to celebrate the milestones of marriage. Nowadays, any gift will do. It can be flowers or chocolates, but nobody stops the partner from giving a ring to the loved one, especially for their marriage's jubilee. 
Diamond is still a popular choice, but it may also be a stone that represents the jubilee. For example, green garnet for the silver jubilee (25th anniversary), golden topaz for the golden jubilee (50th anniversary), and smoke quartz for the sapphire jubilee (70th anniversary). 
---
Factors to Consider When Buying a Pave Diamond Ring
Only your partner is the judge whether a diamond ring is the best for her or not. That is why the priciest diamond ring does not make it the best; neither is the largest diamond chunk. 
However, it does not mean that you can pick just anything you think your partner will love based on her preference. You also have to consider the ring's quality to make sure that it will indeed be her best friend forever. 
The following are the considerations to help you find the ring with the best quality, but your partner will also love it.
The Jeweler or Jewel Store's Reputation
Because of the great value of diamond rings, it is not surprising that scammers would use this opportunity to dupe people. 
That is why it is advisable to buy from reputable stores. 
If you insist on buying from a jeweler, make sure that this person has the credentials and can provide you certifications of their GIA-graded products. 
Also, buy from a store that offers a warranty to protect your purchase from loss and theft. Ask for the diamond's certification when you make a purchase. 
Budget
There is a widespread saying that your engagement ring's price should be equivalent to the two months total of your salary. This saying is a bluff popularized by diamond retailers who want you to bleed for more money. 
A partner who truly loves you will appreciate the thought more than the price of your engagement ring. She will never appreciate it if you get both of you into debt just because of your motivation to buy her an expensive diamond ring that is more than what you can afford. 
Ring Size
You do not want to exert more effort and money by asking a jeweler to resize the diamond ring that does not fit. Besides that, resizing is difficult for the pave setting. Because of this, you already want to make sure that the ring that you will buy will fit your partner's ring finger.
You can determine her size in two ways. First is by tying a string on her ring finger while she is sleeping. The second is by borrowing a ring from her. 
After borrowing a ring, you can head on directly to a jewelry shop and determine the size through the sizing chart available. You can also find a friend who has the same ring size as your partner. Pushing the ring into a lump of clay or soap is also an excellent way to find your beloved's ring size. 
Fashion Style and Personality
By observing your partner's fashion style and personality, you can already tell the ring style and gemstone that she will appreciate. You can tell it by observing the fabric of her clothes and favorite jewelry.
For example, if your partner has a bold and unconventional personality, she may appreciate a diamond ring with a heart-shaped cut. 
Lifestyle
Your partner's lifestyle also plays a major role in choosing the best ring for her, not just her fashion sense. The ring should adapt to your partner's lifestyle and not the other way around.
For example, if your partner is a chef, you can tell that there is a great chance of losing the gemstone inside a turkey's innards or anything that she cooks. It is best not to choose a solitaire diamond ring in this kind of lifestyle because of the elevated gemstone design. 
If your partner loves getting her hands dirty because of gardening, painting, etc., the pave diamond ring is not the best choice for this kind of lifestyle because it is hard to clean. 
Diamond
Diamonds are expensive. That is why you need to ensure to get the most out of your purchase. 
You need to consider the number of facets because these geometrical diamond cuts are the major factor in how much your diamond will shimmer.  There are different cuts to choose from. Examples are princess, radiant, and marquise. 
Besides that, you also want to decide the four Cs' grades that are reasonable for the quality and the price. The four Cs stand for color, clarity, cut, and carat weight. Gemological Institute of America (GIA) was the one that created these criteria as the standard for assessing the diamond's quality. 
The color grade ranges from D to Z, where the D is the best. The D indicates that a diamond is colorless. The farther the grade from the D is, the more visible the diamond's tint is.
The clarity refers to the measurement of the diamond's flawlessness. Average diamonds have natural impurities called inclusions. These inclusions are unideal for the diamond because they affect the way the light reflects on it. 
The best clarity rating is flawless and internally flawless, which is rare. 
The cut is an essential diamond characteristic because it affects the diamond's brilliance. Stores have their way of describing their diamond's best cut rating: Astor Ideal for the Blue Nile and True Hearts for James Allen. 
The diamond's carat weight is directly proportional to its size. The carat weight is the major determinant of the diamond's price. The bigger, the pricier it is. However, the other Cs' grading also affects the pricing of the diamond. 
Metal
As for the metal, the most typical ones are platinum and white gold, although yellow gold and rose gold also exist. As for the quality and durability, you can choose any of these metals, but platinum is the favorite choice. Rose gold is trending nowadays.
You only have to consider what ring style goes well with the metal type you want. For example, white metal prongs go well with yellow gold. 
Setting
The setting is the reason why gemstones stay securely in place on a piece of jewelry. It is one of the considerations when choosing the best ring to go well with your partner's lifestyle. Choose the ones that securely hold the gem in place. 
If your partner has an active lifestyle, a pave setting is not advisable because of the risk of losing the side stones. 
---
Conclusion 
The diamond's longevity and strength only prove that it is indeed a woman's best friend. Everything on this Earth might perish; even marriages may end up in divorce. That is why a diamond is a favorite gemstone for engagement because it is how strong the engagement vows should be. 
Pave is one of the gorgeous ring settings that are excellent for engagements. There are different designs to choose from. Blue Nile Petite Twist 1.34-Carat Round-Cut Ring in White Gold is an example.
Besides knowing the best designs on the market, it is important to know how to pick the ring that your partner will love. After all, engagement rings are expensive. Even the cheapest ones cost a serious amount of money. 
When choosing the best ring to give to your partner, make sure that it goes well with her fashion style and lifestyle. You also have to make sure to pick a high-quality diamond that lasts. 
---
FAQs (Frequently Asked Questions)
What Is the Difference Between a Real Diamond and a Fake One?
Real average diamonds are high in density and imperfect. If you drop one into a glass of water, it should never float because of its density. Average diamonds are imperfect. By using a loupe or magnifying glass, you should see some inclusions in a diamond.  However, these imperfections may not be present all the time. There are diamonds, especially the lab-created ones, that do not have inclusions. Diamonds without inclusions are rare and expensive. Diamonds should not form condensation too when you blow on them. 
Is It Important for an Engagement Ring to Be Expensive?
No. You do not have to bleed out money if you cannot afford to buy a diamond ring for your partner. There are other alternatives. A partner who loves you will appreciate it more if you can give her a thoughtful ring than an expensive ring that can get both of you into debt. This thoughtful ring can be a family heirloom that has been passed down to generations. This gift will not cost you a dime, but it is thoughtful enough to make your partner's heart swell with joy. Other gemstones may do if you cannot afford a diamond.
Is Pave the Right Ring Setting That My Partner Will Love?
It depends. If you want to make sure that it is the style that your partner will love and appreciate, observe her other ring style. If you see that she loves wearing rings with the pave setting, there is a chance that she will love a pave diamond engagement ring. She will also love it if she likes shiny and shimmering jewelry. You also have to observe her lifestyle and activities because a pave setting requires many stones. The risk of losing one or more of these stones is high. 
Related Resources: