The demand for colored diamonds as engagement rings has been increasing in recent years. Yellow diamonds are one of the most sought after pieces because of their vibrant and happy color. They come in various sizes and shapes, but their elegant beauty and expensive price remain consistent.
Typically, people would go for the purest and most colorless diamonds because of their promising brilliance. Faint Yellowish pigments even decrease their value. However, as its color grade decreases, the diamond reaches a point where its colored quality becomes exceptionally fascinating.
Giving your significant other a ring with a yellow diamond signifies a beginning or a continuation of living a happy and passionate life. However, its supply is extremely lesser than other diamonds due to the rarity of its features.
Thus, our article shall lead you to the essential information you must know about this timeless piece if you do not want to fall behind.
Top 7 Best Yellow Diamonds Reviewed
1.00 Carat Cushion Modified Diamond by James Allen – Best Overall
1.50 Carat Cushion Modified Diamond by James Allen – Editor's Choice
---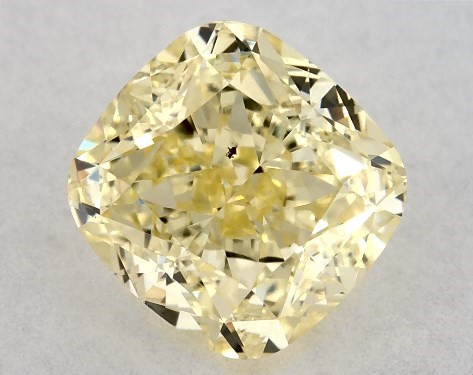 Specifications:
Cut: Cushion Modified
Color: Fancy Yellow
Clarity: SI1
Carat Weight: 1.00
Length to Width Ratio: 1.04
Fluorescence: Faint
Dive into the beauty of James Allen's 1.00 Carat Cushion Modified Diamond as it unfolds some interesting qualities for a yellow diamond. You will love how its color resembles the Canary bird and how dazzling it shines as light passes through it.
Cushion-cut diamonds have a reputation for exhibiting more fire and brilliance than the other diamond varieties. With this stone, the first thing you will notice is the crushed ice effect visible from its top layer. Coupled with its tone, it seems like a star is sparkling from the diamond's center.
Like the regular colorless diamonds, the 4Cs remain the standard qualities you must look into in yellow diamonds. Its color intensity falls into the fancy yellow grade, indicating a neither too light nor too dark shade. It is synonymous with grades F to G in the colorless department.
With a Slightly Included clarity, the stone remains eye-clean when looking at it from a farther distance. Its carat weight and cut also contribute to its flawless-looking quality since cushion-cuts hide blemishes well when in smaller sizes. However, several inclusions may still appear upon closer examination.
With all of these incredible features, we find the $2600 price quite reasonable. Its uniqueness and outstanding shine will captivate the heart of its lucky recipient. You may partner it with a white gold plating to highlight the tone's beauty. Rare is an understatement for this gem because of its one of a kind character.
| Pros | Cons |
| --- | --- |
| A balanced, yellow color intensity | It may look a little cloudy with a faint fluorescence |
| Visible fire and brilliance | Blemishes are visible upon closer look |
| Well-cut proportions | |
| Eye-clean quality | |
| Reasonable price | |
---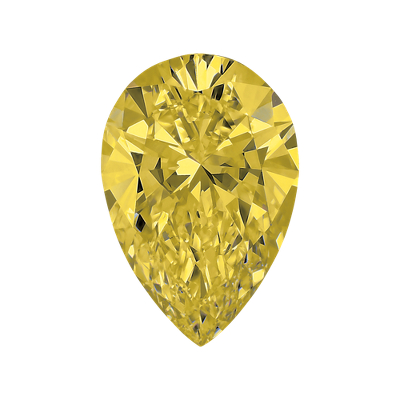 Specifications:
Cut: Pear
Color: Brownish Yellow
Clarity: VS1
Carat Weight: 0.57
Length to width ratio: 1.66
Fluorescence: Faint
Yellow diamonds are extraordinary pieces. Their assessment lies in the intensity and the quality of its colors, and some have overtones that make them look even better. Blue Nile's 0.57-Carat Brownish Yellow Pear Shaped Diamond is a prime example of a beautiful stone with layered pigments.
This item suits those who are looking for a fancy-colored diamond with a deeper shade. The brownish color found in this stone does the trick. While it looks more yellowish than the other pieces, its price remains lower because brown is a common secondary tone.
Pear-shaped diamonds have a unique look suitable for smaller and wider hands. Its large-looking and elongated shape make the diamond appear bigger than other stones with the same carat weight. Its facets also enhance the stone's color, making it look more vibrant and fascinating.
The strongest asset of this stone is the clarity grade. With a Very Slightly Included quality, only a gemologist can identify its flaws. However, this piece's deeper shade may mask its flaws, making a highly rated clarity less important to consider.
Overall, this fancy piece is still a must-have for your jewelry collection. If you choose this as the main piece of a ring or pendant, you better pick one with a bezel or prong setting. Pear-cut diamonds are quite fragile and require maximum protection.
| Pros | Cons |
| --- | --- |
| The overtone makes its color look deeper | The overtone is brown |
| Makes small and wide hands look sexier | The size is small |
| Flawless-looking diamond | Fragile item |
| Average color grade | |
| Reasonable price | |
---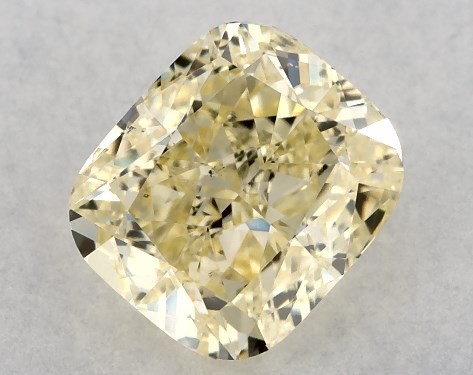 Specifications:
Cut: Cushion Modified
Color: Fancy Yellow
Clarity: SI1
Carat Weight: 1.50
Length to Width Ratio: 1.15
This 1.50 Carat Cushion Modified Diamond from James Allen has almost the same quality as the first item we featured. However, it has a more significant carat weight, which increases its monetary value. Thus, you may need to save more to afford this piece.
Larger looking diamonds are great for people who love to show off their glamour. Its fancy yellow color is best paired with any of your formal dresses and evening gowns. You will feel astonished by how its beauty adds life to your style.
With a cushion-modified cut, it radiates a sparkling water effect that helps hide its inclusions. But since it has a heavier carat weight, you may immediately notice some blemishes with a single look. Its excellent symmetry and polish also make the diamond look better and smoother.
James Allen is indeed a reliable brand when it comes to colored diamonds. There are only a few pieces of these special stones in the market because finding a naturally-colored gem is quite difficult. That is why most of them are more expensive than colorless diamonds.
It might be a unique choice for an engagement ring, but it will also leave a stunning impression on your recipient.
| Pros | Cons |
| --- | --- |
| Brilliant sparkling water effect | More visible blemishes |
| Balanced fancy yellow color | Rare availability |
| Best for engagement rings | Expensive price |
| Larger cart weight | |
| GIA certified | |
---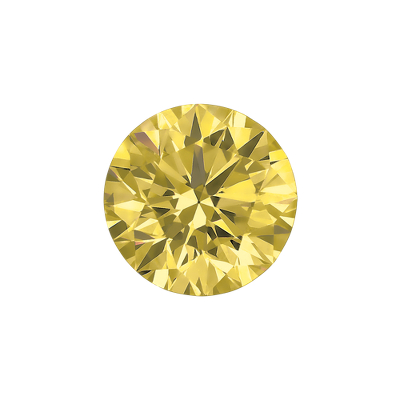 Specifications:
Cut: Round
Color: Fancy Yellow
Clarity: VS1
Carat Weight: 0.34
Length to width ratio: 1.01
Round-shaped diamonds are the most common diamonds in the world. However, a round yellow diamond is as rare as other colored stones. Blue Nile offers a 0.34-Carat Yellow Round Diamond for people collecting smaller pieces.
Its fancy yellow color makes it an excellent choice for those who love unique things but are on a tight budget. While there are no cheap diamonds, some have lower prices than the rest. Despite its cost, this item still has the sparkle that everyone adores.
The round shape gives more emphasis to its color, and it has a clarity grade that makes inclusion less apparent. Even its tiny build helps in hiding blemishes if there are any. If you are extra keen on polish and symmetry, you may get a little disappointed as it does not have the best quality in this department.
This diamond is best used as an earring or as side stones in watches, bags, necklaces, and even crowns. They add an accent to these luxurious items, making them more elegant and valuable.
| Pros | Cons |
| --- | --- |
| Best used as earrings and side stones | Not suitable as an engagement or wedding ring |
| Sparkling fancy yellow color | The shape makes it look smaller |
| Higher clarity grade | Lighter carat weight |
| More affordable | |
| GIA certified | |
---
Specifications:
Cut: Oval
Color: Brownish Greenish Fancy Yellow
Clarity: VS1
Carat Weight: 0.54
Length to width ratio: 1.30
If you have an eye for unique things, then this next item may spark your interest. Blue Nile has a 0.54-Carat Brownish Greenish Yellow Oval Diamond whose name is as bizarre as its features. Moreover, it is one of the least expensive prices on our recommendation list despite its distinctiveness.
When it comes to colored diamonds, jewelers consider two major things: color intensity and the existence of other colors. The more unique its color gets, the more valuable a diamond becomes. Brown is the most common secondary color, and the most expensive are the green ones.
This Blue Nile piece stands between brown, yellow, and green. While the yellow pigment's intensity falls into the fancy category, the brown and green tones make it look fainter than it should be. That is why its monetary value is much lower than other yellow diamonds with a more pigmented single color.
Symmetry is not the best asset of this stone as its ratio falls beyond the standard size of oval-shaped diamonds. It is also too deep, reducing its fire and brilliance. Nevertheless, it still retains a kind of elegance similar to other diamonds. The shape also makes the stone look bigger than diamonds with a more common appearance.
| Pros | Cons |
| --- | --- |
| It looks elongated and bigger | The unique color combination affects the color intensity |
| Almost blemish-free quality | Symmetry is not excellent |
| Least expensive diamond | Less fire and brilliance |
| Unique color tones | Too deep |
| GIA certified | |
---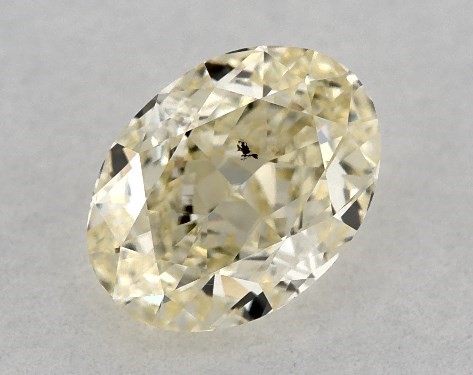 Specifications:
Cut: Oval
Color: Fancy Yellow
Clarity: SI2
Carat Weight: 0.55
Length to Width Ratio: 1.35
Not all yellow diamonds have a four-digit price. Like Blue Nile's, James Allen's 0.55 Carat Oval Diamond belongs to the least expensive category with a price of around $500. Their main difference lies in the absence of a secondary color in this stone.
Carat weight is the primary reason why this diamond has a lower amount. While it falls to the fancy yellow category, its color looks slightly lighter than other colored stones. Because of this, blemishes tend to be more visible, especially that it only has a Slightly Included clarity rating.
You will also notice a faint glow from this item when exposed to UV light. While some find this amusing, it may also cause the diamond to look a little hazier. Still, it is the best choice for people whose budget cannot go beyond a thousand dollars.
The diamond's oval shape makes it look larger than round and princess-cut diamonds. Thus, it would seem that you get more diamond for its affordable price.
It is excellent for fashion accessories, but it might be less appealing as an engagement ring. However, these preferences are only subjective, and everything still rests on your taste.
| Pros | Cons |
| --- | --- |
| Falls to the fancy yellow category | Blemishes are more visible |
| Emits a faint glow with UV light | Small carat weight |
| Best for fashion accessories | Color is fainter |
| Least expensive price | |
| Brilliant and well-cut | |
---
Specifications:
Cut: Pear
Color: Vivid Yellow
Clarity: VS2
Carat Weight: 13.04
Length to width ratio: 1.65
Spending more than a million for a diamond can be the most impractical purchase one can make. However, this 13.04-Carat Vivid Yellow Pear Shaped Diamond from Blue Nile will not stop you from milking every last penny in your bank account.
Carat weight and color are the two main reasons why this piece has one of the most expensive market prices today. If fancy yellow diamonds are rare, how much more if the stone has a vivid yellow grade? Indeed, this item is the rarest diamond you can find.
This pear-shaped gem has enough depth allowing light to pass through each facet within it. Thus, having a sparkling glow is not anymore surprising in this stone. What makes it more satisfying is its extra-large table area where you will witness a well-orchestrated pattern that radiates a perfect symphony.
It even has a VS2 clarity rating that makes blemishes within and outside the stone less visible. Having a flawless quality is not essential to colored diamonds because the yellow tint and the stone's shape cover them well. It's the colorless ones that require a higher clarity rating.
While it is true that only the richest can afford this item, we still included this piece in our recommendation list to diversify your choices. Who knows? You might end up becoming the richest person on earth or marry one with that title.
| Pros | Cons |
| --- | --- |
| Well-orchestrated facets for optimum brilliance | Unbelievably expensive |
| Excellent symmetry and proportions | Overwhelming size |
| Heaviest carat weight | |
| Higher clarity rating | |
| Vivid yellow color | |
---
Top Pick – Best Yellow Diamond
Despite being a rare find, customers would still opt to find a yellow diamond with the best value. In this type of gemstone, you put less emphasis on shape, cut, and clarity. Instead, your focus should be on its carat weight and color.
As emphasized earlier, diamonds with a stronger yellow intensity are more valuable. However, the chance of finding diamonds with deeper and darker tones with an ultimate brilliance is slim. Thus, you may settle with yellow diamonds that have a fancy grade.
If you are in a hurry to pick the most reasonable yellow diamond, we highly recommend James Allen's 1.00 Carat Cushion Modified Diamond. It has a balance of enough color intensity, average size, symmetric proportions, and affordable price. It is still expensive, but not as unreasonable as other diamonds.
Its features make it a versatile gem. You can have it as an engagement ring, a centerpiece of a pendant, or the main accessory of a drop earring. Plus, it radiates a crushed ice brilliance, catching more attention as it looks fancier and flashier.
Reasonableness is the core idea of why we rated this diamond as the best pick.
---
The Science Behind the Yellow Diamond's Color
In 1878, a yellow diamond piece first appeared in the market after a year-long study of colored diamonds. This stone became the signature item of Tiffany on 5th avenue for 70 years. While they were still unsure about this piece's value, its rarity was confirmed later when South Africa's diamond production began to dwindle.
Before jumping into the wagon of patrons who adore yellow diamonds, you must understand first why it has a yellow pigment and why does it make this piece exceptional.
The main component of a diamond is carbon. When there is no other element present in its chemical composition, the stone becomes colorless and falls to the color D category.
On the flip side, some diamonds contain other chemical elements affecting the crystal's color. The most common element that bonds with carbon are nitrogen. Since the two do not have the same electron numbers, the free nitrogen electrons absorb light from blue and violet wavelengths.
When light is not absorbed, the diamond's color turns to yellow. The more amount of free nitrogen electrons present in the diamond, the higher chances that its color intensifies, making it rarer and more valuable. Only 1 in 10,000 mined diamonds has a natural yellow pigment.
Some colorless diamonds do have a faint yellow color, which makes the diamond less valuable. However, as the color grade goes lower, it gets to a point where its quality increases again because of the vibrant color it resembles.
If you wonder which diamond cut is best for this colored stone, jewelers always prefer the cushion-cut and radiant settings. These two cuts have a reputation of retaining colors well than other variants. Thus, their facets and arrangement highlight the diamond's brilliance better.
For a fun fact, 'Eureka' was the first yellow diamond to discover in Hopetown, South Africa. Its name translates in English as 'I found it.'
---
Yellow Diamond's Color Scale and Their Values
Pricing a yellow diamond depends on its color intensity. As you learned, the more colored a stone gets, the more valuable it becomes. Since its color scale is different from the colorless stones, we shall walk you through each category to better understand yellow diamonds' different prices.
The Gemological Institute of America (GIA) is the primary body assigned to grade the colors found in a diamond. Colorless ones have a color D to Z categories, depending on the presence and absence of a yellowish tone on the stone. Colors D to K are the most sought-after varieties in the market, while L to Z does not usually land in a jewelry store.
However, the grading system in yellow diamonds is different. Its terms include the following:
Fancy Light
Fancy
Fancy Deep
Fancy Intense
Fancy Vivid
Some stones fall to 'faint,' 'very light,' and 'light yellow' diamonds, which some refer to as the Cape diamonds. However, these gems have the least market value. Their colorless grade equivalents are colors U to V and Y to Z.
How do these scales differ in value? Below is the summary estimate of the prices that each grade gets.
Fancy Light and Fancy Yellow Diamonds have a hue that is neither too light nor too deep. It is the most common variety, and it is synonymous with colors F to G. The average price range of these diamonds runs between $4,500-$5,000.
Fancy Deep Yellow Diamonds is a rather less appealing color grade to most people. It looks warmer than the rest, and it is typically coupled with a brown shade. As it looks less fancy and brilliant, the diamond tends to become less valuable.
Another downside of this item is its rarity. Still, some people get attracted to this stone and are willing to pay less than $4000, depending on its clarity and symmetry.
Fancy Intense Yellow Diamonds is a crowd favorite. It has an extremely lucid nature that makes the quality more appealing to most people. 'Canary Diamonds' is its alternative name. A carat of this fancy piece may range between $6,500 – $8,000. They score almost 50% more than fancy yellow diamonds.
Fancy Vivid Yellow Diamonds are the most expensive variety and the rarest of them all. It has an extraordinary sparkle that outshines the other color grades. Its quality is even more valuable than the D grade in the colorless division. This piece can range between $12,000-$18,000 per carat.
A special type of vivid yellow diamonds is located in Zimmy, Africa, whose per carat cost is $20,000-$30,000.
These are only the base prices of yellow diamonds based on color. They may still go up or down, depending on their weight, shapes, and clarity.
---
How to Make the Most Out of Your Yellow Diamond Purchase – A Buyer's Guide
Heidi Klum, George Clooney, and Hillary Clinton are some of the few influential people fond of yellow diamonds. Its color keeps its features more irresistible than white diamonds. However, they come at prices that most buyers may not afford.
If you want to get a yellow diamond for the most value, here are some guidelines that would help you decide how and which to choose.
#1. Find a Company That Sells Diamond for the Best Deals
You may want to buy a yellow diamond, but you do not know where to purchase it. Some buyers worry that they might land on fake or artificially-made gemstones, which are less valuable than natural ones.
Thus, it is crucial to find a reliable jewelry store, especially if shopping virtually is your most convenient option.
Blue Nile and James Allen earn the top spots of trusted diamond stores worldwide. The best thing about these brands is they follow a business model that allows them to sell diamonds at a lower price. Some of their items are less expensive than Tiffany's and Cartier's.
These brands also guarantee their patrons that trusted experts handpicked their diamonds.
#2. Learn About Yellow Diamond Terms
Buying a diamond comes with a set of jargons that you must familiarize. You should know what does color, clarity, cut, and carat weight mean to yellow diamonds. Its color scale even uses different terms than the letter grades of colorless stones.
You can assess diamonds better if you understand these words since they are the standard features that one must always check. With the right information in mind, buying expensive stones with poor qualities can be avoided.
If comprehending them is hard, you can also talk to an expert through your chosen jewelry store.
#3. Choose a Diamond That Produces the Most Brilliance
Yellow diamonds are beautiful stones. Some cuts are better for colored diamonds than others. Thus, it will help if you know which shape would best highlight the brilliance of these stones.
Radiant and cushion-cut are more advisable options because they retain a diamond's color well. Plus, they effectively hide blemishes for stones with lower clarity grades. However, oval-shaped yellow diamonds may also be a good choice.
Selecting the right setting is also important when it comes to brilliance. The prong setting is the best design if you want your diamonds to have excellent support while ensuring that enough light passes through its facets for better brilliance.
#4. Always Look for a Certification
Several associations have the primary task of grading diamonds. Examples of these bodies are the Gemological Institute of America and the International Gemological Institute. Most online jewelry shops sell GIA and IGI certified stones only.
By doing so, they assure their clients that their items are legitimate and carefully examined in a laboratory. You can even look at the original certification reports through a trusted jewelry shop website.
Please note that these bodies only grade the diamonds, but they are not responsible for appraising their value. Pricing each diamond lies on the per carat value of each company.
These are only general tips to help you as you shop for gemstones online. We already covered the specific details in the earlier part of this article.
---
Conclusion
Yellow diamonds are top-tier stones. Their natural color makes them more valuable than other gems. Their availability is rare, too. Thus, if you stumble upon one item that you can afford, you might as well buy it for your loved ones or use it as an investment.
Like colorless diamonds, GIA grades the yellow ones. However, it has a different color scale from the former since what gemologists measure here is its intensity. The more vivid its color, the pricier the diamond gets.
However, not all yellow diamonds are too expensive as you imagined. Some still fall into a more affordable price range, especially those with fancy light and fancy yellow scales.
The best yellow diamond deal we found in the market is James Allen's 1.00 Carat Cushion Modified Diamond. It radiates enough color, size, clarity, and spark expected from premium quality diamonds. Its price is quite reasonable at $2000.
However, if you or your partner want to look more glamorous, you may go for stones with higher color intensity. The rarest pieces are those with a fancy vivid grade, and Blue Nile's 13.04-carat diamond is a perfect example. Its exceptional quality is worth more than a million dollars.
Going for the safest choices or the most expensive ones highly depends on your preference. In the end, the sentimental value you attach to the stone is more important than its price tag.
---
Frequently Asked Questions
Where can you buy original yellow diamonds?
You have various choices to choose from, but Blue Nile and James Allen offer the most valuable prices.
Yellow diamonds are rare items, making the stone's price jump at an all-time high. Thus, you can save more if you go for companies that offer lower prices for original diamonds with deluxe qualities.
Are yellow diamonds good investments?
Compared to colorless diamonds, yellow diamonds are better assets because the latter's price remains expensive regardless of demand.
Colorless diamonds are better as presents to loved ones. The value of smaller colorless diamonds fluctuates all the time, especially if they are not most people's favorite cuts.
Where are yellow diamonds mined?
Colored diamonds can be mined anywhere globally, but most of them are found in Central Africa, Australia, and Sierra Leone. History would tell us that the first mined yellow diamonds came from South Africa.
Related Resources: