Everyone must have some classic pearl earrings in their possession, so why not be smart before buying one? You can invest in some pearls or give a thoughtful gift to your loved one.
Put some spark in the eyes of your loved ones with a matching pair of lustrous pearls that would give an elegant touch to their outfit. If you're looking for some earrings to match your other pieces of jewelry, there's no other classic and more fitting choice than some pearl earrings.
Below are the best pearl earrings we could find for you, giving an elegant finish to anyone who wears them. You can find your pick in our carefully chosen items that would best fit your style. Don't miss out on the best ones in the market today!
Top 8 Best Pearl Earrings Reviewed
---
Specifications:
Size (mm): 4.5-5.0

Type: Freshwater Cultured Pearls 

Color: White

Metal material: 14k rose gold

With eight round diamonds (0.08 ct. tw.)
Delicate freshwater classic pearls are met with some edgy diamonds that make a crown-shaped pear stud earring overall. If you want those classic pearl stud earrings but want to add a touch of some elegance to put some statement while keeping it simple, this will complete your look.
A 14k rose gold metal material that holds it, giving a touch of pink, romantic aura that gives a feminine glow. It would be a perfect gift for Valentine's Day or a sweet sixteen, debut for your loved one, giving a romantic touch and a thoughtful message.
It can be worn for an everyday casual or business casual outfit if you want a classy or elegant touch on your stylish outfit. It will also complement your formal outfits well, as it won't be too much, but still serving the event or occasion perfectly.
Its freshwater pearl nature gives it a less vulnerable pearl that can be used for everyday wear. However, you must still take good care of it because of its organic nature, making it prone to wearing with poor handling.
If you're looking for a classic pearl stud earring with an elegant touch of diamonds, making you up to your game, this would be a budget-friendly yet beautiful choice of a pair of pearl earrings from James Allen, one of the most trusted sellers of jewelry in the market today. It can make you feel royal with its crown shape brought by some real shiny diamonds! 
| Pros | Cons |
| --- | --- |
| Everyday wear for various settings | Can be too simple for some |
| Pretty crown shape by diamonds | Smaller than expected |
| Not showy or over the top | |
| Romantic, thoughtful gift | |
| Budget-friendly | |
---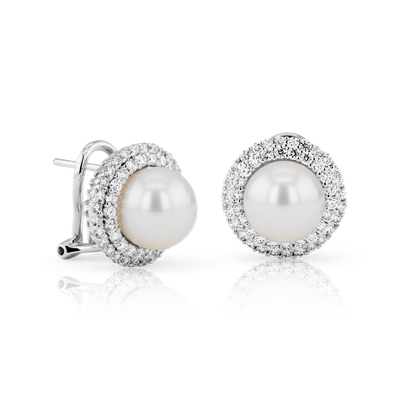 Specifications:
Size (mm): 9

Type: Akoya Cultured Pearls

Color: White

Metal material: 18k white gold

With diamonds (1.01 ct. tw.)
You can enhance the pearl stud earring look with diamonds that form a halo around your pearl earrings. This pair of pearl earrings from the Blue Nile is studded with a hundred one-carat diamonds that add a brilliant shine to the lustrous Akoya pearl for each earring.
The Akoya pearl on these earrings is put in a peg setting and has an omega backing that gives a comfortable earring closure, with a back lever giving extra security. It will hold the earring on your ears snugly and comfortably with a gentle push.
If you're looking for earrings that will make you shine and look perfect at business casual and formal events, this will do the job. A hundred graded genuine diamonds will bring out the pearl more as the center gem, representing purity and elegance. 
These earrings would be a perfect gift for your loved ones who deserve elegant pearl earrings yet wouldn't want to be weighed down with an over the top and extra-looking outfit. It wouldn't look too simple even at first sight and would look valuable to everyone yet still sits with the perfect mix of sophistication and simplicity. 
| Pros | Cons |
| --- | --- |
| Convenient and comfortable closure backing | Not for those who want extremes of a simple or an over-the-top look |
| Perfect blend of sophistication and simplicity | Incompatible with casual settings |
| Lustrous and well-rounded Akoya pearl | Expensive |
| Brilliant shine of genuine diamond halo | |
---
Specifications:
Size (mm): 7.5-8 (pearls)

Type: Akoya Cultured Pearls

Color: White

Metal material: 14k yellow gold
This pair of pearl drop earrings are made for those tired of the pearl stud earrings yet still want to keep it simple. The lustrous and authentic Akoya Pearls already make these earrings classy enough on their own.
14k gold lever-backs support these pearls and make an elongated look that heightens the shape of your face, making you look classier. Pearls are handpicked real that manifest iridescent hardened nacre. 
Any lady would be touched if given this gift, especially on a special day, making it more sentimental. It is a simple and thoughtful yet valuable gift. It has a flawless to almost flawless surface that is sized perfectly to compliment a lady's face. 
The Pearl Source is one of the most trusted brands that offer high-quality pearls. They are a proud member of the Jewelers of America (JA), a leading organization of the most professional and ethical jewelers. 
Its lever backed gold makes it compatible with sensitive ears while complementing the elegance of the pearls. Its mechanism will make it easy to store and efficiently put on and remove as the lock is attached through a lever. If you're looking for a classy, authentic pair of pearl earrings offered at a budget-friendly price, this would be a great choice! 
| Pros | Cons |
| --- | --- |
| Nicely elongates and complements a lady's face | Packaging can be improved |
| Compatible lever backing for sensitive skin | Questionable durability |
| Manageable securing mechanism | |
| High-quality, affordable pearls | |
| Trusted brand on Amazon | |
---
Specifications:
Size (mm): 11-12 (pearls), 2.12 x 12 (earring)

Type: Tahitian Pearls

Color: Black/Peacock

Metal material: 18k white gold

With 84 round-cut diamonds (0.72 ct. tw.)
Alluring Tahitian pearls star this sophisticated art deco designed drop-down earrings. 18k white gold metal is studded in diamonds and shaped in different shapes that go down to the end, where it holds around to semi-oblong dark Tahitian pearl.
The black and brilliant touch of these earrings gives a sophisticated look that will match any outfit. What can go wrong with a black pearl? It only gives a more powerful aura and stronger statement than a white pearl. 
These pearl earrings would be a perfect gift for women who has an elegant demeanor, as these will match her style and highlight her aura. The 84 round-cut diamonds that line the drop earrings towards the pearl add a shine that will capture any eye from any angle. 
You'd be amazed by the intricate shapes of the drop-down metal earrings lined with glistening diamonds that complement the lustrous black pearl below them, giving a unique exotic art deco theme. Its length will give your face a nice shape that glows.
If you're looking for uniquely designed pearl earrings that have a sophisticated, eye-catching aura for your formal events, these pearl earrings from James Allen would be a great deal for you! 
| Pros | Cons |
| --- | --- |
| Length accentuates and narrows face shape nicely | Relatively expensive than most choices |
| Uniquely designed drop-down exotic earrings | Incompatible with casual events |
| Highly sophisticated genuine Tahitian pearls | Unconventional |
| Studded with diamonds | |
| Eye-catching | |
---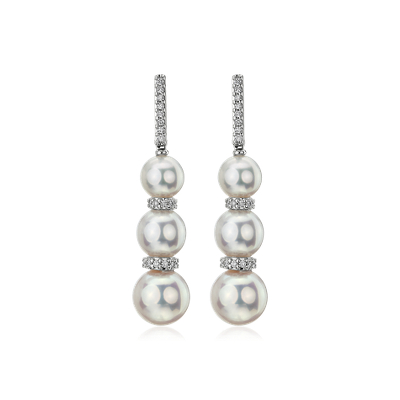 Specifications:
Size (mm): 5.5, 6.5, 7.5 (three pearls)

Type: Freshwater Cultured Pearls

Color: White

Metal material: 18k white gold 

With 60 diamonds (0.18 ct. tw.)
Blue Nile's drop-down earrings feature three stacked freshwater pearls held by lined diamonds that shine out of the lustrous pearls even more. It has a flattering length that fits any face shape, bringing out a narrow and slim facial feature.
Its design and strategic placement of the pearls with the diamonds will make your skin glow and appear softer. You can put on any formal outfit and throw this with it, and you'll be surprised how it makes it even better. Its elegant shape and design bring out a classier touch that brings out your stylish outfit more.
This pair of earrings will make a special gift for your wife, your mom, a girlfriend, or anyone special to you who would appreciate fancy items like these. You'd be sure to spark some joy in their hearts with the brilliance of these diamond-studded pearls. Its classic backing would also make it easier to put on and remove.
You can make your special occasions even more special with these pearls, making you look more elegant and highlighting your pretty features. If you are looking for elegant pearl earrings that would highlight and make your face shape narrower and prettier, making your day more special with you wearing it. 
| Pros | Cons |
| --- | --- |
| Highlights nice feature of the face and makes it narrower | Push backing would be a hassle if lost |
| Makes special occasions even more memorable | Incompatible with casual settings |
| Towering lustrous pearls, lined with diamonds | |
| Gives a nice glow to the skin | |
| Makes a fancy gift | |
---
Specifications:
Size (mm): 11-12

Type: South Sea Cultured Pearls

Color: golden white

Metal material: 14k white gold or yellow gold
Dubbed the "Queen of Pearls," the South Sea pearl can be worn with a single small diamond atop it, making the pearl the center of attention yet highlighted more because of the diamond's shine. This valuable pearl is genuinely lustering and is high graded, brought by James Allen, one of the industry's most trusted sellers.
The pearls are of high-quality and are luminous and large as expected from a South Sea pearl. The diamond on top is also round-cut for maximum brilliance and graded as VS2-SI2, which is grouped with high-clarity diamonds, making these earrings look great and valuable.
14k white gold holds the earring together and exhibits a glow that complements the shining gems. The back piercing is supported with a clip-on clasp feature, making it secure and supported so it wouldn't slide off. It is more convenient than the push back backing that can't be worn anymore if lost, which commonly happens.
An 18k white gold variant is also available but is twice the 14k white gold metal material's price. If your skin is not too sensitive and can go with an almost unnoticeable difference from its metal composition, then this pair of earrings would be a more practical option.
Its classic simple look yet high-quality-and large pieces make it ideal for any occasion and can even be worn for your everyday use.
If you're looking for a classic white big pearl stud earring that is convenient and more elegant than your regular freshwater ones, this would be a great investment for you! 
| Pros | Cons |
| --- | --- |
| Versatile and can be worn on any setting | Pearl can be too big for your liking |
| Not too simple, and not too much | Other cheaper single pearl options |
| Convenient piercing support | |
| Large classic single pearl | |
---
Specifications:
Size (mm): 2 (per pearl)

Type: Freshwater Cultured Pearls

Color: White

Metal material: 14k white gold or yellow gold
A pair of these earrings has 26 pearls overall, with 13 pearls each for an earring, lined in a halo that creates some lovely open circle earrings. This minimalist look gives a classy touch to your outfit. You can wear these earrings in any setting looking elegant, yet still appropriate for an everyday look.
These earrings feature high-quality tiny pearls offered at a reasonable price on James Allen with great deals on return policies and warranties. You can fully utilize these earrings at a great price. It will be a thoughtful gift for yourself or your loved ones to have some classic pearl earrings that they can wear anywhere.
A 14k yellow gold metal holds them together with a four-prong setting to secure the pearls safely. These pearl earrings would be perfect for looking for a contemporary design with a luxurious finish.
If you are looking for pearl earrings with a modern everyday look vibe with a luxurious touch of seed pearls, this would be an affordable choice for you. 
| Pros | Cons |
| --- | --- |
| Affordable, authentic lustrous pearls | Not very eye-catching |
| Minimalist yet elegant | Too simple for some |
| For an everyday look | |
| Modern design | |
---
Specifications:
Size (mm): 55 (earring)

Type: Faux pearl painted beads

Color: White

Metal material: 14k yellow gold plating
The classic pearl earrings you want can readily be yours at a cheap price. The faux pearls are painted to give a shine that likens to that of a real pearl. The whole earring measures more than 5cm, which gives a dangling appearance that can be noticeable even if you are long-haired.
It gives a dangling and drop-down appearance filled with pearls for the whole hoop, which would be hard to achieve for real pearls as it can wear in time. If you want to match your stylish clothes with these flattering earrings without the need for the luxury of authentic pearls, these earrings are affordable even for someone with the smallest budget.
These pearls can be worn on any occasion, to match any style. They are lightweight, making it easy for you to move your head around with ease. Its metal material holding the pearls into a hoop is plated with 14k yellow gold to offer hypoallergenic compatibility with sensitive skin types.
Your satisfaction is also guaranteed with its 60-days return policy if you received these earrings with some defects. A 24-hour guarantee of active customer service will also attend to your questions and concerns.
If you're looking for uniquely designed faux pearl earrings that are the most affordable yet serve elegance for a flattering look for you, this is worth a try! 
| Pros | Cons |
| --- | --- |
| Great customer service of the seller | Luster of pearls may wear easily with poor handling |
| Compatible with an everyday look | Gold plating might wear fast |
| Unique pearl-hooped design | Faux pearls |
| Very cheap, affordable | |
| Manageable lever | |
---
Top Pick – Best Pearl Earrings
James Allen's 14K Rose Gold Crown Freshwater Pearl and Diamond Earrings ranked our charts as the best pearl earrings in the market today. Aside from its authentic lustrous pearls, a trusted brand offers them at a great price. Its high-quality material isn't compromised with its affordable price than the other overpriced pearl earrings in the market.
It can also be worn from casual to formal events, making it versatile. You can fully utilize it for your everyday look. Its freshwater nature also makes it more durable and wear-resistant than the other pearl types.
Many features can be considered when choosing the pearl earrings that would best fit you. James Allen's 14K Rose Gold Crown Freshwater Pearl and Diamond Earrings offers a great design that balances all the good features of pearl earrings and outweighs its cons. With these pearl earrings, you can be guaranteed with a great style and be ensured that you get what you have paid for!
---
Pearl Types
Did you already know that there are different types of pearls? Its type could tell how lustrous, colorful, durable, or expensive your pearls would be. 
Akoya Pearls
Dubbed as the traditional "Mikimoto" style of jewelry that features high-end round pearls with excellent luster. These pearls can be worn for special occasions, and you must have a large budget to purchase its classic white pearl earrings. 
Freshwater Pearls
A pair of freshwater pearl earrings would cost less than those of the Akoya ones. They are slightly off-round to round with a softer luster. However, these pearls are more wear-resistant and would be easier to replace. It can be used for your everyday look or formal events with an overall impression of fine white pearls.
Tahitian Pearls
These pearls are the only ones that offer a variety of colors, giving an elegant yet exotic twist to your earrings. The most popular type is black pearls that usually cost more than its other color variants. If you're in for something different and want to stay away from the traditional white pearls, this would fit your jewelry box.
South Sea Pearls
These pearls can come in white or gold colors that give an unmistakably glorious presence. These are considered the natural, untreated, and large pearls dubbed as the "Queen of Pearls." It gives the iridescence and lustrous glow that will catch any eye. However, you would need a large budget even more than for the Akoya pearls before you can wear them as piercing accessories for your ears.
Simulated or Faux Pearls
If you don't have the budget to reasonably buy authentic pearls, there are simulated pears made of plastic or glass to imitate the look of real pearls. It would be preferable to purchase glass ones as they provide more luster and durability. You would also be more comfortable in your movements as these pearls are easier to replace.
---
Buyer's Guide: Features to Look Out for Before Buying the Best Pearl Earrings
Choose the Right Pearl Type
With the different types of pearls listed above, you can assess what type of pearls would suit your style and your budget. Some pearls are more lustrous and perfectly rounded, like the Akoya, some have an exotic, colorful touch like the Tahitian, or the large glowing Queen of Pearls, which are the South Sea types.
Suitable Pearl Size
Pearls are usually measured in millimeters through their diameter. They range from 6-11mm to be conveniently set into earrings. The larger its size is, the more costly it would be, but it will also be more eye-catching, best used for formal events.
Durable Material
Ensure that your pearls are protected with appropriate and secure settings to hold your pearls, especially if they are authentic. Pearls would clash or repeatedly rub against each other with your rash movements, which can wear them easily if constantly crashed on other materials. 
Freshwater pearls are the type of earring accessories that can be used for everyday looks at it can handle more exposure and are relatively tougher than the other genuine pearl types. 
For the metal materials attached to your earrings, ensure that they have a high-quality metal material to match the elegance of your pearls. Most reputable pearl earrings would use white or yellow gold metal with some protective plating to make them resistant to tarnishing and hypoallergenic for sensitive skin types.
Secure Locking Mechanism
Most earrings can have flimsy back locks that can be pushed back easily, or some even complain of very complicated or hard to open locks that would be an inconvenience if you were to remove them alone. You can discover pearl earring backing locks that provide a secure hold or support for the back lock or a conveniently attached level that would have an uncomplicated opening and locking mechanism that wouldn't compromise the security of your pearls hanging on your ears.
Verified Authenticity
It would be best to get pearls from verified vendors or sellers specializing in gemstones or jewelry for those who plan to buy authentic pearl earrings. Reputable brands and sellers would even include a Certificate of Authenticity along with your pearl earring pair purchase to guarantee your pearl's legitimacy.
Good Reviews and Ratings
If you were to be meticulous in choosing your products before buying them, you would read some reviews from verified purchasers who've already seen the product personally. With that, you can assess what features are great and what makes those pearl earrings worth your money. You would know that it's a buy if it has been garnering many good reviews with soaring ratings. 
Within Your Budget
When you compare various products in the market, you can assess what features set them apart from the other products. If you saw a pair of pearl earrings that is just as great as the other pearl earrings types sold at a higher price, then you must pick it over the others for a good deal. 
You can sacrifice some negotiable features for your pearl earrings if you don't have enough budget to buy the most extravagant ones in the market today. You can start by choosing the type of pearls that would fit your budget, then ensure that you get the durability and wear-resistance and be happy with how it looks overall. 
It would be best to invest in your pearl earring's longevity and design so you can be satisfied with your purchase while making it cost-effective in the long run. It would be a plus if they have satisfaction guarantees, money back, and other warranties that would be useful through your earrings' life.
---
Conclusion
Pearls give a classy signature that expresses purity and elegance. Various types of pearls would even give different impressions that can match your style and personality. Pearl earrings would be perfect gifts for yourself or your loved ones, especially if they have none to match their pearl necklaces. It is a precious gemstone that tells your receiver that they are special as well.
Different pearl earrings are now being offered in the market today, which can be quite overwhelming. Luckily, a list of the best pearl earrings has already been made for you. James Allen's 14K Rose Gold Crown Freshwater Pearl and Diamond Earrings made it to the top of the list for the best pearl earrings due to its relatively affordable price yet great features giving great style versatility to be worn in any setting.
Other pearl earrings proceeding James Allen's 14K Rose Gold Crown Freshwater Pearl and Diamond Earrings also offer great and unique features that you may find to best fit you or your loved one.
Knowing what features to look for when buying pearl earrings helps you get satisfaction with your purchase. You should be equipped enough to know what you're looking for if you've already read the buyer's guide for the best pearl earrings on our list.
---
FAQs – Frequently Asked Questions
What determines how valuable pearl earrings are?
Genuine pearls would exhibit a nice luster, which is how light is being reflected off the pearl's surface. Sharp and highly reflective pearls would technically be of more value. The symmetry of its rounded shape and smooth surface would also make them more valuable. Larger-sized symmetrical pearls would also be more valuable obviously with their rarity because they contain more nacre material, which takes a lot of time to build up inside some shellfish. Naturally obtained pearls are also premium-priced instead of the more common cultured or farmed pearls dominating the market.
Where do pearls in my earrings come from?
Pearls naturally grow from shellfishes like oysters and clams that smothers a grain that gets into their shell with a liquid called nacre. It grows over time and hardens into a pearl.
How do I know if my pearls are truly genuine?
It would be best to buy genuine pearls from trusted brands or sellers that are experts on rare gemstones or jewels as they have more knowledge on how to test and determine authentic pearls from faux. They usually provide certificates that ensure the authenticity of the pearls in your earrings. You can also test a pearl manually by rubbing it against the surface of your tooth (not the edge). If it feels gritty on your teeth, they are most likely to be genuine. If they are smooth and produce less friction with your teeth, they will most likely be fake.
Related Resources: