An edgy, fearless, and creative woman deserves a stylish stone in the name of a Marquise-cut diamond. This elegant piece is a favorite pick among the ladies as a fashion accessory because of its slimming illusion. However, Catherine Zeta-Jones and Ashlee Simpson can testify that it is also suitable for an engagement ring.
Like an oval-cut and radiant-cut diamond, it requires a bigger surface area, making it look larger than its weight. Thus, a person who loves all things glamorous would proudly flaunt this diamond along with their best dress.
If you are quite interested to learn more about this classic and historical stone, we have all the information gathered in this article. Get to know why this diamond has a polarized review from several customers, and fall in love with some of the world's most cutting-edge Marquise diamonds.
Top 7 Best Marquise Cut Diamonds Reviewed
0.70 Carat Marquise Diamond by James Allen – Best Overall
0.36 Carat Marquise Diamond by James Allen – Best Value
0.30-Carat Marquise Cut Diamond by Blue Nile – Editor's Choice
---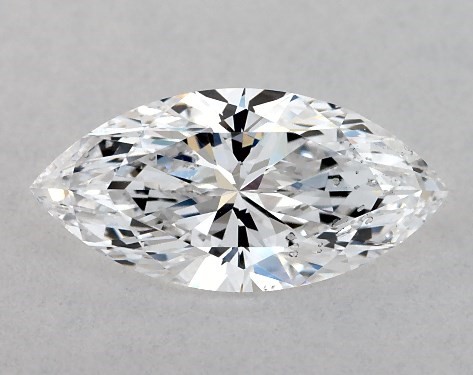 Specifications:
Color: D
Clarity: SI2
Carat Weight: 0.70
Length to Width Ratio: 2.06
Fluorescence: Medium
A marquise diamond is popular for its boat-like design. It has been around for centuries, and its popularity rises and falls over time. However, its vintage beauty never goes out of style, and James Allen's 0.70 Carat Marquise Diamond is its prime example.
Marquise-cut diamonds do not have a definite standard cut. If you prefer a more classical looking crystal, this piece has the perfect length to width ratio. Its surface area spreads well, too, making it look bigger than others with the same carat weight.
While stones falling to this category are popular for their visible bowtie effect, this item has lesser dark spots at the center. Thus, you will enjoy looking at it with reduced distractions. Moreover, it falls to the highest color grade, causing it to look more translucent and sparkly.
Since marquise diamonds hide blemishes well, picking an item with a higher clarity rating is not a requirement. This one only has a Slightly Included grade, signifying that it looks eye-clean from a wearer's perspective. However, its blemishes may appear upon closer inspection.
Overall, this marquis diamond is not the most impeccable stone, but it is the safest pick in the market. You can already get a premium quality piece at a lower amount of around $1400.Your loved one may even get surprised that it weighs lighter than it looks.
| Pros | Cons |
| --- | --- |
| Highest color grade and average clarity | The appearance of blemishes upon closer look |
| More table area and larger-looking | Small carat weight |
| Perfect symmetry and brilliant cut | Shallow depth |
| Durable girdle with thick support | |
| Less bowtie effect | |
---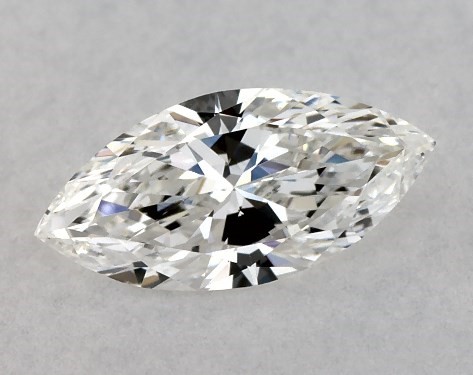 Specifications:
Color: F
Clarity: VS1
Carat Weight: 0.36
Length to Width Ratio: 2.10
The most challenging part of crafting a marquise diamond is aligning each side perfectly, resulting in a mirroring effect. The 0.36 Carat Marquise Diamond from James Allen passed that test, making it one of the most practical choices in this variety. It may be small, but it has more to offer.
This piece costs around $500, which is 50% lower than a round diamond with the same weight. What's more, its quality remains at a higher standard despite its more economical cost. It has a colorless grade with minor inclusions. Thus, calling it a flawless piece fits its character.
Since marquise diamonds are not a favorite pick for engagement rings, using this one as a side stone to complement a larger centerpiece is the best way to utilize its beauty. Examples of these are royal crowns, pendants, bags, and luxury bangles.
Like the first item, this diamond still falls to the classic design of marquise cuts. However, its bowtie effect is more prominent. Since it has a smaller size, the dark spot may overpower its entire beauty.
Moreover, be sure to choose a durable prong to protect its tips. The last thing you want to happen is losing or breaking this loose diamond.
| Pros | Cons |
| --- | --- |
| Well-arranged facets and identical sides | Not advisable as a centerpiece |
| Economical price for its weight | Prominent bowtie effect |
| Colorless and flawless quality | Small carat weight |
| Perfect as an accent stone | |
| Practical option | |
---
Specifications:
Color: E
Clarity: VS2
Carat Weight: 0.30
Depth: 63.4%
Table: 61.0%
Length to Width Ratio: 1.90
Blue Nile is a popular and trusted brand for any diamonds. With this reputation, it is always possible to find a precious piece with the best value on their website. Its 0.30-Carat Marquise Cut Diamond is a basic example of a deluxe piece with a cost-efficient price.
If your significant other has a larger than life personality and loves to be fashionable, giving them a gift with this marquise diamond on it suits them. Its carat weight may be lesser, but its table percentage makes it look larger than it seems. It is perfect for small and wider hands because this piece will do the trick of making them look slim and elongated.
Like the first two pieces featured in this article, it upholds a high color and clarity standard. Grade E falls into the colorless category. It still has some faint yellow pigment, but they only become visible with some laboratory apparatus.
The same logic goes with its clarity rating since it only includes minute blemishes resulting in a clean and flawless-looking diamond. Its size even helps in hiding blemishes. With a diamond as small as this, a ring with thinner shanks is the best item to partner with this piece.
| Pros | Cons |
| --- | --- |
| Spotless beauty and symmetrical edges | Not advisable as a centerpiece |
| Premium stone quality | Optimal presence of bowtie |
| Budget-friendly price | Extremely small size |
| Colorless grade | |
| GIA certified | |
---
Specifications:
Color: D
Clarity: IF
Carat Weight: 0.61
Depth: 57.7%
Table: 56.0%
Length to Width Ratio: 2.21
We are not yet done with lighter weight marquise diamonds because Blue Nile has more to offer. The common advice that one gets about diamonds is not going for pieces with the highest quality grade to save a few dollars. However, Blue Nile's 0.61-Carat Marquise Cut Diamond is an irresistible item.
Patrons who love diamonds with cooler tones will love this piece. It has the purest color with 100% blemish-free quality. Its internally flawless formation will capture anyone's heart just by looking at it. The view becomes even better once you see it sparkle along with the light that passes through its facets.
But since it has a more premium quality, the diamond's value increases as well. You can have this piece for $2000, and paying it in installment is an option you can take if you cannot afford a one-time payment.
It falls to the average-sized marquise stones, and it is best used for drop earrings. If you want it for an engagement ring, be sure that you pick a setting that protects its edges and corners. It is less advisable for people with an active lifestyle, too.
Its bowtie effect is quite noticeable. Thus, we cannot blame you if you look for a different type of diamond.
| Pros | Cons |
| --- | --- |
| A higher value for its premium quality | More expensive than the other pieces |
| Prominent sparkle and cooler shade | Not suitable for engagement rings |
| Available in an installment plan | Bowtie is prominent |
| Colorless and flawless | Size is too small |
| Best for drop earrings | |
---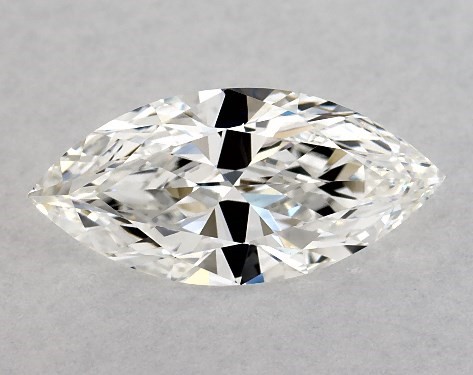 Specifications:
Color: F
Clarity: VVS1
Carat Weight: 1.00
Length to Width Ratio: 2.13
Larger-looking marquise diamonds are also available. James Allen's 1.00 Carat Marquise Diamond can be an excellent centerpiece for a fashion accessory. This item is perfect for people with bolder and edgier personalities since its fire and brilliance are more apparent.
James Allen only offers the best-handpicked items of their jewelers. Thus, you can assure that this piece is a rare and limited gem. Its overall quality is the main reason why this piece is a charming pick. It might not have the highest color grade, but its brilliance is quite eye-catching.
In addition to its sparkle is the Very Very Slightly Included clarity grade. Thus, it maintains the consistent feature of a James Allen stone, which is flawless and extraordinary.
Giving this diamond to a loved one will make them feel extra special. However, the item price is not as economical as the previous pieces we highlighted because it has a higher carat weight. The bowtie of this diamond is quite visible, too. It's like having a thick dark line on its center.
If these factors are your least concern, this James Allen diamond is still a reasonable item for its price. The fact remains that it saves you from spending too much on a 1.00-carat luxury item.
| Pros | Cons |
| --- | --- |
| Practical pick relative to size and price | More expensive price |
| It can be used as a centerpiece | Thick bowtie |
| Colorless and spotless quality | |
| Well-proportioned symmetry | |
| GIA certified | |
---
Specifications:
Color: F
Clarity: S1
Carat Weight: 0.50
Length to Width Ratio: 1.92
If you are looking for a more elongated stone, James Allen has a 0.50 Carat Marquise Diamond with a 1.92 length to width ratio. It has a narrower frame, making it look longer and slimmer. It also radiates a kind of brilliance suitable for any fancy dresses at home.
This diamond can be a perfect gift for birthdays and anniversaries because of its classic look. However, you may want to reconsider buying this for an engagement ring since it does not give off a wedding bell vibe that would excite your partner.
This stone's strongest asset is the high-quality color grade that makes it look cooler and more vibrant. As to clarity, you will notice some fine inclusions once you examine it up close. The Slightly Included grade signifies that the diamond is not as clean and flawless as the rest of our featured stones.
Nevertheless, it reflects a radiant sparkle with a lesser bowtie effect. The dark spots even add to the diamond's beauty, instead of being a source of distraction. This character is rare in marquise-cut diamonds, making it a smarter choice.
| Pros | Cons |
| --- | --- |
| Suitable to casual and formal attires | Less advisable for engagement rings |
| More elongated frame | Smaller carat weight |
| Less expensive price | |
| Lesser bowtie effect | |
---
Specifications:
Color: D
Clarity: IF
Carat Weight: 0.70
Length to Width Ratio: 1.99
Depth: 60%
Table: 61%
We are ending our recommendation list with one of Blue Nile's best marquise diamonds. Its 0.70-Carat stone is the closest rival of the James Allen diamond that we ranked on the top spot. You may be wondering why it did not get past the latter. Here is why.
Perfection is the best word to describe this diamond. It has an undeniable flawless quality, and you will love how its translucent feature sparkles. A single look is enough to conclude that this piece is a rare and exceptional item.
Moreover, its bowtie effect is not too dominant, making it a more sophisticated piece. It has a smooth polish and a proportional symmetry that any diamond enthusiast would love to have.
However, garnering the highest grade in terms of cut, color, and clarity does not necessarily mean that the diamond is a practical pick. It may have the edge over others, but the incremental price attached to these qualities become impractical.
You can settle for marquise diamonds with a lower clarity and color grade because this piece hides color and blemishes quite well. Saving more is still a plus for most clients.
| Pros | Cons |
| --- | --- |
| Well-polished and blemish-free | It is an impractical choice for its price |
| The size is not overwhelming | |
| Exceptional color quality | |
| Perfect symmetry | |
| More brilliance | |
---
Top Pick – Best Overall Marquise-Cut Diamond
There is no perfect diamond, but there will always be a piece that would outshine the rest. In the marquise-cut department, two famous brands compete for the top spot, in the names of Blue Nile and James Allen.
Among the seven items we highlighted, James Allen's 0.70 Carat Marquise Diamond deserves the highest recognition. Practicality is the main consideration that we looked at in deciding which piece is the best.
This James Allen stone does not only have premium quality, but it also has a justifiable and cost-efficient price. Among the 4Cs, its lowest quality is clarity. However, the diamond's size and cut make blemishes appear less visible.
Thus, you can wear this piece along with any outfit. It does not have an overwhelming and intimidating ambiance, but it does look flashy and sophisticated. With this kind of balance, your loved one will feel happy receiving this item.
---
Best Marquise-Cut Diamond Brands
James Allen
Better prices, wider selection, and an exceptional shopping experience are the promises of James Allen. It is like the best of both worlds when it comes to quality and value. Revolutionizing its customers' experience is at the core of the company's goal.
With James Allen's technology, virtually scrutinizing diamonds and other gemstones have become better. You can check each piece closely with a 360-degree angle. It uploads images of its handpicked diamonds online so that customers can fully assess them, like in a real-life setting.
Moreover, you can easily find the diamond that you are looking for with the website's detailed filters. Checking them is a no-brainer, too, because it has an easy-to-browse page with readily available instructions and buttons. You can even learn more about diamonds since it also publishes blogs discussing details you need to know when buying a precious stone.
James Allen is your ultimate one-stop-shop for different types of jewelry. Whatever you need, they have it all for you. You may also seek some expert advice and customer assistance through its helpline that is open daily.
Blue Nile
Blue Nile is another reliable retail shop for diamonds. Its humble beginnings started in 1999, and it continues to deliver excellent services until today. The best thing about Blue Nile is its understanding of the happiness of its clients.
This company has a reputation for providing the most affordable prices for top-class diamonds. Its mission roots from the founder's personal experience after failing to find a valuable engagement ring for his wife.
This specific scenario is a recurring situation for people who are willing to buy a luxurious item but cannot afford to spend a hundred thousand dollars. Now, you do not need to spend more to find the worthiest engagement ring for your fiancé.
Blue Nile has your back, and all you need to do is visit their website and begin searching. With its great variety of options, you will probably find a piece that suits your taste and budget in no time.
---
Best Settings for Marquise-Cut Diamonds
When it comes to settings, marquise diamonds are less versatile because it has weaker edges. If you are to buy a piece of this diamond, make sure you pick an option that provides the highest regard for its protection.
This section shall walk you through different settings that we highly suggest for your marquise diamond.
Bezel Settings
This setting is the best option if you want a marquise diamond for an engagement ring. An entire metal strip will cover the edges, including the diamond's tips, to securely hold it in place.
It also prevents the diamond from protruding, which lessens the stone's possibility of getting stuck on fine holes and other sensitive garments.
However, this setting is not advisable for people who prefer having a larger surface area. The strip will cover a significant part of the diamond, making it look much smaller.
Prong Setting
If a bezel is not your cup of tea, a prong setting is an excellent alternative. It does not have a thick metal band, but it has spikes that latch on the diamond to hold it well. Since it does not cover most of the stone's body, enough light can pass through it for maximum sparkle.
You have three options to choose from if you prefer this frame. The most common is the six-prong setting. If the diamond's size is smaller, a four-prong may be enough. In some rare instances, people prefer to have eight prongs.
When picking this setting, you must prioritize the protection of its tips. Thus, you can request to have v-prongs on each corner.
Halo Setting
If you want to have a fancier ring, this setting is the choice for you. It is a more stylish way of protecting the centerpiece by putting pave diamonds around it.
This option is better if you have a smaller marquise diamond and you want it to look larger. It looks almost similar to a bezel setting, but it does not give enough support to the diamond's center. Thus, the latter is still the optimal choice.
---
The Advantages and Disadvantages of Marquise-Cut Diamonds
Like other diamond varieties, a marquise-cut has its set of benefits and drawbacks. It is not the most popular choice for diamonds and the least favorite pick for engagement rings because of its somewhat different shape.
Knowing the pros and cons of this precious stone is essential before checking it out and giving it to a special someone or adding it to your collection box.
Advantages
#1. It Is a Large-Looking Diamond
Its elongated shape makes it look bigger than other diamonds with the same carat weight. To perfect its proportions, it requires a length to width ratio of around 1.70 to 2.20, and its common table percentage is within 58% to 61%. These measurements are far higher than round-shaped and princess-cut diamonds.
It thus gives an impression to the buyer that he got more diamonds for a lesser price.
#2. It Makes Your Hand Look Slenderer and Sexier
Another advantage of getting this piece is the illusion it gives to your hands, especially if they are smaller and wider. Thus, you will enjoy how its brilliance gives life and shape to your fingers.
#3. It Is More Cost-Effective
Since the demand for marquise diamonds is lower, its price is also cheaper. For people who are on a tighter budget, this piece is a friendlier option. However, most of the pieces available in the market have lesser carat weight.
Let us proceed to the things that may offset the positive things that marquise diamonds have.
Disadvantages
#1. Extremely Visible Bowtie Effect
A bowtie effect is a dark spot you see at the center of a diamond. It is the result of poorly polished stones. Some pieces have lighter shadows, while others have stronger ones.
While one's dislike is a matter of preference, some bowties dominate a large part of the diamond, making it look distracting and less appealing. It also affects its brilliance.
#2. It Is Less Durable
Finding the right setting for marquise diamonds is important because they are prone to chipping. The pointed edges snug on any material, which may end up scratching or breaking a piece of it.
Thus, you have to be extra careful when moving your hands while wearing this piece. It is not even advisable for people who have an active lifestyle or engages in strenuous activities.
---
Bullet Points to Remember When Choosing Marquise-Cut Diamonds – A Buyer's Guide
Football-shaped and navette are the other terms for a marquise diamond. Accounts say that its history traces back to the 18th century when King Louise XV of France requested a jeweler to cut a diamond with a shape that resembles Jean Antoinette Poisson's perfect lips. She was the Marchioness Madame de Pompadour at that time and also his mistress.
The term 'marquise' is an aristocratic rank between a count and a duke, and this diamond is its infamous status symbol. The marquise diamonds that we know today are products of evolution. While it was originally crafted with a diamond, rubies, emeralds, and sapphires are other popular stones related to this cut.
Its trend has risen and fallen several times in different generations, regaining its popularity in recent years. Thus, it is best to note what you must keep in mind when buying this diamond.
#1. Closely Examine the Diamond for Chips
As said, a marquise diamond fragile. Its tips are prone to damages. Thus, it will help if you closely check the stone for any significant cracks and breakage. Buying this piece would also mean picking the perfect setting to protect its build.
#2. Watch Out for Its Symmetry
The symmetry is another reason why this diamond is not a crowd favorite. Most marquise diamonds do not have perfect proportions. You must be keen on identifying if the tips align precisely.
Each side of the stone must be identical. Thus, you should also check if both sides have the same arrangements. The slightest unparallel symmetry will highly affect its color, brilliance, and shadow.
#3. Avoid Overwhelming Bowtie Effects
Wherever you go, and in whatever you read, one thing is constant. Jewelers will warn you about the bowtie effect. It is not avoidable, especially for gems with curved cuts. However, you can pick a diamond based on the intensity of the dark spot at the center.
Some shadows improve the personality of the diamond by adding an accent to its brilliance. However, stronger bowties tend to distract the owner's attention and make the diamond less impressive despite its premium quality.
#4. Pick a Diamond With the Most Valuable Price
A diamond's monetary value is highly dependent on its grade for cut, color, and clarity. If you want to have the most optimal pick, it is less advisable to go for colorless and internally flawless diamonds. They are only expensive, but the quality is not too far from stones with lower ratings.
For the best price, choose a piece with a color H grade and an SI1 clarity rating. These are the safest thresholds for a brilliant and beautiful marquise diamond. It also hides blemishes and color well, making diamonds with higher grades a futile option.
---
Conclusion
At a glance, a marquise diamond is a sophisticated piece that attracts attention. It may not be the most prominent variety in the market, but it has some impressive qualities that leave a remarkable impression on its wearer.
It is one of the most ancient pieces of diamond. Thus, its beauty has been tested over time, and it still stands as one of the most sophisticated gemstones. In picking a marquise diamond, you need to examine several features before coming up with the right piece.
However, some buyers do not have the patience to go through all of the items they can find online. To help you choose, we highly suggest that you try James Allen's 0.70 Carat Marquise Diamond. It is the most reasonable choice because it has a balance of premium quality and affordable price.
One thing that makes marquise diamonds stand out is their great value for money. It also has a positive aesthetic effect on the wearer's hands because its elongated design makes your fingers look better.
Even if it is not the most popular piece of diamond, it still stands as an exceptional gift to give your loved ones.
---
Frequently Asked Questions
Is a marquise-cut diamond out of style?
This cut is not as popular as other diamond cuts. If you are into vintage-style fashion, this piece will complete your look and collection. However, it does look more old-fashioned than the rest of the diamond varieties. It might be because it dates back to the 18th-century trend.
Do marquise diamonds sparkle?
Yes, they do. It has the same brilliance as oval-cuts, pear-cuts, and heart-shaped diamonds. However, round diamonds still have better brilliance than the rest.
How do you know if the marquise diamond is not fake?
Three tests are available to examine if a diamond is only an imitation. The first one is a fog test. Observe if the fog quickly dissipates after you breathe through it. Diamonds stay clear no matter how much you breathe on them.
The second one is the water test. Set the loose diamond on a glass of water. Diamonds are denser. Therefore, if the stone floats, it is fake. The last test is the read-through test. Try to read a text through the stone. If the letters are crystal clear, it is fake. Diamond deflects light, making reading impossible.
Related Resources: