Expressing your feelings can come in different forms. Men might typically surprise women with heart-shaped gifts like cakes, chocolates, stuffed toys, and bouquets. However, these presents perish and do not last long. Why not give them diamonds instead?
Diamonds are forever, and so does your relationship if you work on it. It is only right to celebrate your wedding, anniversaries, and birthdays with a long-lasting and elegant gift. Heart-shaped diamonds are the best symbols of affection and commitment.
This stone is not only a favorite pick of couples, but it is also popular among royalties. Mary Queen of Scots' gift to Queen Elizabeth is a prime example of this luxurious piece as a sign of goodwill and friendship. Only the skilled can perfect its proportions because of the difficulty of cutting and arranging its facets.
You came to the right place if you want to know more about this diamond variety.
Top 7 Best Heart Cut Diamonds Reviewed
0.90-Carat Heart Shaped Diamond by Blue Nile – Best Overall
1.51 Carat Heart Diamond by James Allen – Best Value
2.01 Carat Heart Diamond by James Allen – Editor's Choice
---
Specifications:
Cut: Very Good
Color: H
Clarity: SI1
Carat Weight: 0.90
Length to Width Ratio: 0.84
Whether it is for an engagement ring or a valentine's day gift, heart-shaped diamonds never go out of style. They always capture the heart of its wearer, especially if it has brilliant sparkle and well-cut edges. Blue Nile's 0.90-Carat Heart Shaped Diamond is a stunning beauty that has great value for money.
The brand is popular for its deluxe diamonds with cost-efficient prices. This piece is a prime example of that claim as it passes the standard grades for color and clarity. It may have a near-colorless feature, but it still looks cooler and whiter than other color H diamonds.
Facets of heart-shaped stones hide blemishes well, making inclusions less visible even at a lower clarity rating. We are also fond of its size because it is neither too big nor too small. It falls to the measurements that complement beautifully to any hand shapes and sizes.
While the dark spots at the center are unavoidable for this shape, it is not too eye-catching in this diamond. It may look a little wider than the traditional size of heart-shaped diamonds, but it still looks appealing and even more elegant.
If you search for a diamond that makes every penny you pay worthy, this piece is the most practical choice. For a $2000 price, you get a magnificent piece that sits rightly on all of its features.
| Pros | Cons |
| --- | --- |
| Looks more radiant than other color H diamonds | It has a dark spot at the center |
| Falls to the standard grades for color and clarity | Blemishes can still be visible |
| Suitable to any hand shapes and sizes | It looks wider |
| More fire and brilliance | |
| Reasonable price | |
---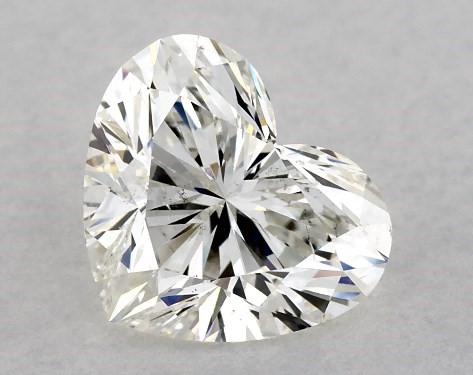 Specifications:
Color: H
Clarity: SI1
Carat Weight: 1.51
Length to Width Ratio: 1.18
What is the point of having a heart-shaped diamond if you do not parade its beauty? If you are one of those people who are not ashamed of showing off their glamour, you might want to go for a larger piece of diamond. James Allen's 1.51 Carat Heart Diamond is a splendid piece that would complement your outlook.
Like the first piece, this one is also a sensible choice. It has a color H grade, making the diamond a reasonable pick for its value. However, its yellowish pigment is more noticeable, making it less compatible with white gold and platinum plating.
With its size, you may want to watch out for more visible inclusions. Since it only has a Slightly Included clarity rating, blemishes are more detectable by the naked eye. Nevertheless, it still looks eye-clean from a farther distance.
This item suits ultra-careful people when it comes to symmetry and proportions since its length to width ratio is closer to the ideal heart shape. However, you need to ensure that you have the budget to afford this piece. Its carat weight makes it a more valuable piece resulting in a higher price than 1.5-carat diamonds of other cuts.
| Pros | Cons |
| --- | --- |
| The shape is closer to the ideal measurements | Visible yellowish pigment |
| Less dark pigments at the center | Not blemish-free |
| Ideal color and clarity rating | Expensive price |
| Larger carat weight and size | |
| GIA certified | |
---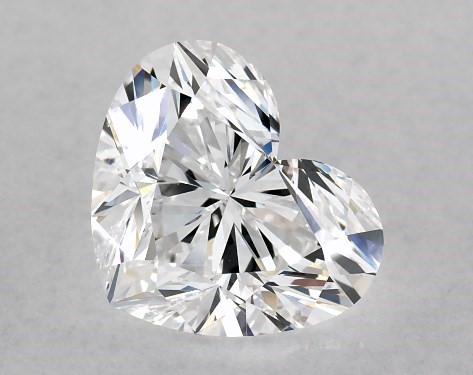 Specifications:
Color: D
Clarity: VS1
Carat Weight: 2.01
Length to Width Ratio: 1.22
Our list is getting even better with this next piece. Here is another James Allen diamond that would spark your joy if you have been saving a lot lately to afford a more expensive stone. Its 2.01 Carat Heart Diamond has a price of $23,000, and it has more to offer than its cost.
While we repeatedly emphasized that going for diamonds with higher ratings can be impractical, the choice is still yours to make. If you love fancier things, we are giving you the luxury to splurge on this piece.
The strongest asset of this diamond is its colorless quality. It has the coolest tone that makes it shine brighter than the rest. Its radiant beauty is even coupled with an almost blemish-free quality. Only a gemologist can identify flaws of diamonds with a Very Slight Included grade. Thus, people around you will only notice the sparkle that this diamond gives off.
Moreover, it has well-cut proportions, making it suitable for pendants and crowns. You may want to reconsider it for an engagement ring because of its size. If that is none of your concern, then go ahead because you deserve to flaunt an exceptional piece like this one.
| Pros | Cons |
| --- | --- |
| Best for pendants and royal crowns | Less suitable for engagement rings |
| Price can be paid in installment | The price makes it impractical |
| Higher color and clarity rating | More prone to chipping |
| Less fire and more sparkle | |
| GIA certified | |
---
Specifications:
Cut: Very Good
Color: D
Clarity: VS1
Carat Weight: 1.00
Length to Width Ratio: 0.89
If you prefer a subtler diamond piece, Blue Nile has an option for you. The brand has a notable 1.00-Carat Heart Shaped Diamond with promising features unique from the rest. You can have it as a centerpiece or an additional accent to any jewelry.
It has similar features to the previous James Nile product, but they highly differ in size and ratio. Since this piece is smaller, it is only logical for it to have a lower price value.
However, it has a wider surface area, which can be less appealing to some customers. Its tip may also look a bit yellowish despite its colorless reputation.
Beyond the measurements, this prestigious stone is still a sweetheart to adore. It does not exude overwhelming and intimidating energy, making it wearable on any occasion and even on regular days. If you want to keep it close to you most of the time, the best choice is to have it as a ring.
Finally, it has some faint glow when exposed to UV light. Thus, you can expect it to shimmer, even if you are in a darker place.
| Pros | Cons |
| --- | --- |
| Exceptional sparkle with a colorless radiance | Fluorescence makes it a little cloudy |
| Subtle and less intimidating piece | Tips look a little yellowish |
| Best suited for engagement rings | More dark spots |
| Best value for its quality | Wider shape |
| Glows with a UV light | |
---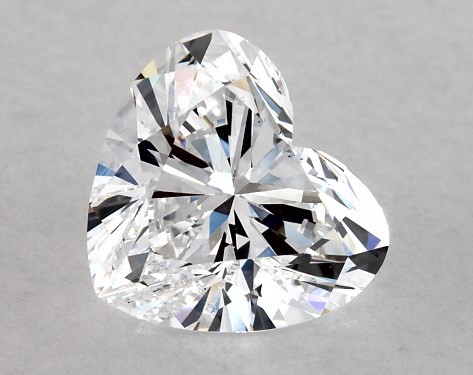 Specifications:
Color: D
Clarity: VS2
Carat Weight: 1.02
Length to Width Ratio: 1.10
Fluorescence: Faint
James Allen also offers friendlier options to its customers. The brand's 1.02 Carat Heart Diamond may not be the least expensive on our recommendation list, but it has a glamour that's unique and appealing to many. This diamond is not something you would pick at first, but it still deserves some space on your jewelry box.
It has exceptional quality when it comes to color and clarity. Like other James Allen heart-shaped diamonds, it highlights an eye-catching colorless quality that you cannot resist. It immaculately glows with enough light surrounding it, and its blemishes are less apparent.
The dark spots you see at the center are due to the arrangement of its facets. Instead of being a source of distraction, these shadows make the diamond look even more glamorous. Thus, it only shows that a bowtie effect is not too bad as long as it complements the diamond's beauty.
More than its physical appearance, this diamond can be your loved one's source of happiness. With the best setting and plating, it would make them feel extra special and appreciated. This timeless piece is an excellent present for their timeless beauty.
| Pros | Cons |
| --- | --- |
| Higher color and clarity grades | Wider appearance |
| Eye-clean and blemish-free | |
| Beautiful bowtie effect | |
| Subtle and brilliant | |
| Reasonable price | |
---
Specifications:
Cut: Very Good
Color: F
Clarity: VS2
Carat Weight: 0.30
Length to Width Ratio: 0.85
Affordable, small, and wide are three words that best describe this piece. Blue Nile's 0.30-Carat Heart Shaped Diamond is the tiniest stone that we feature in this article, but it is not the worst in the bunch. It even has better qualities than the larger pieces.
Carat Weight is a significant indicator of a diamond's monetary value. Apart from being the smallest, it is also the most affordable diamond with a regular price of around $500. It has some brilliance that improves the appearance of jewelry with larger gems. Thus, it is best used as an accent stone.
Its radiance comes from a color and clarity grade belonging to the higher quality scale. You will also appreciate how it still looks larger despite being lightweight. Thanks to the bigger surface area needed to perfect a heart-shaped diamond.
Moreover, its symmetry does not fall behind others because Blue Nile guarantees that it has the best proportions consistent with their other items. A fine jewel like this one is an extraordinary catch for its price. We cannot blame you if you check one out today.
| Pros | Cons |
| --- | --- |
| Higher color and clarity grade | Not advisable as a centerpiece |
| Large-looking diamond | Smallest carat weight |
| Flawless and colorless | |
| Well-cut proportions | |
| Most affordable price | |
---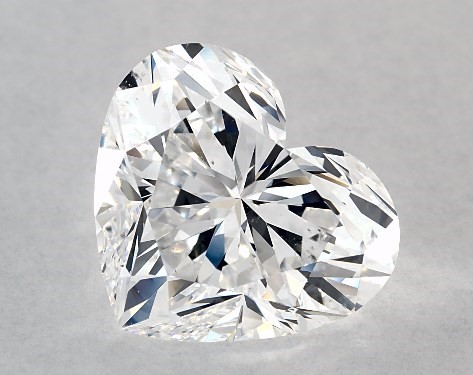 Specifications:
Color: D
Clarity: SI1
Carat Weight: 5.01
Length to Width Ratio: 1.16
Fluorescence: Strong
This item is the total opposite of Blue Nile's most affordable diamond. The best words to describe its 5.01 Carat Heart Diamond are large, expensive, and ideal. Indeed, the whopping $80,000 price will surprise anyone, except those who can truly afford it.
You might wonder if the price is reasonable for its quality. Most James Allen items we featured in this article have colorless grades. This piece does not have any difference. Its massive size even highlights its translucent brilliance because the layers and facets are more visible.
However, its image is highly affected by the diamond's clarity because the inclusions are noticeable. With a minimal grade, a regular wearer may notice some flaws within it. Thus, it will help if you do not set your expectations at an all-time high once you receive the package.
Despite this disadvantage, this piece is still in-demand, resulting in its increased price rate. It is a favorite piece for royal crowns and other luxurious accessories because of its stunning look and massive size. Socialites and women who love all things glamorous will have their hearts pummeling on this piece.
Diamond is a symbol of power. Imagine the amount of dominance you are radiating if you own one of these loose stones. But then, you need to have that massive amount of money first before this piece lands on your hands.
| Pros | Cons |
| --- | --- |
| Colorless quality and sparkling polish | Visibility of inclusions |
| Less dark spots at the center | Lower clarity grade |
| Impressive symmetry | Expensive |
| Maximum brilliance | |
| GIA certified | |
---
Top Pick – Best Heart-Cut Diamond
A heart-cut diamond is a fascinating and romantic piece that will catch anyone's heart and affection. Thus, it is a favorite pick for men searching for a stylish present for their girlfriends, brides-to-be, and wives.
Like other diamond varieties, this cut does not have a uniform quality. One stone may have a slight or considerable difference from others. Thus, it is best to scrutinize each piece with keen attention to detail. However, not all individuals have the tolerance to go through each piece.
Thus, we would like to make things easier for you by suggesting Blue Nile's 0.90-Carat Heart Shaped Diamond. It is our top pick because of the interesting qualities that this piece has. The price may not be the least expensive on our list, but its premium quality justifies the value.
What you can get from this $2000 beauty is a near-colorless and flawless-looking diamond. It has a certain brilliance that outshines others with the same 4C grades. It has well-arranged facets and precisely-cut proportions.
With all these qualities, you can have it as the centerpiece of a ring or a necklace. Its beauty will always shine on any setting and frame.
---
Best Setting for Heart-Cut Diamonds
Diamonds with a heart shape are unique choices when it comes to engagement and wedding rings. Women who are fond of this variety are typically playful and loves to be different from the rest. With its 58 facets, you will get a phenomenal piece that radiates vibrant energy as it shines brightly.
However, this stone is not the most durable piece in the market. The heart-shaped diamond's tip is as fragile as its sister-cuts: the pear-cut and marquise-cut diamonds. That is why picking the right setting for this loose diamond is essential.
How do you know that you chose the right frame? It will help if you always keep in mind that your priority is to prevent the diamond from breaking. Here are some stylish and reliable settings for your precious stone.
#1. Prong Setting
You can also call it the solitaire setting. It has a claw-like frame surrounding the stone to hold it in place. This setting is ideal if you want to protect your diamond from breakage without compromising its sparkle. It highlights your gemstone's surface area and allows more light to pass through its facets.
The six-prong setting is the most common option for most diamond varieties. However, the five-prong setting is best for a heart-shaped crystal due to the maximum-security it provides. Jewelers place two prongs on the heart's curves, two prongs at the bottom part, and a v-shaped prong on its tip.
The downside of this setting lies in durability and cleanliness. Taking care of this frame requires consistent maintenance because prongs tend to loosen over time. Moreover, dirt can easily pass through its spaces, and cleaning it can damage the diamond. Its claws may also snag on fabrics and scratch your skin as well.
#2. Bezel Setting
This one provides better protection to the diamond than the first setting. It has a bold metal rim that covers the entire edges of a stone. Its major advantage is its support to the diamond's center, making it less susceptible to damages.
If your partner has an active lifestyle or works in a hands-on environment, this setting is more suitable for her. The design prevents it from snagging on clothes and bags. It also protects the diamond from scratches due to sudden impact or accidentally brushing it on a surface.
Another factor that makes it a reasonable choice is its ability to hide the diamond's blemishes.
However, this frame has its set of disadvantages, too. Since it covers most of the diamond's edges, the stone may end up looking smaller. The metal also prevents light from passing through it, affecting the brilliance it emits.
Selecting the right band is also important in completing your diamond's look. A band would highlight the stone, especially if you chose the solitaire setting. Thicker bands give the diamond plenty of stone to shine. Pairing it with a split-shank setting helps in highlighting the curves of your heart-shaped diamond.
---
Interesting People With Heart-Cut Diamonds
This diamond has a reputation for being popular with renowned individuals. Here are some names to inspire you as you decide if you are to buy one of its pieces or not.
Duke of Milan
The heart-shaped diamond traces its origin to the 1400s. Its idea began during the Duke's conversation with Galeazzo Maria Sforza and Nicodemo, Italy's ancient nobility members.
He compared Cosimo de Medici's journey in the political dynasty to a heart-shaped diamond. Cosimo is the first family member from the Medici family who ruled Florence at that time. From such a statement, the desire to craft the most beautiful heart-shaped diamond spiked.
Mary Queen of Scots
Mary Queen of Scots is a box-office film in 2018. The real-life inspiration of this movie, Mary Stuart, has a deep affection for jewelry. As history would tell us, Mary sent a heart-shaped diamond to Queen Elizabeth I, her cousin, to regain her trust.
Unfortunately, this gesture did not end well because her cousin confined her in various parts of the castle. Mary was also found guilty of plotting Elizabeth's assassination.
Elizabeth Taylor
This woman is a famous English-American actress in the 1940s. She is popular for her jewelry collection, and one of them is the heart-shaped diamond that Richard Burton gave her during his proposal.
It is a flat-shaped heart diamond surrounded by rubies in a golden necklace. The stone's other name is the Taj Mahal heart-shaped diamond. Its origin began in the 17th century, and Elizabeth is one of the few lucky women who got this prestigious piece.
Lady Gaga
Lady Gaga's engagement ring from Taylor Kinney is one of the most popular luxury items of the 21st century. It was an 8.00-carat heart-shaped diamond on a thin pavé diamond band in white gold. This beautiful ring ranges between $350,000-$500,000, which is a thousand percent more than the ones we featured.
However, the relationship did not go well, and the pop icon ended up returning the ring to its original buyer.
Nicki Minaj
Another popular engagement ring of this variety was the 15.00-carat diamond that Meek Mill gave Nicki. It has a stunning yellow color with a double-halo setting.
This expensive piece may even be more expensive than Lady Gaga's. Their relationship is still running smoothly, and we are hoping for a better ending with this couple.
Indeed, this precious stone has been an instrument of expressing one's feelings to somebody. It has a rich history, and it still captures the attention of many until today.
---
Everything You Need to Know When Buying a Heart-Cut Diamond – A Buyer's Guide
Brilliance is one of the many aspects that people love about the heart-shaped diamond. That is why it is also one of the most expensive varieties in the market. Buying this piece may not be a challenging task, but it would be best if you have the eye to check a premium diamond.
The value that you will be spending on purchasing this item is no joke. Thus, it is only right to be extra careful before checking out a piece online. How do you know that you got the right diamond? Here are some tips to guide you in your shopping experience.
#1. Be Wary of the Diamond's Symmetry
The shape is the best asset of a heart-cut diamond. It represents softness and passion that makes women go gaga for this item. However, never shop blindly for pieces like this because they are prone to cut symmetries poorly.
Each side of a heart should be identical and must have a mirroring effect. If you do not look closely, you may not notice that one side is smaller or narrower than the other. Thus, you have to look at it from afar and closely to secure its proportions.
Poor symmetries may result in an uneven color reflection and shadows within the stone.
#2. Be Able to Understand the Length to Width Ratio
There is no right or wrong ratio for a heart-shaped diamond. Preference is subjective. Thus, you can either pick narrower or wider shapes. A traditional heart-shaped diamond typically has a 1.00 length to width ratio.
If you want to use the diamond for earrings and pendants, you can go up the standard size for a narrower and elongated piece. 0.95 and below makes the heart look wider, making it suitable for engagement rings.
#3. Be Able to Pick the Right Size
The smaller a diamond's size, the less expensive it becomes. While you are on a tight budget, do not forget that the diamond's quality is also important. We did feature a stone with a 0.30-carat weight. However, diamonds this small look rounder than a heart.
The ideal size is 0.50ct and above to emphasize its shape. Larger stones are even better, but keep an eye on their monetary value.
#4. Avoid Diamonds With Extremely Dominant Bowtie Effect
A bowtie effect is a result of misaligned facets and poor symmetry. When you see an extremely noticeable dark spot on the diamond, it is best to skip that piece because it is less valuable.
Shadows are unavoidable, but not all are extreme. It will help if you find a stone with a lesser bowtie effect. It is also a way to check if your diamond does have the right proportions inside.
The last item on our recommendation list is an expensive one. While it does have those spots, they do not look unappealing. They even make the diamond's appearance more beautiful and sophisticated.
#5. Choose the Color and Clarity Grade Carefully
Color and clarity grades are the default qualities of a diamond, along with its carat weight and cut. When buying a heart-shaped diamond, make sure that you will not settle on highly pigmented pieces with major inclusions.
The safest color range is between colors G to J, and the optimal clarity rating is Slightly Included 1 (SI1). Going beyond these letters affect the price of the item. Thus, it is not advisable to go for color D and internally flawless pieces if you do not have the budget to splurge for expensive goods.
#6. Select the Best Ring Setting
We already clarified the setting that fits a heart-shaped diamond. Again, the key here is selecting the frame that gives the best protection to the stone. Prong and bezel settings are the best choices, and picking the right metal band is also essential.
Purchasing a diamond is not mathematically difficult. All you need to identify is your budget and the stone's characteristics. If they all fit your preference, no one is stopping you from spoiling yourself or your partner.
---
Conclusion
Reaching this part means you now have enough knowledge about heart-shaped diamonds. Apart from identifying which stones and brands are the best in the market, you also learned how to differentiate their quality from one another.
In summary, heart-shaped diamonds have been around since the 1400s. It symbolizes love, power, and royalty, making it a favorite piece of nobilities and celebrities. While its demand fluctuates now and then, one thing remains constant. It is the highest form of material gift that you can give someone.
The best piece that we can suggest to you is Blue Nile's 0.90-Carat Heart Shaped Diamond. It has the right size that is not too overwhelming and flashy. Plus, its top-class quality makes its price more reasonable and valuable.
However, it is not surprising if some people would go for an even larger stone to flaunt their elegance. James Allen is another brand that offers premium quality diamonds.
In the end, your preference and budget should be your top considerations. You will never run out of choices since hundreds of pieces are available online and in physical retail stores.
---
Frequently Asked Questions
Are heart-shaped diamonds more expensive?
Yes, they are more expensive because it is one of the world's rarest cuts. Forming it is difficult to accomplish, making its value a little higher than the rest.
Can you use a heart-shaped diamond as an engagement ring?
Yes, you can. Some celebrities made this variety famous for engagement rings. However, it is not a favorite pick for most people since it is more expensive. Finding a heart-shaped diamond with the perfect symmetry is hard, too.
Why is a heart-shaped diamond fragile?
The tip is its weakest point, like pear-cut and marquise-cut. Stones like these are prone to chipping and breakage if they do not have the right setting to protect their edges.
Related Resources: