Marilyn Monroe says that diamonds are a girl's best friend. Who wouldn't love a pair of classic diamond stud earrings? It's a must-have for your jewelry collection and a great gift for any woman, especially for a person dear to you. This precious stone symbolizes loyalty and reverence, making it even more special.
You can read more on how to find the best diamond studs for you by reading our Buyer's Guide after you skim through a ready-made list for you to find the best diamond studs offered in the market today.
Below are the best diamond studs in the market, a variety of choices that will suit your unique style. Find the best fit for your look, and don't miss out on the best ones on the market today!
Top 8 Best Diamond Studs Reviewed
18K White Gold Double-Halo Cushion Diamond Earrings – Best Overall
Blue Nile Signature Diamond Floral Stud Earrings – Best Value
Mini Diamond Bar Stud Earrings – Editor's Choice
---
Specifications:
Size (mm): >7

Ave. total carats: 0.60 (2 cushion-cut center), 0.68 (68 round-cut)

Color: I

Clarity: SI1

Metal: 18K white gold
You cannot go wrong with a pair of classic stud earrings. However, this pair of diamond studs add more flair in style to the classic design by putting miniature round cut diamonds around the center cushion diamond's rims that creates a double halo. It gives maximum brilliance, with the miniature diamond halos giving more shine at every angle.
With these elegant yet effortless diamond studs, you can wear them anywhere comfortably and match these with your everyday or formal outfits. It gives a subtle touch of class and brilliance to your face. 
The striking double halos and eye-catching center diamonds are graded with above-average clarity and a colorless quality to give off the luster you expect. Each of the diamond crystals is set in a secure four-prong setting, with the center diamond sticking slightly out from the halo diamonds.
This pair of diamond studs would be a thoughtful gift for your wife or your loved one, especially if she doesn't own a diamond yet. She will be thrilled with the shine of these valuable, high-quality diamonds. If she has a diamond necklace, this would be a great match to complement it yet not overpowering it to make an over-the-top look.
Its 18k white gold metal material makes these earrings compatible with sensitive skin types and gives a glistening effect that matches the diamonds it holds. Its locking mechanism features the most common push-back locks, making it uncomplicated for removing and putting it on.
If you're looking for classic stud earrings elevated with additional halo diamonds, this would be a great choice for a subtle addition of some brilliance that makes it classier yet not over the top for an everyday look.
| Pros | Cons |
| --- | --- |
| Compatible with sensitive skin types | Design is too common |
| Classic diamond stud design | Plain shape |
| Versatile, for any setting | |
| Maximum brilliance | |
---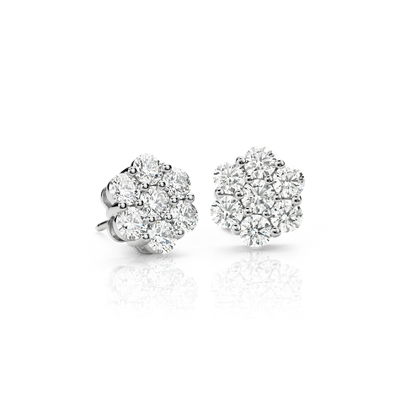 Specifications:
Size (mm): 12.7

Ave. total carats: 2.16 (14 round-cut)

Color: F

Clarity: VS2

Metal: 950 Platinum
You can own a total of 2.16 carat of round-cut diamonds with Blue Nile's signature ideally cut earrings, making it valuable than most stud diamond earrings. Each earring is studded with seven equally cut diamonds that form a flower formation.
Its floral theme gives an overall feminine look that softens your features and gives some glam to your outfit. Each diamond that makes these earrings up are of high-quality, graded with absolute clarity and colorless nature to the naked eye. On top of that, every crystal is picked with perfect and ideal cuts, making them even more valuable and labeled as a signature of Blue Nile.
The 950 Platinum metal holds the diamonds together, complementing the brilliance of the diamonds. This high-quality metal material lasts more than the average or more common metal plating for earrings. They are worn through the popular push-back locking mechanism, making it uncomplicated.
These would be a great gift for a person you love. She will be surprised by how beautiful and sparkly these earrings are even from a far distance. These stud earrings will look great with formal outfits, competing with non-stud, larger earrings. It exhibits elegance through its brilliance, enough to make it far more noticeable than larger yet low-quality earrings.
If you're looking for high-quality diamond stud earrings that shine the brightest, these would be a great investment for you!
| Pros | Cons |
| --- | --- |
| Perfectly cut crystals that shine from afar | Locking mechanism can be improved |
| Durable and shiny metal material | Expensive |
| High-quality diamonds | Heavy |
| Generously sized | |
| Feminine look | |
---
Specifications:
Size (mm): 7.94 x 1.59

Ave. total carats: 0.05 (12 round-cut)

Color: H

Clarity: I1

Metal: 14K white, yellow, or rose gold
Most people would appreciate a simple pair of diamond stud earrings that give just the right amount of spark. These earrings are uniquely designed, lined into a small bar, each held into four prongs to give a secure fit.
These earrings are simple yet still classy, given the miniature pavé-set round brilliant-cut diamonds give it extra shine. Its diamonds are crafted into a 14k gold that can be customized and chosen in different color variants of white, yellow, and rose gold. 
Some people who have extra piercings love these earrings as they line them along with their desired areas. They are sized just right to be worn along with other earrings, making them a great accessory upgrade for your other jewelry. 
They can serve as everyday earrings, fit for any event or outfit due to their simplicity. They won't overpower your other pieces of an accessory or your outfit, making them more noticeable. However, they add a subtle spark that still adds some class to your whole outfit.
If you're looking for some budget-friendly diamond stud earrings with a unique bar design that is simple yet still adds some spar to your everyday outfits, this is for you. 
| Pros | Cons |
| --- | --- |
| Variable choice of metal material colors | Metal material can be improved |
| Compatible with your everyday look | Too simple |
| Can be a secondary piercing | Too small |
| Unique bar design | |
| Budget-friendly | |
---
Specifications:
Size (mm): 3.4

Ave. total carats: 0.30 (2 center round-cut), 0.18 (24 round-cut)

Color: G-H

Clarity: VS2-SI1

Metal: 14k white gold
These uniquely designed stud diamond earrings feature a love knot that shows off a bouquet of diamonds towards the center diamond. It gives a subtle fiery aura that gives a bolder look. It is made at just the right size to cover a medium placement on your ear.
You can express your love to your special person with its symbolic love knots that detail the rims and the diamonds that signify reverence and loyalty. She will be thrilled when she sees these uniquely designed earrings you picked for her.
The detail of their design gives a more special touch and sentimentality, making it a thoughtful gift for your loved one or a personalized investment for yourself. The diamonds are equally special and graded with above-average clarity and colorless property, getting the most out of their brilliance.
Its 14k white gold metal complements the shiny diamonds and gives a secure four-prong shared setting among the diamond crystals. Its push-back locking mechanism is a classic type popular among other earrings, making it uncomplicated for you to use. 
These earrings can be worn for formal events and can complement your smart-casual outfits, giving you a powerful look and your needed add of spark. If you are looking for some detailed and uniquely designed diamond stud earrings that are reasonably priced, this could be the one for you!
| Pros | Cons |
| --- | --- |
| Complements formal and business casual outfits | Can be too much for an everyday casual look |
| Detailed and unique design | Metal material can be improved |
| Gives a fiery and bold aura | |
| Sentimental gift | |
---
Specifications:
Size (mm): 7.62

Ave. total carats: 1.19 (2 yellow, cushion-cut), 0.31 (32 side, round-cut)

Color: yellow, G

Clarity: SI2

Metal: 18K white or yellow gold
A subtly dramatic theme that most fashionistas love for their vintage-styled outfits can be achieved with a touch of this pair of earrings from the Blue Nile. Its yellow diamond crystal adds a rare value to the crystal, further enhanced with classic colorless diamonds around its rims that form a brilliant halo.
You can achieve a different look, far from the boring old classic stud earrings that most people already own. Each diamond is graded with above-average clarity. The center diamond is highlighted with a subtle embossment from its colorless diamond halos.
You can put on some vintage or classy outfit that will complement this pair of earrings and have a unique look that will stand out among all others. These earrings would be great for formal events or special occasions to wear classy outfits fit for these earrings.
These would be a perfect gift for your loved ones, especially for those who love diamonds. This pair of unique earrings will bring a different touch to their jewelry box. You can also buy these earrings for yourself if you've wanted some classic diamond stud earrings but want to be different from the usual style and colors.
If you're looking for uniquely designed diamond stud earrings that stray away from the boring classic diamonds, these would be a great investment for you. 
| Pros | Cons |
| --- | --- |
| Gives a subtle dramatic effect | Might not complement some outfits |
| Rare high-quality diamonds | Expensive |
| Great for special occasions | |
| Unique vintage style | |
---
Specifications:
Size (mm): 9.3

Ave. total carats: 0.45 (18 round-cut)

Color: G-H

Clarity: VS2-SI1

Metal: 14K white gold
These diamond stud earrings' beautiful lotus design represents purity, enlightenment, and rebirth, making it a popular symbol, especially for easterners. A lotus blooms into a beautiful flower even in the dirtiest waters, making a perfect analogy for a person with a strong yet feminine personality. 
Round-cut high-quality, clear diamonds capture rays of light at different angles, making these earrings eye-catching. It is a surprise that James Allen offers this pair of earrings at a relatively affordable price than most diamond studs despite its high-quality diamonds and a great size that can be worn for a lot of occasions.
It gives a delicate and feminine vibe yet a symbolic nature that makes it sentimental. These earrings would be a perfect gift for your wife, girlfriend, or mom to express to them how much they mean to you. They would be delighted with its design and meaning and can wear them as an everyday accessory.
If you're looking for some authentic diamonds offered at a great price, along with some special feminine design, this would be a great choice! 
| Pros | Cons |
| --- | --- |
| High-quality yet relatively affordable diamonds | Metal material can be improved |
| Versatile, compatible with many occasions | Too feminine for some |
| Symbolic, sentimental design | |
---
Specifications:
Size (mm): 6.35

Ave. total carats: 0.38 (8 round-cut)

Color: I

Clarity: SI2

Metal: 18K rose gold
An alternating four-leaf rose petal bud and four glittering diamonds make a feminine and delicate look for these diamond studs. It is sized perfectly, small enough not to be overwhelming yet large enough to enhance your face.
Its high-quality 18k rose gold metal material is shaped like a four-leaf clover or a rosebud alternated with above-average grade diamonds that all give a nice sparkle for your everyday outfit or some special occasion. 
Its pink theme makes a flattering glowing blush that enhances your skin and your face. It gives a feminine touch, with added brilliance from the diamonds. It gives an elegant vibe overall with a feminine and unique touch.
These stud earrings would be a thoughtful gift for your loved one, especially for your girlfriend, wife, or someone special to you, as it gives a romantic color that will touch their hearts. 
If you're looking for some feminine designed earrings that give off a romantic vibe and can be worn on various occasions, this could be for you! 
| Pros | Cons |
| --- | --- |
| Enhance the face with a subtle glowing blush | Can be simple for its price |
| Worn for any setting or occasion | Small for some |
| High-quality metal material | |
| Gives off a feminine theme | |
---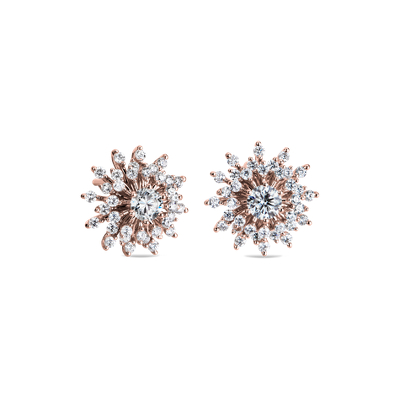 Specifications:
Size (mm): 12.7

Ave. total carats: 0.95 (74 round-cut)

Color: I

Clarity: SI2

Metal: 14K rose gold
For those who want a regal look, you can match your outfit with these sunburst stud diamond earrings featuring a center diamond with rose gold rays that are studded with round-cut diamonds at different strategic angles to make a snowflake or sunburst shape aura.
These earrings will cover a medium to a large area, making a royal statement and a bolder look. Those who love to mix and match clothes or go for vintage themes will match these earrings' elegance. 
Additionally, its center is subtly elevated, emphasizing the center diamond, enhanced with the surrounding round-cut diamonds on its rays to give maximum brilliance for different angles. Its size will fit most ears well, and you won't be disappointed with its size.
Its 14k rose gold metal adds some twist to the clear sparkly diamonds that completes the elegant royal look. You can give these diamond stud earrings a gift to your loved ones who you regard as your queen or your princess, who loves to style their clothes and enjoy unique outfits.
Their design is not your typical diamond classic studs but has a fun twist that can give a regal touch to your overall look. If you want to push elegance to its limit and go for a much unique style, these earrings would be a match for you.
| Pros | Cons |
| --- | --- |
| Pushes elegance and individuality to their limits | Back support locking can be improved |
| Covers a generous area | Metal material can be improved |
| Unique sunburst design | May be too much for some |
| Gives off a regal touch | Not for an everyday look |
---
Top Pick – Best Diamond Studs
James Allen's 18K White Gold Double-Halo Cushion Diamond Earrings tops the list among the best diamond studs in our list due to its classic elegant design that can be worn in different occasions and settings, offered at a reasonable price.
Its diamond is naturally genuine. They are sourced from a trusted seller and reputable jeweler, James Allen, which offers good deals, great return policies, lifetime warranties, and great customer service support for their buyers. 
Their company has a long-running reputation in the industry, making them well-known and one of the most trusted online sellers for precious gemstones such as diamonds. 
To top it all, they also have a feature online where they show how their diamond studs look at 360-degree angles. You can also view how it looks on a model to assess its size and have an idea of how it will look on you.
Many features can be considered when choosing diamond studs that would best fit you. James Allen's 18K White Gold Double-Halo Cushion Diamond Earrings balances all the good diamond studs' good features that outweigh its cons.
---
Buyer's Guide: Notable Features to Look for Before Buying the Best Diamond Studs
Verified Authenticity
It would be smart to purchase diamonds from verified sellers specializing in jewelry, especially for those who plan to buy natural, authentic diamond studs. Most reputable brands and sellers would even include a Certificate of Authenticity along with your purchased item to guarantee your diamond's genuineness. 
Grade and Quality
Diamonds are usually priced based on how little imperfections dominate their surface or how clear and colorless they are. VS1-VS2 diamonds are considered high grade, flawless to the naked eye, and are just a fraction less valuable than a perfect flawless diamond. SI1-SI2s are graded diamonds with little inclusions that won't be noticeable for a casual observer. However, for larger diamonds, VS2s at least would be the safest choice as they are more prone to visible inclusions.
Colorless diamonds are considered pure, making them valuable. A diamond's clarity or colorless property is rated from D-Z, with D as the highest grade, with it gradually colored to yellow or light brown. They are examined by comparing them to stones with known colors under precise viewing settings and controlled lighting. 
Suitable Diamond Size
Diamonds are measured in inches or millimeters through their diameter or their length and width dimensions. They usually range from 3-11mm cuts to be conveniently set on studs and earrings. The larger the crystal diamonds are, the more costly they would be, but they will also be more eye-catching, best used for formal events. 
Preferred Shape or Design
Various diamond studs are now being made with creative designs to match their elegance, such as halo, bar-lined, or various shaped diamond designs are emerging. However, some may still prefer a solitaire diamond stud's simplicity, making their brilliance enough to be eye-catching. A rounded diamond is the most popular cut due to its maximized facets that make them shine the most. 
Classic solitaire studs are preferred for their simplicity and elegance. You can maximize a diamond's worth by buying it in one piece and picking a great shape, cut, and setting that would match your style. The most popular setting is the four-prong solitaire diamond stud that is timeless and classic. Other popular cuts include the marquise, princess, cushion, pear, Asscher, oval, emerald, etc., while popular settings include bezel, scallop, kite, Milgrain, etc. 
Secure Locking Mechanism
Most earrings can have flimsy back locks that can be pushed back easily, or some even complain of very complicated or hard to open locks that would be an inconvenience if you were to remove them alone. Classic stud earrings would mostly feature the push-back lock due to their small body and relatively simple designs.
However, you may discover diamond earring backing locks that provide a secure hold or support for the back lock or a conveniently attached lever that would have an uncomplicated opening and locking mechanism that wouldn't compromise the security of your diamonds hanging on your ears. These types of locking mechanisms would be more secure and convenient.
Durable Material
Ensure that your diamond crystals are protected with rims or plating, especially if they are situated near other pieces of jewelry, as they can scratch your other gemstones due to their superior hardness. They should be placed in secure settings such as four or six prong metal or a jump ring to secure them on your stud earrings. 
For the metal material holding your diamond studs, ensure that they have a high-quality metal material to match the elegance of your diamonds. Most reputable diamond studs would use white, rose, or yellow gold metal clasps or chains with some protective plating to make them resistant to tarnishing. 
Good Reviews and Ratings
If you were to be meticulous in choosing your products before buying them, you would read reviews from verified purchasers who've already seen the product first-hand. You can assess noteworthy features and what makes diamond stud earrings worth your money through their testimonials. 
Within Your Budget
When you compare numerous products in the market, you can assess what features set them apart from the other products. If you saw diamond stud earrings that are just as great as the other earring types sold at a higher price, then you must pick them over the other options for a good deal. 
You may sacrifice some negotiable features for your gemstone diamond studs if you have a minimal budget to buy the most extravagant ones in the market today. You may start by selecting the size, carat, and grade-quality of the diamond studs that would best fit your budget, then ensure the authenticity and wear-resistance and be happy with how it looks on you, overall. 
It is best to invest in your diamond stud earring's durability and overall design, so you love how it looks on you while making it cost-effective in the long run. The seller should also have satisfaction guarantees, money back, and other warranties that would be useful throughout your diamond stud earrings' life.
---
Conclusion
Diamonds are bought as elegant accessories, investments, or plainly for collections that make them sought after in the market. A pair of classic valuable diamond studs can be bought for a sentimental gift to a loved one or a personal investment for yourself. Diamond jewelry such as studs and earrings is taking the market by storm and adored worldwide. 
Different diamond studs are now being offered in the market today, which can be quite overwhelming. Luckily, a list of the best diamond studs has already been made for you. James Allen's 18K White Gold Double Halo Cushion Diamond Earrings made it to the top of the list among the best diamond stud earrings due to its classic and elegant design, upgraded with high-quality center diamonds and halos that make them more blinding.
Other diamond studs proceeding James Allen's 18K White Gold Double Halo Cushion Diamond Earrings, our best pick, also offer unique features that you may find to best fit your style or be adored by your loved one.
Knowing the noteworthy features to look for when buying a pair of diamond studs helps you get the maximum satisfaction with your purchase. You should know what you're looking for if you've already read the buyer's guide for the best diamond studs on our list.
---
FAQs – Frequently Asked Questions
How can I care for my diamond stud earrings?
Proper and secure storage should be observed to ensure your earrings' safety when they're not used. It will also protect them from long exposures to some elements that can tarnish their metal material. You can also avoid exposing them to liquids or chemicals that may result in an unwanted reaction that would wear your diamond studs faster.
How can you effectively test synthetic diamonds from genuine ones?
You must remember that lab-created or synthetic diamonds can be classified as genuine diamonds too. They are designed with the same structure as natural diamonds. However, naturally occurring diamonds can still be distinguished from synthetic ones through a couple of tests that make them more valuable. 
Thermal conductivity tests work for differentiating cubic zirconia, a diamond simulant, from a naturally occurring diamond. However, moissanite, a new diamond simulant, can only be differentiated with a natural diamond using electrical conductivity tests. Diamonds have the hardest bonding pattern making them the hardest mineral in the Mohs Scale of hardness. Only a naturally occurring genuine diamond can scratch another natural diamond.
Are diamonds a good investment?
Yes. Precious metals and stones such as diamonds increase in value through time. With the depletion of their raw materials on the Earth, they become rarer and harder to obtain. With the increasing demands of modern society, it wouldn't be a surprise if a couple of years from now, your diamond has multiplied in value. 
As a gift, diamonds would also make a good investment given for your loved ones. You would want to establish a good relationship with them and appreciate how you send them a message that they are valuable and a precious investment for you.
How are naturally occurring diamonds formed, and where do they come from?
Diamonds are formed from the element carbon upon millions of years of exposure to extreme pressure and temperature, making them the strongest mineral or gemstone in the industry. This process means that they are found deep within the Earth's subsurface and can be mined out through pipes that extend deep under the ground, such as kimberlites. 
The incredibly long and hard process for their formation and the complicated way of mining them out from the Earth's surface makes them extremely rare, making them one of the most valuable and beautiful gemstones in the market.
Related Resources: