Birthstone pendants are a great addition to any jewelry collection. It is incredibly gorgeous and versatile, as it's something you can wear with any outfit – from casual to evening gowns. They are also popular fashion accessories for women, as they exist in eye-catching statement pieces.
Whether you're buying a birthstone pendant as a present or for yourself, it may be tough to choose which one is the perfect one for you. Although birthstone pendants come in different designs, they are also customizable, where you have unlimited style options to choose from.
This jewelry buying guide aims to help you find the perfect birthstone pendant. It has put together the best birthstone pendants from top jewelry retailers: Blue Nile, James Allen, and Amazon. You will earn everything about birthstones in different styles and settings, celebrity-inspired pendants, top birthstone jewelry brands, and how to choose a setting for your birthstone pendant.
Top 10 Best Birthstone Pendants Reviewed
---
Specifications:
Birth Month: May

Gemstone: Emerald and diamond

Metal: 14k yellow gold

Average total carat: 0.06 carats

Dimensions: 9.5 x 11.0 mm

Necklace length: 18.0 inches
Delicate in design, the Petite Emerald and Diamond Floral Pendant is a vintage-inspired necklace with an innate feminine flair. It features a gorgeous round emerald gemstone, surrounded by a shimmering micropavé diamond frame, all set in a glowing 14k yellow gold chain.
This birthstone charm necklace comes with a classic cable chain with a lobster claw clasp. Blue Nile also offers this ring in other birthstones, including amethyst, aquamarine, blue topaz, citrine, diamond, emerald, pearl, ruby, pink tourmaline, and ruby.
Maleficent star Angelina Jolie was spotted stunningly decked up in a Ferragamo leather skirt and silky blouse along with a striking emerald pendant necklace and matching earrings in the New York Film Critics Circle Awards. The lovely actress was looking gorgeous and sexy as her emerald jewels elegantly frame her face.
A symbol of success and loyalty, the emerald is one of the most prized precious stones. It has a luscious green color, making it a valuable and highly desirable stone. Emeralds vary in color from rich velvety green to light grass green. In the 18th century, emeralds with brilliant-cut diamond accents had been a staple piece for Russian jewelry.
| Pros | Cons |
| --- | --- |
| Subtle and delicate design | The chain is very short and flimsy |
| Impeccable packaging | Smaller than expected |
| Elegant little necklace | A lighter in color |
| Lots of sparkles | |
---
Specifications:
Birth Month: March

Gemstone: Aquamarine

Metal: Sterling silver

Average total carat: 0.75 carats

Dimensions: 16.0 x 12.7 mm

Length: 18.0 inches
Commemorate the special bond with your partner when you give her this Aquamarine Slider Pendant by Peora. This March birthstone pendant is a perfect gift in celebrating special milestones in life and relationships. It features round-shaped aquamarine with a gorgeous icy blue hue in a charming open teardrop design, a unique twist from the classic solitaire.
This slider-style pendant necklace has a minimalist look yet luxuriously feminine. It comes with a hypoallergenic chain that will not irritate sensitive skin and does not tarnish. Not only that, Peora meticulously polished the stone for an extraordinary display of color and brilliance.
The late Princess Diana used to own a massive collection of elegant and sophisticated jewels, including aquamarine and other purest crystals. During one of her public appearances, the royal princess wore a pair of aquamarine and diamond earrings from the most distinguished and alluring jewelry pieces in the Queen's collection. Her earrings were a mix of floral diamond studs and pear-shaped aquamarines.
Even during ancient times, aquamarine was used in exquisite jewelry designs to represent marine gods. With its delicate blue hues, ranging from dark blue, sea-green, and sky blue, aquamarine is believed to bring good health, hope, and youthfulness. Today, aquamarine is usually faceted to maximize its transparent blue colors. You can find them in fabulous selections from earrings, pendants, and rings.
| Pros | Cons |
| --- | --- |
| Glows in the evening light | The silver backside is hollow |
| Unique birthstone jewelry | Very short necklace chain |
| Very strong thick chain | Fits like a choker |
| Modern, clean design | |
---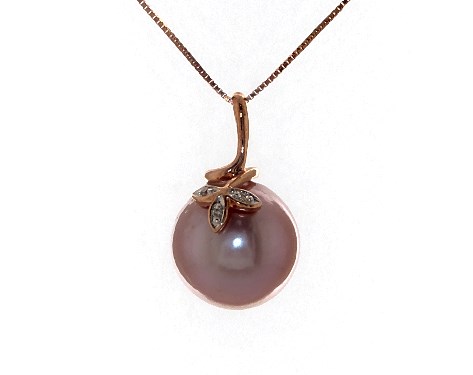 Specifications:
Birth Month: June

Gemstone: Pearl and diamond

Metal: 14k rose gold

Average total carat: 0.02 carats

Dimensions: 13.0 – 14.0 mm

Length: 18.0 inches
Looking for a dainty jewel fit for a simple yet sophisticated lady? The James Allen Pink Freshwater Cultured Windsor Pearl and Diamond Trio Leaf features a large pink Windsor pearl, complemented by diamond-studded leaves and a curving gold mount. Its diamond accents delicately drape over the pearl in a romantic and whimsical design. Bold and elegant, Windsor pearls are truly a statement piece and a great birthstone pendant for mom.
Though pearls are often associated with vintage jewelry, many millennial celebrities today are sporting lustrous pearls by incorporating them in unique settings and styles. Rihanna stole the stage in Victoria's Secret Fashion show with her little black dress paired with pearl accessories. She created an air of chic elegance as she took center stage. She wore a playful pair of Chanel pearl sunglasses and a chunky pearl choker.
An exquisite gift from the sea, pearls are harvested from mollusks, like mussels and oysters, as a natural defense against irritants. Before, pearls are incorporated in different jewelry settings, such as chandelier earrings, pearl strings, and seed pearl jewelry. Many jewelers today offer cultured varieties of pearls to meet the increasing demand for pearl jewelry. They are often used for wedding jewelry and casual women's accessories.
| Pros | Cons |
| --- | --- |
| Gorgeous diamond accents | Very thin chain |
| Large pearl pendant | |
| Quite affordable | |
---
Specifications:
Birth Month: December

Gemstone: Blue topaz and white topaz

Metal: Sterling silver (rhodium plated)

Average total carat: n/a

Dimensions: 12.7 x 19.05 mm

Length: 18.0 inches
The Blue Nile Sky Blue Topaz Elegant Halo Pendant features a soft sky blue topaz stone that adds a pop of color and shimmer to a timeless teardrop pendant. The blue topaz center stone is surrounded with subtle yet sparkling halo details of white topaz, creating a refined finish. If you prefer a dark blue center stone, Blue Nile offers this pendant in London blue topaz.
If you search for 'celebrity blue topaz jewelry,' Kate Middleton will surely land at the top results. Although the British duchess celebrates her birthday in January, she is often spotted wearing blue topaz jewels, paired with her iconic Ceylon blue sapphire engagement ring and a blue wardrobe ensemble. One of her favorites is the blue topaz pendant with a matching topaz earring.
Topaz is found in a wide range of colors, including green, pink, blue, and deep golden yellow. It is one of the apocalyptic stones known to exist for more than 2,000 years and contributes to the foundations of the twelve gates in Jerusalem. In the 18th century, people wore collar-style necklaces adorned with topaz ribbons and flower pendants. Since then, blue topaz is a classic favorite for fashion jewelry.
| Pros | Cons |
| --- | --- |
| A great piece for a reasonable price | A little too large than expected |
| A winning birthday gift choice | Needs more sparkle |
| Simple and clean looking | |
| Impeccable blue color | |
---
Specifications:
Birth Month: November

Gemstone: Citrine

Metal: 14k yellow gold

Average total carat: 1.0 carats

Dimensions: 6.35 x 12.7 mm

Length: 18.0 inches
Peora is one of the leading jewelry brands in Amazon's jewelry collection. Their passion is to create exquisite gemstone jewelry that elevates the most heartfelt occasions. The Cushion Cut Citrine Pendant is a part of the Peora Citrine Curated Collection, crafted from the finest natural citrine with golden pumpkin orange hue and brilliance sparkle.
Its citrine center stone is cut using precision faceting, making it shimmer in every move and angle. This custom birthstone jewelry is meticulously crafted in luxurious 14k yellow gold, balanced with its feminine-style setting. Peora offers this pendant in other birthstones, along with a complimentary 18-inch sterling silver chain.
Shailene Woodley's red carpet look features the most diverse wardrobe outfits during the Divergent press tour, from couture gowns to oversized sweaters and leggings. The only constant was her birthstone circle necklace in a delicate citrine style to mark her November birthday. The citrine pendant adds a down-to-earth charm to Shailene's red carpet style.
A November birthstone, citrine is a variety of quartz with transparent yellow hues to brownish orange. Since ancient times, citrine has been a popular gem and is often confused with the other November birthstone, yellow topaz. Most citrine stone sold in jewelry stores today goes through a heat treatment process to maximize its vivid yellow colors and luster.
| Pros | Cons |
| --- | --- |
| Vivid yellow glow | The chain is not made of 14k yellow gold |
| Brilliant sparkle | |
| Very affordable | |
---
Specifications:
Birth Month: September

Gemstone: Sapphire and diamond

Metal: 14k white gold

Average total carat: 1.02 carats

Dimensions: 11 mm (width)

Length: 18.0 inches
The James Allen Marquise Sapphire and Diamond Pendant feature four marquise-cut sapphires surrounded by brilliant-cut diamonds. The diamond accents bring to the foreground the cluster of blue sapphires, simulating intricate flower petals. This necklace comes with an 18-inch 14k white gold chain. James Allen also offers matching earrings to complement the pendant.
Fashion model Bella Hadid graced the red carpet during the 2017 Cannes Film Festival while looking regal in her blush pink silk tube gown and sapphire and diamond necklace. The necklace features a large rectangular cut sapphire stone surrounded by a halo of shimmering diamonds, while a suspended chain style necklace hugs her neck elegantly.
With its distinct blue color, sapphire is the centerpiece for Sapphire birthstone jewelry. Sapphire comes in various colors, but blue is the most popular and valued variety. It is known to protect the wearer from evil spirits and promote peace. This gemstone always holds a special place among royalty. The most famed piece of sapphire jewelry is the engagement ring worn by Princess Diana, which was passed on to Kate Middleton, the Duchess of Cambridge.
| Pros | Cons |
| --- | --- |
| Very sparkly and brilliant | Blue sapphires have a very faint blue color |
| Dainty cable chain | A little pricey |
| Lightweight | |
---
Specifications:
Birth Month: October

Gemstone: Opal

Metal: Sterling silver (rhodium plated)

Average total carat: n/a

Dimensions: 7.9 mm (width)

Length: 18.0 inches
Simple and dainty as it looks, the Opal Rope Pendant is the perfect birthday gift for October celebrants. Ladies who want to show off their refined, sophisticated style may get this opal gemstone necklace from Blue Nile. It comes with a 7mm opal stone framed in an elegant rope detailing made of sterling silver. Blue Nile also offers this necklace in other birthstone pendants, including pearl, aquamarine, and London blue topaz.
In the 82nd Annual Academy Awards, American actress Vera Farmiga arrived at the red carpet wearing opal earrings surrounded by a halo of shimmering diamonds. With her hair brushed up and pulled in a dainty bun, the opal earring elegantly highlighted her face. She paired her earrings with a diamond leaf hair clip and a dark pink frock evening gown.
Opal is a type of silica gemstone known for its vivid play of light and colors. It comes with varying iridescent colors depending on how the stone is viewed. This lovely stone is believed to bring good luck and heal depressions. When set into jewelry, opal is usually faceted to reveal its radiant transparency and maximize its play of colors.
| Pros | Cons |
| --- | --- |
| Perfect for everyday jewelry | Very small pendant |
| Beautiful setting and stone | Hard to see details |
| Vintage-looking pendant | |
---
Specifications:
Birth Month: April

Gemstone: Diamond

Metal: 18k white gold

Average total carat: 0.66 carats

Dimensions: 9.5 x 8 mm

Length: 18.0 inches
Luxuriously stunning, the Double Halo Oval Diamond Necklace stands among the most stylish James Allen birthstone pendants. James Allen is a premier retailer of diamond jewelry; that is why you can guarantee that you will never go wrong with their sparkly jewels. This lovely diamond necklace features an oval diamond center stone framed by a striking double halo of diamonds that enhances its undying brilliance.
Truly a belle of the ball, Emma Watson is a true style icon if you are looking for celebrity-inspired ways to wear a pendant. The Harry Potter actress was seen wearing a diamond necklace with a key pendant. She wore her statement jewelry piece while wearing a low sweetheart neckline tube gown with her hair up. The diamond key pendant certainly unlocked some hearts, letting her jewelry steal the show.
No gemstone is as valuable, rare, and pure as the diamond. This stone is the hardest mineral, according to the Mohs hardness scale. It exists in a rainbow spectrum of fancy colors, including pink, yellow, green, etc. Celebrities and royals have revered diamond jewelry for centuries. It graces an entire range of jewels, from pendants, bracelets, rings, etc.
| Pros | Cons |
| --- | --- |
| High-quality diamonds and gold chain | Extremely delicate setting |
| Very dainty and sophisticated | Very expensive |
| Sparkles at every angle | |
---
Specifications:
Birth Month: February

Gemstone: Amethyst

Metal: Sterling silver (rhodium plated)

Average total carat: n/a

Dimensions: 12.7 x 31.75 mm

Length: 18.0 inches
Gemstone pendants with a halo of diamonds shouldn't be expensive. One example is the Pear Amethyst Pendant featuring a teardrop-shaped amethyst surrounded by a halo of twinkling white topaz. The pendant is suspended from a coordinating cable chain made of sterling silver. Instead of diamonds, Blue Nile complements the amethyst stone with shimmering white topaz. You can get this pendant in other gemstones, such as black onyx and blue topaz.
Reign actress Rose Williams was spotted on social media wearing an amethyst pendant necklace. The said jewelry is a Classic Couture Royal Amethyst Pendant in H.AZEEM's Enchanted Empress Collection. The charming piece is surrounded by cubic zirconia with a round-shaped amethyst gemstone in the center. A fine jewel fit for a princess, this amethyst pendant is a perfect piece for everyday jewelry.
The symbol of peace and tranquility, amethyst is a variety of quartz with colors ranging from deepest purple to palest lilac. Amethyst comes with a fascinating history, according to Greek legends. It is also a widely used stone for ecclesiastical rings worn by bishops today. With its rich history, amethyst has remained an appealing gemstone for any jewelry piece.
| Pros | Cons |
| --- | --- |
| A stunning pendant at a reasonable price | Pendant is extremely large in person |
| Perfect Valentine's Day gift | Very dark in color |
| High-quality gemstone | |
| Well-done setting | |
---
Specifications:
Birth Month: July

Gemstone: Ruby

Metal: 14k yellow gold

Average total carat: 0.45 carats

Dimensions: 5.0 mm (width)

Length: 16.0 – 18.0 inches
Solitaire pendant necklaces are a fool-proof way of adding color and sparkle to your everyday look. The James Allen Ruby Birthstone Necklace features a brilliant ruby pendant suspended in an 18-inch 14k yellow gold chain. This jewel is a perfect gift for July babies as ruby symbolizes courage, romance, friendship, and vitality.
Celebrities have been wearing rubies to stun fans and media on the red carpet. Some actresses are great at pairing jewelry, especially those on whom the public and media keep a close eye. One of them is the pop goddess Rihanna who wore stunning rubies at the Diamond Ball. The chunky necklace includes an eye-popping ruby suspended from a sizzling diamond-encrusted necklace. She paired her striking jewels with a satin light red gown and intense red lipstick.
Ruby is a classic favorite among precious gemstones as it radiates its rich red color with intense warmth and vitality. Rubies range in colors from deepest carmine to pale rose red. The most popular varieties for jewelry pieces are those with slightly purple red color to deep vivid red. Today, modern jewelry designers carve rubies to maximize their features and combine them with tiny diamonds for a sparkling cluster.
| Pros | Cons |
| --- | --- |
| Gold chain complements the ruby stone | Very delicate prong setting |
| Reasonably priced | |
| Vivid red color | |
---
Best Brands for Birthstone Pendants
Like buying diamond jewelry, you must purchase a birthstone pendant from a reputable jewelry vendor. Based on customer reviews, the following jewelry retailers are considered reliable and trustworthy in the industry.
Peora
Established in 1999, Peora is a jewelry brand that manufactures handcrafted, high-quality gemstone jewelry that empowers every wearer and emanates elegance on every occasion. Peora believes that exceptionally handcrafted jewels have the power to evoke beauty, revitalize the spirit, and elevate special occasions into memorable moments. It is also their mission to provide affordable luxe jewelry pieces and stylish collections.
Today, Peora is known for sourcing quality gemstones and their expertise in handcrafted jewelry. One of their well-known collections is the Peora Amethyst Curated Collection, showcasing various jewelry selections made from Africa round materials.
Blue Nile
Blue Nile is one of the popular online retailers of certified loose diamonds and jewelry. Mark Vadon established the jewelry brand in 1999 after discovering that many are discouraged, hesitant, and overwhelmed by the traditional jewelry shopping experience.
Vadon took advantage of online retailing by acquiring a diamond jewelry website called Internet Diamonds and rebranding it as Blue Nile Inc. In four short years, Blue Nile became the largest online source for diamond jewelry. The company's mission centers on offering a smarter way of buying jewelry.
Vadon adopted an online business model by establishing Blue Nile as a premier specialty jewelry retailer. It offers a meaningful shopping experience for jewelry buyers with a large selection of jewels at the best value and price.
Currently, Blue Nile assures the best customer experience with its large online inventory of diamonds and fine jewelry. Other services include fancy-colored diamonds, jewelry consultations, and customizable engagement rings.
James Allen
In recent years, James Allen has risen above as the largest online jewelry retailer worldwide. Its founders combined 60 years of expertise in the jewelry industry and applied it to its business strategy.
Since 2006, James Allen has helped thousands of customers in buying diamonds and jewelry. They took advantage of the e-commerce industry by improving the website as the most convenient jewelry platform that sells diamond engagement rings. Besides selling diamond rings, James Allen offers comprehensive jewelry education to educate customers on buying the finest diamonds and fine jewels.
Today, James Allen is known for using 3D imagery for their ring settings and certified diamonds. This way, buyers can view their collections without going to a physical jewelry store. In case you need assistance, you may talk to their jewelry staff using their diamond inspection service.
---
Features to Consider When Buying Birthstone Pendants (Buyer's Guide)
Birthstone pendants include a wide range of designs that are suitable for everyday wear or any special occasion. Every birthstone comes in unique designs that will highlight the wearer's style by combining metalwork with sparkling diamonds.
Solitaire
Solitaire pendant necklace includes a single gemstone suspended on a precious metal chain. Designs vary from a single or double bail. Single bail consists of a single metal fastener that holds the pendant to the chain, while double bail comes with two metal hoops that attach the pendant.
Halo
Halo pendant styles consist of a single central gemstone framed by smaller gems, usually made of smaller diamond accents. This style is a perfect choice for casual wear or special occasions. You can also style it with various center gemstones. Alternatively, a large center diamond can be surrounded by tiny diamonds, creating a large-looking pendant.
Classic
Classic pendants come with a wide range of well-known necklace styles that are preferred by many. It includes intricate designs and symbolisms, such as keys, hearts, clusters, and journey pendants representing special occasions like birthdays, Valentine's Day, and anniversaries. Diamond, sapphire, and ruby are a common favorite for classic pendants.
Contemporary
Contemporary necklace pendants come with newer, modern styles, making them unique choices for those who want to experiment with jewelry. These include interlocking circles, spirals, and other styles that use intricate metalwork with gemstone accents.
---
Conclusion
A birthstone pendant makes for a gorgeous and meaningful gift fit for any special occasion. One way to ensure that you get the most beautiful pendant and best value for your purchase is to search for online jewelry collections and celebrity-inspired pieces.
Delicate in design, the Petite Emerald and Diamond Floral Pendant is a vintage-inspired necklace with an innate feminine flair. A symbol of success and loyalty, the emerald is one of the most prized precious stones. It has a luscious green color, making it a valuable and highly desirable gemstone for jewelry.
Finding a birthstone pendant that will wow your loved one is certainly an exciting shopping experience. You can make it more memorable by shopping at reputable jewelry vendors as they offer great collections and customized styles.
---
FAQs (Frequently Asked Questions)
What is the best chain and clasp for birthstone pendants?
The best chain type for birthstone pendants is a cable chain as they are considered versatile, elegant, and durable. That is why most jewelry buyers opt for a cable chain when buying a necklace pendant. Meanwhile, the best precious metals for birthstone pendants are 14k or 18k yellow gold since they are stunning and strong but not as pricey as platinum. You can also find them in other colors, including white gold, yellow gold, and rose gold.
On the other hand, the best clasp for birthstone pendants is a lobster clasp since it has a secured opening and closing mechanism. Other clasps for birthstone pendants include barrel clasps, spring ring clasps, and magnetic clasps.
How should I pick the chain length for my pendant?
The length of a necklace chain should depend primarily on personal presence and the jewelry vendor. Standard chain lengths vary from 16 and 24 inches, with 18 inches as the most common.
Wearing a 16-inch chain may appear as a necklace choker, where the pendant rests above the sternum. However, the diamond may hangover if the wearer has a thin neck. Meanwhile, an 18-inch chain may fall above the sternum, and a 22 or 24-inch chain places the pendant lower than the sternum.
As much as possible, consider the style of the wearer you are buying for. When you're in doubt, you may measure the chain length of their necklaces.
What are the most famous gemstone pendants?
Pendants have secured a permanent place in the jewelry industry for many centuries. Due to their sleek and stunning look, diamond pendants have been a classic favorite among celebrities and royals.
One example is the famous briolette diamond necklace obtained from Christie's Auction in Hong Kong. The necklace has an estimated value of $11.1 million, weighing over 75 carats. The diamond necklaces come with a purple-pink marquise-cut diamond. Another famous pendant is the largest D-color diamond auctioned, weighing around 163.41 carats. The diamond and emerald necklace was designed by de Grisogno and went for $25-30 million at Christie's Auction.
Some of the notable diamond pendants worn on the red carpet came from celebrities and personalities, like Kim Kardashian, Kate Middleton, and Mila Kunis.
Related Resources: