Everyone wants to feel extra special when celebrating their birthday. No matter what type of jewelry item you're looking for, birthstone jewelry is a fool-proof present that will certainly make your loved one swoon. They provide a more personal touch to any timeless and unique piece as it best represents their most memorable day of the year.
Birthstone jewelry is an overwhelmingly well-known gift in celebrating life's milestones, such as birthdays, graduations, holidays, anniversaries, and weddings. It is also more personalized, as birthstones are the best ways to showcase your personality with a fashionable accessory. No need to spend the time-consuming process of thinking about what your loved one wants for their birthday.
If you're looking for a unique birthstone jewelry item for your mother, daughter, or significant other, necklaces are the easiest ones to buy. They come in dainty charm pendants and thin chains that are both feminine and sophisticated in appearance. They also go well in any outfit by adding a dash of beauty and brilliance to your look.
Immerse yourself in this birthstone jewelry buying guide as it features the best birthstone necklaces you can find in top jewelry retailers, such as Blue Nile, James Allen, and Amazon. It is packed with various jewelry selections, celebrity-inspired pieces, and buying tips to help you choose your perfect birthstone necklace. 
Top 10 Best Birthstone Necklaces Reviewed
Blue Topaz Heart Pendant by Blue Nile – Best Overall
– Editor's Choice
---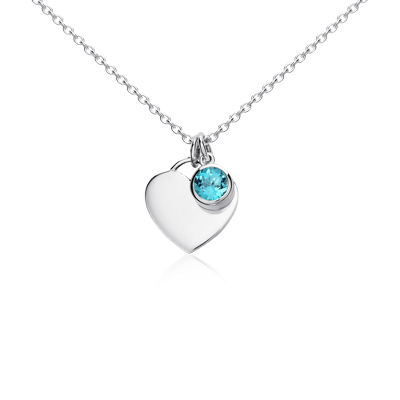 Specifications: 
Birth Month: December

Metal: Sterling silver

Gemstones: Blue topaz

Chain length: 18 inches

Chain type: Cable chain

Clasp: Spring ring clasp
Blue topaz is the birthstone for December. This precious stone is believed to ensure intelligence, beauty, and long life. Its bright blue color is reminiscent of a clear, deep blue lake on a summer afternoon. In Sanskrit, the word topaz came from "tapas," meaning fire. Contrary to its definition, this gem is known to ancient civilizations for its cooling properties. 
Blue Nile is not only known for its large inventory of diamond jewelry; they also offer colorful gemstones in various jewelry settings. One of their bestselling blue topaz jewelry pieces is the Blue Topaz Heart Pendant, a birthstone charm necklace featuring a dazzling bezel-set blue topaz paired with a polished silver heart pendant. 
The delicate charms are suspended on a classic cable chain, which you can fasten at 16 or 18 inches made of sterling silver, making it suitable for layering pieces. You can lock the chain with a spring-ring clasp to ensure that it won't fall off your neck.
Actress turned British royalty Meghan Markle is one of the rising fashion icons today. She loves wearing a comfortable mix of jewelry pieces, from luxe to affordable. The former Suits star was spotted wearing a pair of blue topaz in cushion-cut studs. Although Meghan's birth month is in July, blue jewelry is something she loves to wear. 
| Pros | Cons |
| --- | --- |
| Well-made and excellent quality | Topaz accent is too small. |
| Exceptional brilliance | |
| Dainty jewelry piece | |
| Very affordable | |
---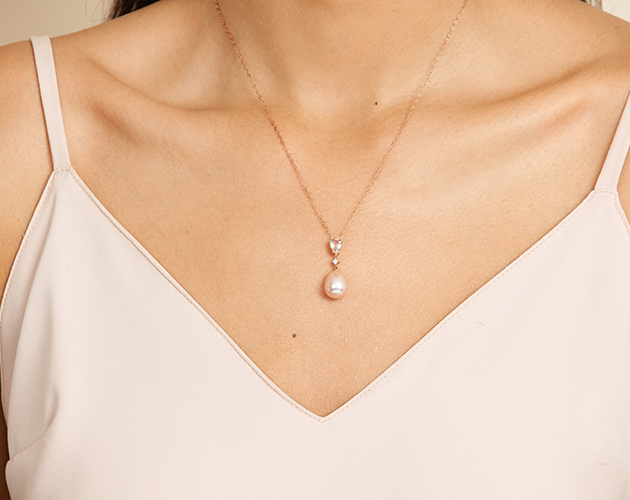 Specifications: 
Birth Month: June

Metal: 14k rose gold 

Gemstones: freshwater cultured pearl, morganite, diamond

Average total carat: diamond (0.03 carats), morganite (0.85 carats)

Chain length: 18 inches

Chain type: Cable chain
For those born in June, you have three birthstone options to call your own, including pearl, alexandrite, and moonstone. However, the pearl has always been a popular option among the three as it is considered a timeless wardrobe staple, preferred by women of all ages. Pearls are often associated with innocence, humility, and purity. They are also known for adding sweet simplicity to any outfit. 
Like Blue Nile, James Allen offers abundant selections of birthstone jewelry. They have a user-friendly search function, where you can filter your searches based on your birthstone, jewelry style, and metal. 
If you are looking for a birthstone jewelry item for mom, you will certainly love the Pink Freshwater Cultured Pearl and Morganite Necklace. This lovely, feminine piece features a pink freshwater cultured pearl embellished with tiny precious stone accents, including a pear-shaped morganite and a diamond. This mellow drop pendant is strung in a 14k rose gold chain to complement its delicate colors. 
Pearls have always been a major accessory on the Hollywood red carpet. The Emmy best actress Zendaya wore a pair of pearl earrings during the Vogue Fashion Fund Awards back in 2016. Zendaya is known for her passion for statement earrings, and her dainty pearl earrings are one of them. 
| Pros | Cons |
| --- | --- |
| Goes well with any outfit | The chain is too long |
| Ideal anniversary gift | |
| Very feminine piece | |
---
#3. – Editor's Choice
Specifications: 
Birth Month: March

Metal: 18k yellow gold

Gemstones: aquamarine

Average total carat: 0.19 carats

Chain length: 18 inches

Chain type: Cable chain
The birthstone of March, aquamarine boasts of its lovely blue color that symbolizes hope, health, and youth. Its mesmerizing tones vary from pale to deep blue, which will make you reminiscent of the calming waters and blue skies. This gem pairs well with spring and summer wardrobes for a stunning feminine accent. They also make great presents to celebrate a 19th wedding anniversary.
Simply elegant and unique, the Gold Engraved Aquamarine Necklace by Rosec Jewels is crafted from 18k yellow gold and styled with fine engravings and a cluster of aquamarine stones in a floral-shaped design. Rosec Jewels is a premium jewelry brand on Amazon that offers a timeless collection of versatile, unique, and contemporary jewelry collections. So if you're looking for a birthstone necklace for your girlfriend who celebrates their birthday every March, this piece is an excellent choice.
Hollywood star Jessica Biel is remembered for showcasing the most stunning aquamarine jewelry on the red carpet. During the Oscars 2014, Jessica wore a pair of aquamarine earrings encrusted with diamond accents along with an eye-catching aquamarine cuff bracelet. Her aquamarine jewelry set certainly stole the show with its blinding beauty and brilliance.
| Pros | Cons |
| --- | --- |
| Available in white gold and rose gold | Very tiny aquamarine accent |
| Customizable chain length | |
| Has a lasting impression | |
| Somewhat pricey | |
---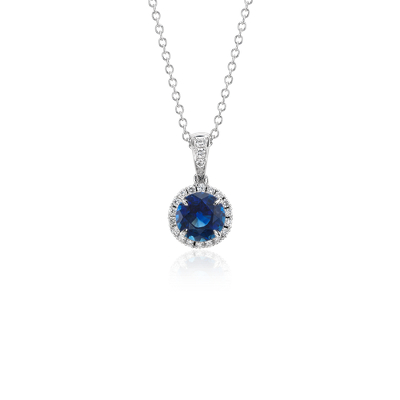 Specifications: 
Birth Month: September

Metal: 18k white gold

Gemstones: sapphire, diamond

Average total carat: 0.12 carat

Chain length: 18 inches

Chain type: Cable chain
Sapphire is a precious gemstone that has been cherished for thousands of years. Although it comes in a rainbow of colors, the blue variety has been a classic favorite and most desired for its pure, rich blue color. This gem is often associated with royalty, romance, fidelity, and soul. 
Brilliant in every way, the Sapphire and Micropavé Diamond Pendant by Blue Nile is a combination of a gemstone and diamond pendant. It features a rich blue sapphire center stone surrounded by a dazzling halo of micropavé set diamonds set in 18k white gold. The pendant comes with a matching 18k white gold cable chain necklace to bring out its vivid blue color.
The Oscars are known for plenty of red carpet surprises. Besides designer gowns, jewelry pieces have been stealing the limelight in the form of jaw-dropping classics and avant-garde accessories. Tina Fey once graced the Oscar red carpet wearing a blue sapphire and diamond necklace in geometric designs. She paired it with an equally vivid blue gown to enhance its colors. 
| Pros | Cons |
| --- | --- |
| A beautiful, timeless piece | Darker than expected |
| Looks bigger in person | |
| Elegant and sparkly | |
| Deep blue color | |
---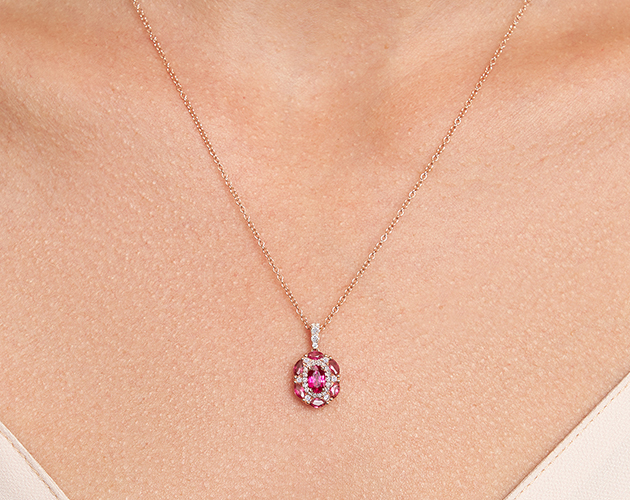 Specifications: 
Birth Month: July

Metal: 14k rose gold

Gemstones: ruby, diamond

Average total carat: ruby (0.62 carats), diamond (0.21 carats)

Chain length: 18 inches

Chain type: Cable chain
Ruby, the July birthstone, is highly regarded among ancient Hindus as the "king of gems." Ruby is known for its beautiful red color ranging from pale rose red to deep blood red. It is a variety of sapphire made of aluminum oxide. Many rubies sold in jewelry shops went through a heat treatment process to enhance their transparency and color saturation. Symbolically, the ruby stands for love and passion. 
For those looking for truly luxurious jewelry pieces, the Imperial Ruby and Diamond Necklace is your perfect match. This necklace features an oval-cut ruby center surrounded by shimmering diamonds and an outer marquise ruby halo. The pendant is hung on a 14k rose gold chain that creates a more feminine touch when worn around your neck.
Rihanna has been known for rocking out-of-this-world jewelry pieces on the red carpet. The multiple Grammy Award singer wore a sizzling ruby and diamond necklace at the Diamond Ball. The piece consisted of a pear-shaped bright pink rubellite offset hanging from a 65.24-carat diamond necklace set in platinum.  
| Pros | Cons |
| --- | --- |
| Exquisite diamond and ruby details | Slightly pricey than other gemstone jewelry |
| A lovely deep red hue | |
| Dainty yet elegant | |
---
Specifications: 
Birth Month: February

Metal: 14k yellow gold

Gemstones: amethyst

Average total carat: 9.6 carats

Chain length: 24 inches

Chain type: Cable chain
For those who are born in February, the amethyst is your ultimate birthstone. It is a purple variety of the quartz family that has continued to captivate jewelry buyers for many years. It is known for its spectacular purple color ranging from light lilac hue to deep violet. The ancient Greeks believed that this stone could protect the wearer from drunkenness and help keep a balanced mindset.
The Briolette Pointy Drop Amethyst Necklace by Galaxy Gold features a pear-shaped amethyst in an upside-down position suspended in an oval-shaped frame of 14k solid yellow gold embellished with natural diamonds. This elegant jewelry piece comes with a 1.15mm-thick double link rope chain in gold for an eye-catching statement. Wearing this necklace will make you feel like a queen due to the exquisite sparkle it brings to any outfit.
Katy Perry is known for her purple-colored statement jewelry pieces, from attention-grabbing necklaces to uniquely-shaped drop earrings. One of her most iconic amethyst jewelry pieces is the one she wore during the Purr launch show. She was wearing a massive amethyst necklace around her neck, featuring a cluster of amethyst stones and white crystals forming a floral-shaped design.
| Pros | Cons |
| --- | --- |
| Large amethyst stone easily draws attention | The chain is too long at 24 inches |
| Comes with a black leatherette jewelry box | Very expensive |
| Elegant-looking double link rope chain | |
---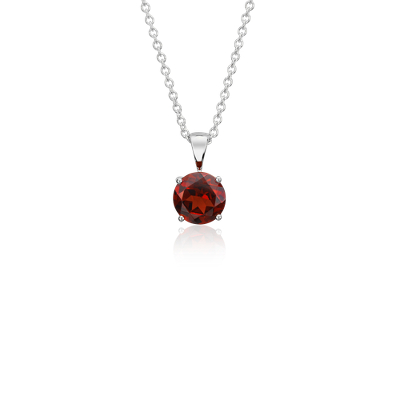 Specifications: 
Birth Month: January 

Metal: 14k white gold

Gemstones: Garnet

Chain length: 18 inches

Clasp: Lobster claw clasp 

Chain type: Cable chain
Those born in January have garnet as their birthstone. Garnet comes in a massive range of colors, including purple, yellow, orange, and vibrant green. However, garnet is popularly known for its red color, related to its medieval Latin translation of granatus, which means pomegranate, a vibrant red fruit. Garnet is considered a perfect gift to symbolize trust and friendship.
Vibrant and colorful, the Garnet Solitaire Pendant by Blue Nile is a gemstone pendant featuring a deep burgundy garnet hanging from a 14k white gold cable chain. The round garnet is secured in a four-prong setting while suspended in a dainty necklace. This classic jewelry piece comes in other precious gems, such as amethyst, aquamarine, blue topaz, opal, peridot, and tanzanite.
Marvel movie star Scarlett Johansson is one of the most iconic A-list actresses to rock a garnet jewelry piece. She wore a custom Adeler rose gold and garnet earrings to a celebrity dinner during the spring/summer 2012 Fashion Week. The said piece was crafted from 18k rose gold in shepherd's hook earrings with triangular cabochon garnets while suspended in long, rutilated quartz rectangular slabs.
| Pros | Cons |
| --- | --- |
| Striking white gold chain | The design is too simple and casual |
| Perfectly cut gemstone | The chain appears too thin |
| Very clean gemstone | |
| Wonderful setting | |
---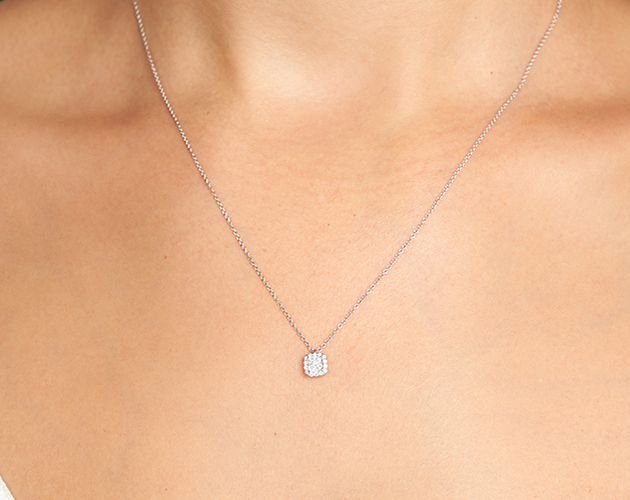 Specifications: 
Birth Month: April

Metal: 18k white gold

Gemstones: Diamond

Average total carat: 0.44 carats

Chain length: 18 inches

Chain type: Cable chain
Diamond is the most sought-after and desired gemstone due to its unparalleled brilliance and fire that no gemstone can ever match. Those born in April are fortunate enough to have this shimmering gem as their birthstone as it symbolizes clarity and strength. Diamond is also known as the most durable gemstone, making it the most suitable gem for various jewelry settings.
The Halo Cushion Diamond Necklace offers an upgrade to the usual diamond solitaire pendant with its stunning cushion halo necklace. It comes with a classic look that complements any outfit, whether on a casual day or a formal evening. It also makes a versatile jewelry piece as it goes well with any jewelry ensemble. 
If you are looking for celebrity-inspired ways to wear a diamond necklace, Emma Watson should be your go-to style icon. Truly a Belle of the Ball, the Harry Potter star looks simply elegant while wearing a diamond key necklace. The key pendant is entirely covered in diamonds, making it a stunning statement jewelry piece. The diamond necklace certainly looks well with your hair up while wearing a low sweetheart neckline.  
| Pros | Cons |
| --- | --- |
| Easy to match with any outfit | A quite delicate setting |
| Feminine jewelry piece | Very expensive |
| Very dainty design | |
---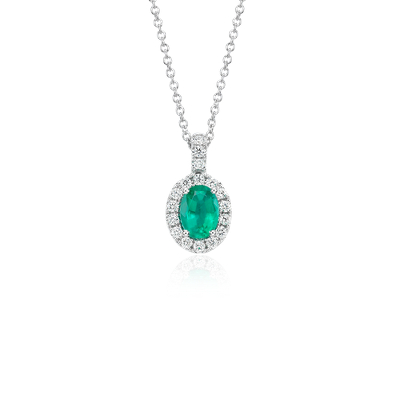 Specifications: 
Birth Month: May

Metal: 18k white gold

Gemstones: Emerald, diamond

Average total carat: 0.25 carats

Chain length: 18 inches

Chain type: Cable chain
Emerald is a popular gemstone for jewelry pieces that have been desired for thousands of years. It is widely regarded for its vibrant green color that represents spring, renewal, and rebirth. Legends say that emerald can enhance the wearer's intellect and quick-wittedness and cure diseases like malaria and cholera. Today, emerald jewelry items make great presents for 20th and 35th wedding anniversaries.
When looking for emerald jewelry pieces, there is certainly no shortage in Blue Nile's online inventory. One of them includes the Oval Emerald and Pavé Diamond Pendant, a stunning emerald pendant surrounded by pavé diamonds in a halo design. Even from afar, the emerald pendant gives off a vibrant green color that will certainly turn heads. 
In the 2018 Golden Globes, emeralds stole the spotlight on the red carpet. Since emeralds have been associated with divine feminine power, Hollywood's leading ladies and A-listers donned emerald jewels to express their support against gender inequality and sexual assault.  Actresses like Zoë Kravitz, Catherine Zeta-Jones, and Debra Messing sported massive emerald earrings to complement their black outfits.
| Pros | Cons |
| --- | --- |
| Emerald stone complements the sparkling diamonds | Poor clarity |
| Comes with matching earrings | |
| Beautiful green color | |
---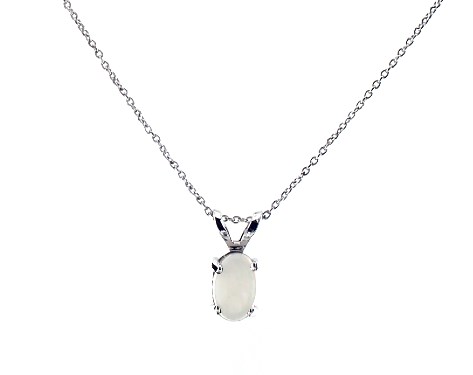 Specifications: 
Birth Month: October

Metal: 14k white gold

Gemstones: Opal

Average total carat: 0.50 carats

Chain length: 16 – 18 inches

Chain type: Cable chain
The word opal originated from the Latin word opalus, meaning "precious jewel." Along with tourmaline, opal is a spectacular birthstone for those born in October. Most opals are highly valued for their changing colors in rainbow hues. An opal's dramatic color shifting led most people to compare it to volcanoes, galaxies, and fireworks. 
James Allen showcases the beauty of the opal gemstone in their birthstone jewelry collection. The Oval Opal Birthstone Necklace features a 0.50-carat opal in a four-prong setting while suspended in a 14k white gold cable chain. This opal pendant makes a perfect gift for your beloved who celebrates their birthday in October.
Celebrities have been wearing opal jewelry pieces for decades. In every red carpet opportunity, A-list celebrities rocked opal jewelry pieces in diverse applications. One of them is Cate Blanchett, who wore an incredible ensemble worth more than $18 million. She paired her nude Armani gown with a white opal and diamond drop earrings that exude classic elegance. 
| Pros | Cons |
| --- | --- |
| Ideal birthstone jewelry for October | Lacks brilliance and color |
| Highly secured setting | Plain jewelry piece |
| Fairly affordable | |
---
Best Brands for Birthstone Necklaces
When looking for birthstone necklaces, taking the search online allows you to gain easy access to endless choices and competitive prices. Jewelry retailers such as Blue Nile, James Allen, and Amazon offers an entire selection filled with birthstone necklaces that range in prices to suit everyone's budgets. Take a look below and see what they can offer you.
Blue Nile
Blue Nile began as an online jewelry business in 1999. Mark Vadon, Blue Nile's founder, used a transformative online business model to make the buying experience easier for jewelry lovers. They created an online jewelry inventory that offers great quality and prices.
Blue Nile offers legendary customer service, endless jewelry choices, and more access to jewelry information. They worked with talented jewelry designers and diamond consultants to provide quality and stylish jewelry pieces. 
Today, Blue Nile has become a market leader in selling handcrafted diamond engagement rings and fine jewelry pieces. They also continue to search for ways to improve the jewelry shopping experience, including GIA-certified diamonds, jewelry expert advice, lifetime warranty, and diamond education.
James Allen
Four creative minds combined their jewelry expertise and business skills to establish a successful online jewelry business. In only a few years, James Allen became the largest privately-held diamond jewelry retailer worldwide.
James Allen aims to offer its customers an abundant inventory of premium quality diamonds and fine jewelry at the best prices. They are also recognized for their Diamond Display Technology, where they showcase over 200,000 certified conflict-free diamonds photographed in 360° HD imagery. 
Their high-tech jewelry display caught every diamond producers' attention, giving James Allen the privilege of having the initial pick. Besides fine jewelry and loose diamonds, James Allen also offers real-time diamond inspection, a 100% money-back guarantee, and hundreds of customizable jewelry styles. 
---
Features to Consider When Buying Birthstone Necklaces (Buyer's Guide)
Birthstone necklaces are available in numerous forms and shapes. Regardless of the style, they add elegance to anything you wear. 
Once you're done picking the right gemstone for you, it's time to decide on how long it should look and the type of chain. Read below for the different types of necklace length and chain styles.
Necklace Lengths
Choker Length (16 inches)
Necklaces at around 16 inches are shorter in length as they lay just above your collarbone. They are worn to emphasize the necklace. It is known as a collar or choker necklace, or simply choker. It goes well for shirts with high necklines.
Princess Length (17 to 19 inches)
This type of necklace is the most common length, which is generally 18 inches that hangs over your collarbones.
Opera Length (24 inches)
An opera length necklace is also called a matinee necklace. They usually appear as vintage necklaces with a dramatic length, generally worn with dresses or blouses. The opera length ranges from 20 to 30 inches but is often available in 24 inches.
Rope length (30 inches)
Rope length necklaces are typically 30 inches or longer and are often worn without a charm or pendant. They come in the form of pearl necklaces and are sometimes circled several times around the neck to form a short yet stylish necklace. 
Chain Styles
Metal Chains
Metal chains are versatile pieces that go well with everything. A platinum chain in choker length can help add a touch of shine to your outfit. When choosing metal chains, you may consider a sterling silver or an 18k yellow or white gold chain to add visual interest to your wardrobe.
Necklaces
Necklaces range from braids, links, and heavier chains. They also feature a fixed set of gemstones or diamonds that run the entire length. Pendants feature fine metal designs, gemstones, and diamonds that are suspended from a metal chain. 
Pearl Stands
Pearl strands are classic, timeless pieces that serve as an essential element to a woman's jewelry collection. You can pair it with a cocktail dress for a classy look.
Solitaire Pendants
A solitaire pendant's simple design places all the attention on its center stone, may it be a diamond, gemstone, or pearl. They are considered timeless pieces that go well with casual jeans or an evening dress.
---
Conclusion
It is easy to understand why birthstone jewelry makes a timeless and elegant gift for any occasion. It offers a more personalized way to commemorate someone's special day. The thought behind a birthstone jewelry item proves that you are willing to put in some extra time to find a meaningful present. If you are looking for abundant selections of birthstone necklaces, you can always turn to Blue Nile, James Allen, and Amazon to address all your birthstone gifting ideas. 
The Blue Topaz Heart Pendant by Blue Nile is the top pick for this buying guide's best birthstone necklaces. This precious piece is the perfect match for those who celebrate their birthdays in December. It is believed to enhance the wearer's intellect, beauty, and long life. Its bright blue color is reminiscent of a clear, deep blue lake on a summer afternoon. 
Blue Nile is not only known for its large inventory of diamond jewelry; they also offer colorful gemstones in various jewelry settings. It includes the Blue Topaz Heart Pendant that features a dazzling bezel-set blue topaz paired with a polished silver heart pendant. 
No matter what type of birthstone you have, the idea that there is a certain gemstone assigned for you should be a celebrated one. There's nothing like the gift of a meaningful jewelry piece to communicate your appreciation to your beloved. 
---
FAQs (Frequently Asked Questions)
What if I don't like my birthstone?
If you don't like your birthstone, no need to worry. No rule requires you to love it or wear it. Any jewelry item should make you feel good, so no need to be afraid if you favor alternative or ancient gemstones over the modern versions. 
If you aren't a fan of your birthstone, you can get whatever gemstone you prefer. A person born in September can still wear tanzanite. There is no rule against it. Any jewelry piece should make you happy. Even if your preferred gemstone is another month's birthstone, choose one that certainly speaks to you. What is crucial is that you enjoy wearing them.
What should I do if my birthstone is too expensive?
If you like how your birthstone looks, but you cannot afford it, you may consider finding other cheaper alternatives. Many precious stones share the same quality as others. For example, if your birthstone is diamond, you may opt for more affordable gems, such as cubic zirconia, moissanite, white sapphire, white zircon, white topaz, spinel, or colorless beryl.
You can also save if you pick smaller stones and cheaper supporting metals. One example is sterling silver, which is a budget-friendly alternative for white gold.
What are modern birthstones?
In 1912, the National Association of Jewelers introduced a set of gems to symbolize birthstones. Over the years, the list encountered a series of changes by adding and changing gemstones on its roster. The first adjustment came in 1952, and the recent adjustment happened in 2016 when they expanded the August birthstone list. Here is an overview of the modern birthstones:
January – garnet

February – amethyst

March – aquamarine, bloodstone

April – diamond

May – emerald

June – pearl, moonstone, alexandrite

July – ruby

August – peridot, spinel

September – sapphire

October – opal, tourmaline

November – topaz, citrine

December – turquoise, zircon, tanzanite
Related Resources: