Gemstone jewelry for women can make an elegant, high-fashion statement. While each gem has its unique appeal and meaning, they are set in various jewelry designs for a stylish yet subtle pop of color. 
One way to know which gemstone is your perfect match is to know your designated birthstone. Birthstones are associated with the twelve calendar months, making them an excellent birthday gift. Jewelers offer various options on how they are worn, from necklaces, earrings, rings, and bracelets. 
Gemstone earrings may represent a favorite color, convey a birthstone, or complement your favorite dress or sweater. Unlike diamond earrings, gemstone earrings come with special symbols and meanings for a more personalized touch. You can also pick the setting that best accentuates its color and creates the most flattering contrast. 
This buying guide will show you everything about the best birthstone earrings from top jewelry retail websites, including Blue Nile, James Allen, and Amazon. You can find them in different earring styles at affordable price points. It will also include gemstone facts and some celebrity-inspired pieces. 
Explore the rainbow of options and check out the best birthstone earrings that match your style and personality.
Top 10 Best Birthstone Earrings Reviewed
---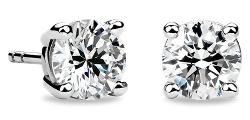 Specifications: 
Earring Type: Stud earrings

Birth month: April

Gemstone: Diamond

Metal: 14k white gold (rhodium plated)

Average total carat: 0.50 carats

Backing: push backing
Go back to the basics with Blue Nile's Diamond Stud Earrings. This jewelry piece is a must-have accessory in a woman's jewelry collection. Diamond stud earrings are timeless jewelry items that are ultimately elegant and chic. These stud earrings feature round-cut diamonds secured in four-prong settings in 14k white gold. It comes with double-notched friction posts and is very lightweight. You can also get it in platinum and 14k rose and yellow gold. 
As simple as they look, diamond stud earrings have been a staple style among Hollywood stars on the red carpet. A-list actresses such as Angelina Jolie, Natalie Portman, and Anne Hathaway have worn diamond stud earrings to complement their evening look. If you're looking for a dainty jewelry piece that certainly delivers elegance and sophistication, you will never go wrong with diamond stud earrings.
A symbol of harmony, innocence, and purity, diamonds are the most beautiful and most highly prized gemstones. April celebrants are lucky enough to get treated for a diamond jewelry set. This much sought-after precious stone has been revered in jewelry for many centuries. It graces a wide range of jewelry, including pendants, bracelets, and rings. 
| Pros | Cons |
| --- | --- |
| Available in different carat weights | Pricing is a huge factor |
| Just the right size | Somewhat tiny |
| Brilliant sparkle | |
| Bright in color | |
---
Specifications: 
Earring Type: Hook earrings

Birth month: March

Gemstone: Aquamarine

Metal: Sterling silver (white gold plated)

Average total carat: 1.04 carats

Backing: Euro wire
Blue as the seawater, aquamarine makes a fabulous piece for various jewelry designs. One example is the Pear-Shaped Birthstone Modern Style Hook Earrings by Silvershake. This hook-style earring features a minimalist geometric design set in a sleek sterling silver metal. An aquamarine stone graces the other end of the earring that shines with intensifying and mesmerizing hues. 
American fashion model Karlie Kloss is one of the few celebrities remembered for their gorgeous aquamarine jewelry. During the 2013 Cannes Film Festival, Karlie Kloss brought extravagance to the red carpet with her blushing marine-blue eardrop earrings. The stunning piece was a fusion of aquamarine and diamonds with an intriguing geometric shape. 
The symbol of youth, aquamarine is the best birthstone that represents March, a month that brings the promise of renewal and the start of spring. This lovely stone comes in a range of colors, from dark blue, sea-green, and sky blue. They also come with flawless quality and water-clear stones. Aquamarine's serene blue color is said to instill calmness and a cool temper. 
| Pros | Cons |
| --- | --- |
| Elongated raindrop style with a dollop of color | No movable hanging details |
| A delicate and understated design | The back post is too long |
| Available in other birthstones | Pokes into the neck |
| Very lightweight | |
---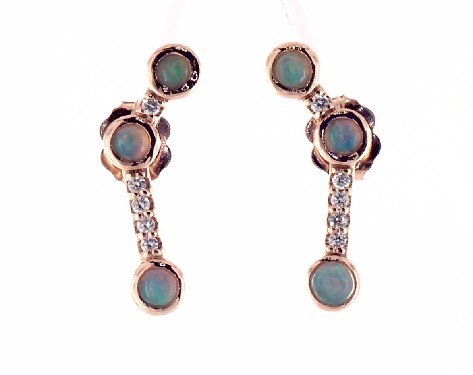 Specifications: 
Earring Type: Climber earrings

Birth month: October

Gemstone: Opal and diamond

Metal: 14k rose gold

Average total carat: 0.50 carats

Backing: Push backing
Looking for a perfect gift for those born in October? The Opal and Diamond Constellation Climber Earrings feature a unique style, perfect for stylish young women. It comes with magical constellations that spread across your earlobe with its colorful opals and flickering diamonds. The earring is set in 14k rose gold for a dainty, feminine style. 
When remembering some magical events in history, nothing will ever top American actress Meghan Markle's engagement to the British royal Prince Harry. While her engagement ring brought so much attention, it was her dainty opal earrings that became the talk of the town. While most of her accessories have wowed the public, her opal earrings truly captured Meghan's sophisticated style. 
Opal is a clear, colorless stone with dazzling brilliance and magnificent bands of color. It is among the most prized and gorgeous variety of all silica gemstones as it gives off a vivid play of light and a range of colors. Opal is often cut into a cabochon (dome shape) to maximize its radiant transparency and hues. This magical stone is said to help the wearer find true love and heal depression.
| Pros | Cons |
| --- | --- |
| Opal and diamond stones blend well | Very pricey for a simple fashion earring |
| Simple yet unique design | |
| Very eye-catching | |
---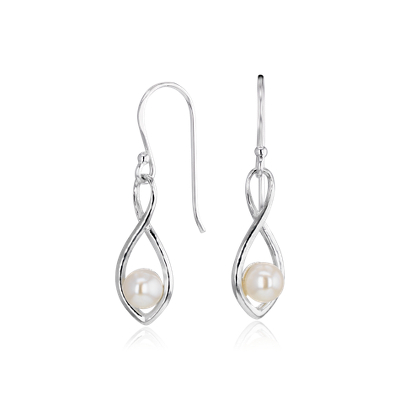 Specifications: 
Earring Type: Teardrop earrings

Birth month: June 

Gemstone: Pearl

Metal: Sterling silver

Average total carat: n/a

Backing: French wire
If you want to look classy, elegant, and sophisticated altogether, pearl earrings are your go-to style. Blue Nile features huge selections of pearl earrings that will certainly satisfy every woman's diverse tastes in jewelry. One of their bestselling pearl jewelry pieces is the Freshwater Cultured Pearl Twisted Teardrop Earrings, featuring lustrous freshwater pearls nestled in swirled teardrops crafted from sterling silver. 
The Duchess of Cambridge Kate Middleton is often spotted wearing special pearl earrings, just like her mother-in-law, the late Princess Diana. She wore South Sea pearl dangle earrings, which she paired with a flowing white dress featuring rosette detailing. She also wore different pearl earrings two years in a row when she met Crown Princess Victoria in Sweden.
Pearl is considered the epitome of sophistication and grace. It symbolizes purity, innocence, modesty, making it a perfect birthday gift for the gorgeous woman in your life. In the early centuries, women have been using pearls as a staple fashion accessory, including chandelier type earrings in the Roman era, the Renaissance's pearl hair strings, and seed pearl jewelry in the 19th century.
| Pros | Cons |
| --- | --- |
| Lovely earrings for every occasion | Metal bends very easily |
| Beautifully done and very elegant | Pearls are super tiny |
| Very nice and affordable | |
---
Specifications: 
Earring Type: Stud earrings

Birth month: November

Gemstone: Citrine and diamond

Metal: 14k yellow gold

Average total carat: 2.50 carats

Backing: French clip
If you are looking for trusted jewelry brands on Amazon, it is highly recommended to check out Dazzlingrock Collection. They feature gemstone jewelry pieces in various luxe designs at affordable price points. The Cushion-Cut Citrine & Diamond Stud Earrings are an elegant French-clip stud earring, featuring cushion-cut citrine stones surrounded by a halo of tiny diamonds. This stunning piece has a yellow-orange color that gives off an incredible brilliance and fire. 
Orange is a daring yet elegant choice for the red carpet, and a better way to channel your inner boldness is to wear citrine earrings. Citrine is mostly worn by dashing Hollywood actresses, including Tara Reid and Naomie Harris. Tara debuted her massive citrine and diamond engagement ring in a Twitter post. Meanwhile, Naomie Harris finished off her evening red carpet look with a citrine and diamond-studded bracelet. 
November babies have two lovely gemstones to choose from as their ultimate birthstone: citrine and topaz. While topaz comes in different rainbow colors, citrine is highly prized for its gorgeous yellow and orange hues. This stone is said to calm its wearer and soothe one's tempers. Today, citrine achieves its vivid yellow color due to heat treatment. Nevertheless, they are considered desired and affordable yellow gemstones. 
| Pros | Cons |
| --- | --- |
| Eye-catching yellow-orange color | Very expensive |
| Highly secured backing | |
| Dainty earring set | |
---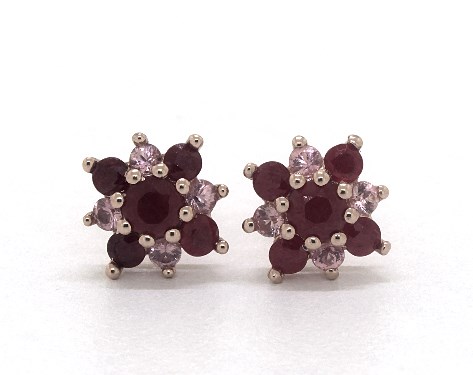 Specifications: 
Earring Type: Cluster earrings

Birth month: July

Gemstone: Ruby and pink sapphire

Metal: 14k rose gold

Average total carat: 1.36 carats

Backing: push backing
Ruby lovers will never run out of choices when they shop for birthstone earrings at James Allen. The Ruby and Pink Sapphire Flower Cluster Earrings is one of their stunning selections for young ladies out there. These chic flower cluster earrings feature ten-round rubies and eight pink sapphires arranged in a delicate floral design. It is set in a 14k rose gold prong settings for a blushing rosy effect.
In the 69th Golden Globe awards, Hollywood's leading stars like Emma Stone accessorized her red and maroon V-neck gown with ruby stud earrings. Though quite small, the 19-carat earrings are designed by celebrity jewelry designer Lorraine Schwartz. Emma proves that wearing elaborate jewelry is not required to make you feel fabulous. 
Ruby has a magnificent red color that radiates with warmth and vitality. It celebrates the feeling of love and devotion, making it an all-time favorite jewelry piece among women. A sapphire variety, this gemstone occurs in colors from deep carmine to pale rose red. Rubies are harder than other natural gemstones, making them a perfect jewelry piece for everyday wear. 
| Pros | Cons |
| --- | --- |
| Perfect for young girls | Very tiny earrings |
| Reasonably priced | |
---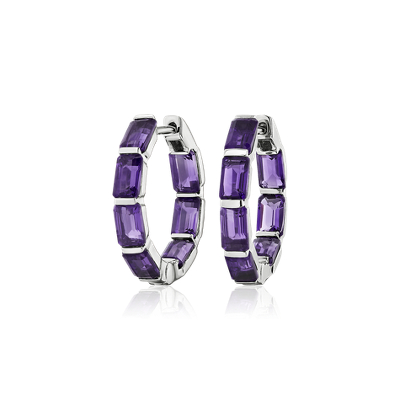 Specifications: 
Earring Type: Hoop earrings

Birth month: February 

Gemstone: Amethyst

Metal: Sterling silver (rhodium plated)

Average total carat: n/a

Backing: Hinged snapback
Looking for elegant and eye-catching hoop earrings? Blue Nile got you covered. The Emerald Cut Amethyst Hoop Earrings will certainly give you the royal treatment you deserve. It includes purple emerald-cut amethyst set in subtle sterling silver hoops. These earrings give off a very majestic look that will make you feel bold and elegant. It is also available in peridot and aquamarine. 
Bold jewels in bright, vivid colors stole the show at the 2012 Golden Globe Awards. Notable looks include American actress Debra Messing's emerald and amethyst drop earrings. With her hair brushed up, the earrings did a great job of framing her face. She paired her brilliant sparklers with a chunky emerald ring designed by Lorraine Schwartz.
Amethyst takes the spot as the centerpiece of February birthstone jewelry. A member of the quartz family, amethyst is known for its violet color ranging from the deepest purple to the palest lilac. According to legends, this stone can protect the wearer from drunkenness. The Victorian era highly favored amethyst jewelry surrounded by pearls and set in gold. 
| Pros | Cons |
| --- | --- |
| Lightweight and easy to wear | Rhodium plating may wear off over time |
| Eye-catching color | |
| Very affordable | |
---
Specifications: 
Earring Type: Stud earrings

Birth month: September

Gemstone: Sapphire and diamond

Metal: 14k white gold

Average total carat: 1.13 carats

Backing: Push backing
Gemstone earrings in halo design are James Allen's most abundant styles in their fine jewelry collection. A great example is the Marquise-Cut Sapphire and Diamond Earrings, featuring shimmering diamonds surrounded by four marquise sapphires that simulate delicate flower petals. These earrings are delicately crafted in 14k white gold. 
This ring shares a very similar style to what Katie Holmes wore on her wedding day with her ex-husband Tom Cruise. The lovely actress was wearing classically beautiful blue sapphire and diamond studs while in her wedding gown. The sapphire earrings made a few more appearances when Katie wore them in her public appearances.
A gem favored by royals, sapphire is a gorgeous star for September celebrants. While sapphire is highly admired for its rich blue color, this stone is available in other colors, such as pink, yellow, orange, green, etc. Blue sapphires range in color from violet-blue, dark blue, cornflower, and pale blue. Legends say that sapphire can give you spiritual power to ward off evil spirits.   
| Pros | Cons |
| --- | --- |
| Lovely bright blue color | Slightly pricey |
| Dainty and elegant | |
---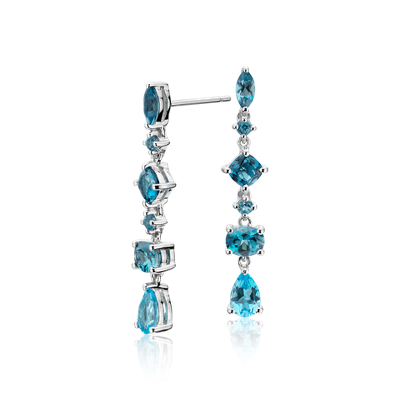 Specifications: 
Earring Type: Drop earrings

Birth month: December

Gemstone: Blue topaz

Metal: Sterling silver (rhodium plated)

Average total carat: n/a

Backing: Push backing
The Tonal Drop Blue Topaz Drop Earrings by Blue Nile features sea-worthy shades of blue topaz gemstones. This charming piece creates a gorgeous ombré effect in linear-style drop earrings made of polished sterling silver. It creates a more dramatic effect as it comes with mixed-cut gemstone shapes along its length.
The two royal duchesses, Kate Middleton and Meghan Markle are known for wearing blue topaz earrings. Both ladies wore their sparklers in studs and drop-earrings with blue topaz as the centerpiece. In the African Cats premiere, Kate Middleton wore a customized blue topaz cushion-cut earring, paired with her pastel blue outfit featuring turquoise accents. 
A symbol of loyalty, friendship, and faithfulness, blue topaz is an ideal birthday gift for December babies. In ancient times, blue topaz is said to have incredible healing properties by warding off epilepsy, asthma, insomnia, and even nocturnal fears and sadness. Today, blue topaz is a widely-used gemstone for fashion jewelry.
| Pros | Cons |
| --- | --- |
| Not overly large and not too petite | Smaller in person |
| Perfectly matched and well-sized | |
| Nice rich color | |
---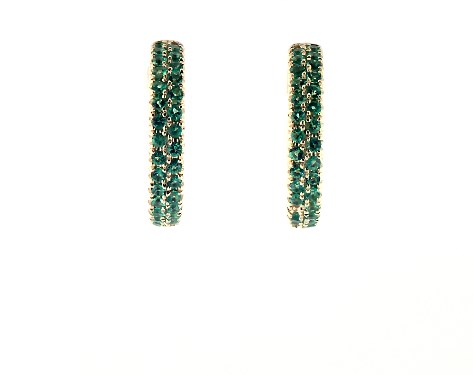 Specifications: 
Earring Type: Hoop earring

Birth month: May

Gemstone: Emerald

Metal: 14k yellow gold

Average total carat: 0.67 carats

Backing: Hinged snapback
Elegant and modern, the Double Row Pave Emerald Hoop Earring are a pair of hoop earrings featuring two rows of pavé-set emeralds in lustrous white gold. These earrings have a dainty appearance that hangs elegantly on your earlobe. It's also available in other gemstones to match your birth month. 
If you are looking for a jewelry style icon, you better check Natalie Portman's red carpet appearances. The Black Swan star looks like a stunning doll at the Vanity Fair Oscars Party while wearing stunning emerald drop earrings. The vintage earrings made a dazzling touch to Natalie's black evening dress.  
One of the greenest of green gems, emerald is a most treasured precious stone. May birthday celebrants are certainly lucky as emerald is considered the most prized and oldest gem. Emerald is said to grant its wearers with foresight, youth, and good fortune. When set into jewelry, emeralds unleash their ultimate brilliance and beauty when paired with a cluster of diamonds.  
| Pros | Cons |
| --- | --- |
| Emerald complements its yellow gold hoop | Very expensive |
| Very intricate design | |
---
Best Brands for Birthstone Earrings
When looking for birthstone earrings, taking your search on the Internet gives you convenient access to endless choices and competitive prices. Check out the following jewelry brands that offer an entire section dedicated to birthstone earrings.
Blue Nile
Blue Nile began as an online jewelry vendor in 1999 that seeks to modernize the jewelry business. While looking for a perfect engagement ring, Mark Vadon realized the need to transform the jewelry shopping experience. 
Using an online business strategy, Mark Vadon acquired an online diamond retail website and built a new jewelry company. Blue Nile began by introducing a new and easy way of shopping for an engagement ring. Their strategy contributed to Blue Nile's growing success as a premier specialty retailer of diamond rings and other fine jewelry. 
Blue Nile follows the customer-first principle by offering its customers professional customer care, more quality selections, and diamond education. The company also worked with talented jewelry designers and diamond experts to help them increase their consumer base. 
Today, Blue offers quality jewelry choices at the best value and competitive price points while providing its customers with an empowering shopping experience. Other services include customizable jewelry functions, fancy-colored diamonds, proprietary diamond search, diamond consultation, and gemstone jewelry. 
James Allen
James Allen is an online jewelry brand established in 2006 that seeks to change the way customers shop for jewelry. It started as a small online diamond retail website called dirtcheapdiamonds.com, handled by a couple in 1998. 
By 2005, the couple decided to merge with an e-commerce platform called R2Net to expand their online presence. The website went through a major rebranding and adopted a new website name called JamesAllen.com. From there, James Allen changed the way they market their jewelry collection by adopting a more sophisticated image. They also started to offer accredited diamonds from the most respected jewelry authorities. With this new business strategy, it didn't take long for James Allen to become the leading jewelry retail website. 
Currently, James Allen presents each of its ring settings and over 200,000 ethically-sourced diamonds in a highly-magnified 360° imagery. They also offer diamond inspection service, a money-back guarantee, free shipping, and hundreds of jewelry styles. 
Dazzlingrock Collection
Dazzlingrock is a retailer and wholesaler of gemstone jewelry. They own massive collections of 100% natural diamonds for jewelry. They also specialize in other precious gemstones, such as emerald, diamond, aquamarine, sapphire, ruby, and tanzanite. 
This brand gives utter importance to all jewelry buyers by providing quality jewelry on par with modern trends. They also offer affordable pieces to suit everyone's budget. Dazzlingrock also sells loose diamonds if you like to create a personalized jewel or an addition to your diamond collection. You may also visit their Amazon selections, where you can find pendants, rings, necklaces, and earrings. 
---
Features to Consider When Buying Birthstone Earrings (Buyer's Guide)
Earrings are made of various metals, such as silver, gold, and platinum. You can also decorate them with different precious stones, like diamonds, pearls, sapphires, rubies, etc. Despite the wide range of earrings in jewelry shops, all of them are divided into several types:
Stud Earrings
Stud earrings are considered the most basic earring style. They are a great example of simplicity and elegance. Since they are very small, stud earrings are quick and easy to wear. A gemstone is attached to a metal post, which goes through your piercing. It is held secured with a screw or push-backing behind the earlobe.
Drop and Dangle Earrings
Dangle earrings are suspended below the earlobe and are attached with a hook. The earrings move as you do with their movable hanging details, giving them a sparkly and elegant look at every angle. 
Hoop Earrings
Hoop earrings add a gorgeous, feminine touch to any look. They come in various thicknesses and sizes that fit around the earlobe and hoops that almost touch the shoulders. Smaller hoops are considered classic and sophisticated, while larger hoops are a form of fashion jewelry.
Huggy Earrings
Huggy earrings are worn by clinging them to the earlobe. It is a popular accessory among teenagers as it goes well with casual wear. 
Chandeliers
Chandeliers are statement jewelry pieces that are somewhat heavy on the ears. They create a big, bold impression with plenty of scope for personalization. It is a classic favorite among Hollywood stars whenever they grace the red carpet. 
Clip-On Earrings
Clip-on earrings are a great option for those who don't like the idea of piercing their ears. You can wear them with a special clip placed to the ear. 
Cuff & Wrap Earrings
Wearing these earrings will not require you to have a piercing. You can wear them at the edge of the ear, which can be fastened with a clamp or a special arch. 
Ball Earrings
Many women and young girls opt for ball earrings on their newly-pierced ears. Ball earrings often have a screw-back clasp as it is the most robust and safest choice.
Earring Jackets
This type of earring is a great option for those who like to experiment with their style. Its main feature is divided into two parts: an earring and a removable pendant (jacket). The jackets provide you more decorative choices without buying new ones. 
---
Conclusion
Birthstones are undoubtedly fashionable and gorgeous. Many people prefer to incorporate gemstones into custom jewelry as a personal way of celebrating their unique tastes and personalities. Besides earrings, you can also wear them as rings, bracelets, necklaces, and other endless jewelry options. 
Blue Nile's Diamond Stud Earrings is the top pick for the best birthstone earring, a must-have accessory in a woman's jewelry collection. Diamond stud earrings are timeless jewelry items that are ultimately elegant and chic. These stud earrings feature round-cut diamonds secured in four-prong settings in 14k white gold. It comes with double-notched friction posts and is very lightweight. 
Jewelry brands such as Blue Nile and James Allen offer a generous section dedicated to birthstone jewelry. In the end, you are not required to follow traditional beliefs as to how you should pick your precious gem. You can flaunt them regardless of what you stand for!
---
FAQs (Frequently Asked Questions)
What is cubic zirconia
Known as CZ, cubic zirconia is quite similar to a diamond with its crystal-clear clarity and brilliance. However, the difference is more apparent in terms of how it is made. Cubic zirconia is an artificially-made crystalline material that is hard, flawless, and colorless. It is considered an affordable alternative to diamonds, available in various colors.
Cubic zirconia began to be distributed in 1976 due to its diamond-like qualities, overall durability, and low cost. It is also called a diamond simulant, a mineral that is widely synthesized. 
What are semi-precious stones?
Semi-precious stones are also known as gemstones, a portion of mineral in refined and cut form, used for jewelry and other embellishments. There are also precise stones or organic resources that are not made from minerals that can also be incorporated into jewelry and considered precious gemstones.
In Western culture, precious stones include diamonds, emeralds, rubies, and sapphires, while the rest of the stones are semi-precious. It is a commercial-based classification used by jewelry marketers to create a false impression that precious stones are more valuable than semi-precious ones. 
What is Swarovski crystal?
A Swarovski crystal is an artificial gem made in Austria. In 1892, Daniel Swarovski created a machine that manufactures high-quality lead glass crystals in precision cut using minerals, quartz, and sand. The exact proportions of the raw materials remained a company secret. The specialized manufacturing process guarantees to employ the highest degree of precision in producing brilliant crystals. In the last five generations, Swarovski has continued creating the most recognized crystals in the world. 
Related Resources: