Precious gems can also have a great comeback after a long hiatus. An Asscher-cut diamond is a favorite pick of royalties, celebrities, and brides-to-be since 1902. However, it only took one World War for its production to stop, and so its limelight.
After 50 years of being dormant, the diamond's classic look still caught the attention and hearts of many popular individuals as it resurfaced in the 2000s. They say that this valuable piece symbolizes eternity, family, and nobility. No wonder James Matthews chose an Asscher-cut diamond ring for her wife Pippa, Kate Middleton's sister.
If you plan to drop the will-you-marry-me question soon, better settle for an item that will make the whole experience memorable. Your love and your soon-to-be wife's beauty deserve a rare gem that radiates prestige and purity.
Know more about this piece as you keep on taking note of the most important details.
Top 7 Best Asscher Cut Diamonds Reviewed
0.72-Carat Asscher Cut Diamond by Blue Nile – Best Overall
1.21-Carat Asscher Cut Diamond by Blue Nile – Best Value
1.06 Carat Asscher Diamond by James Allen – Editor's Choice
---
Specifications:
Cut: Very Good
Color: H
Clarity: VVS1
Carat Weight: 0.72
Length to Width Ratio: 1.01
Imagine the smile your partner would make once she sees what's inside the box. It would even be better if it is a ring with Blue Nile's 0.72-Carat Asscher Cut Diamond. This one of a kind stone reflects a brilliance that you will not get from other diamonds with the same price.
We found several reasons to love this beauty.
The layers of this stone are more emphasized because it has little to no inclusions inside. Asscher-cut has a reputation for being weak in hiding its flaws. Thus, it is best to pick one with a higher clarity grade. Luckily this item passes that requirement.
With its near-colorless appearance at grade H, you will love how it flickers brightly with enough light surrounding it. Moreover, its size is not too striking, making it less intimidating towards other people. Thus, your partner will love to wear this jewelry all the time.
On top of it all, this piece has perfect proportions on each side. Thus, it has brilliantly cut octagonal edges with the right length to width measurements. Durability is also a strong asset of this diamond because it has a medium-thick girdle that balances its crown and body.
Overall, this Blue Nile diamond is one of the most premium choices in the market. Despite its incredible characteristics, its price falls to a relatively fair amount of around $3000. Thus, we find it fitting to label this piece as the best overall in our lineup.
| Pros | Cons |
| --- | --- |
| Average color and an excellent clarity rating | The yellowish pigment is slightly noticeable |
| Cutting-edge design and symmetry | The size is small relative to the price |
| The size is not too overwhelming | Few dark spots at the center |
| Beautifully emphasized layers | |
| Fair price | |
---
Specifications:
Cut: Very Good
Color: G
Clarity: VVS2
Carat Weight: 1.21
Length to Width Ratio: 1.01
We feature another piece from Blue Nile as it consistently has a similar premium quality to the first piece. A slight difference may be observed, but they are both perfect for engagement rings or an ornament to a royalty's crown. The brand's 1.21-Carat Asscher Cut Diamond speaks volumes in each corner of its features.
This one has the same length to width ratio and cut grade as the previous item. Thus, you can expect that its edges and corners have superior quality, which adds to its sophisticated look. However, its color grade is slightly higher, making the faint yellowish color less visible. From a typical wearer's perspective, it even looks transparent.
This piece still looks eye-clean for the naked eye. However, a gemologist may easily identify some blemishes upon closer examination. The carat weight also takes a huge role in contributing to the diamond's market price. Its size may not be too overwhelming, but it is large enough to leave a remarkable impression.
With a higher depth percentage, it is not surprising that you will need a thick band from the top surface down, especially if you use it for a ring.
To most people, this diamond's price can be a little heavy to their bank accounts. However, Blue Nile has an installment plan to make things lighter for its clients. Thus, you, your partner, and your wallet are all happy.
| Pros | Cons |
| --- | --- |
| Higher color grade with less visible pigments | Blemishes are more detectable for gemologists |
| Eye-clean and well-polished edges | A thicker band is needed for a ring |
| Available in installment plans | More expensive price |
| Bigger carat weight | |
| GIA certified | |
---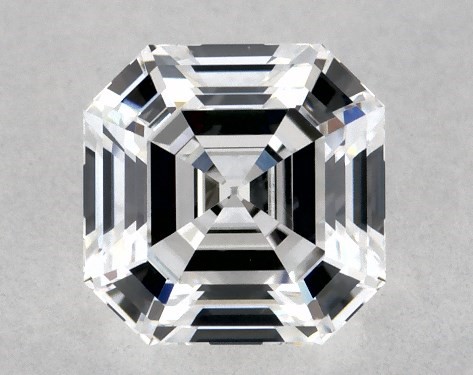 Specifications:
Cut: Very Good
Color: D
Clarity: IF
Carat Weight: 1.06
Length to Width Ratio: 1.01
Fluorescence: Medium
Preferences in diamonds may vary from one person to another. Some pick those with the most valuable price regardless of features, while others give higher regard to quality over cost. If you belong to the latter group, you might want to check on James Allen's 1.06 Carat Asscher Diamond.
With a single look, you will automatically conclude that this diamond is an extraordinary item. The reason for this is its pure color quality with a D grade. No traces of yellow pigments are on this jewelry. Moreover, it has internally flawless clarity, signifying that it does not have any blemishes at all. It may even look cleaner than anyone's soul.
It sounds like a picture-perfect item. However, you may find the darker reflections at the center of this diamond distracting. It has something to do with its facet's arrangements. Nevertheless, it still has some beautiful layers that give more life and class to the stone.
With all these features, it is not surprising anymore if it has a more expensive price. The rarity of its supply is another reason why this diamond has a higher monetary value.
Thus, grab the chance to have this piece before its availability runs out. The love of your life will probably feel like the luckiest woman on earth once she finds out how special and limited this piece is.
| Pros | Cons |
| --- | --- |
| Layered beautifully with well-cut edges and corners | Added color premium is useless |
| Rare piece with the highest grades | Visible dark reflections inside |
| Emits soft glow in darker rooms | More expensive price |
| 100% absence of blemishes | |
| Limited edition | |
---
Specifications:
Cut: Very Good
Color: H
Clarity: IF
Carat Weight: 1.51
Length to Width Ratio: 1.01
They say a diamond is the highest form of material gift that you can give to someone. However, these precious stones are not only suitable as gifts, but they are also good investments. Thus, if your goal is to accumulate more valuable items, you better choose a diamond with a larger size.
Complete your collection with Blue Nile's 1.51-Carat Asscher Cut Diamond. Its strongest asset is its carat weight and clarity. A heavier diamond means it has a better value than others. Plus, this item has the highest clarity grade, signifying that blemishes are absent in this piece.
Asscher-cuts have a reputation for not retaining colors well, like oval-cuts and pear-cuts. The least recommended grade for this piece is H, to which the Blue Nile diamond belongs. You may prefer a piece with a higher color rating, but its added price value for the color is a bit unnecessary. Color H looks almost the same as colorless ones.
Like the first items we featured, this piece looks squarer than elongated based on its length to width ratio. Its significant size has a huge effect on its head-turner personality that may encourage other people to comment about its value. Thus, it is best for people with outgoing disposition and adores attention.
As a property, you must secure this item properly. It is prey to an envious eye, and you do not want this precious jewelry falling to someone else's ownership.
| Pros | Cons |
| --- | --- |
| More brilliance and lesser dark spots | Easily catches other person's attention |
| Fair price for its quality | Not suitable for a tight budget |
| Excellent investment | |
| Bigger carat size | |
| Blemish-free | |
---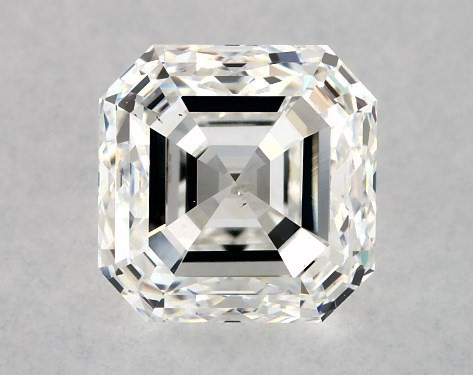 Specifications:
Cut: Very Good
Color: H
Clarity: SI2
Carat Weight: 2.01
Length to Width Ratio: 1.00
Fluorescence: Strong
Who doesn't want to see their partner happy and glowing? James Allen's 2.01 Carat Asscher Diamond is the perfect pair for a glamorous evening dress or wedding gown. Watch the love of your life sparkle and look like a member of a royal family with this stunning beauty.
Whether you put it on a ring or use it as a pendant for a necklace, this valuable item can sustain its majestic appearance in any setting. A heavier carat weight means a larger-looking diamond. Thus, you will instantly notice the facets, layers, and mirroring reflection inside this stone.
It may be a charming piece because of its size, but do not be surprised if you notice some inclusions in its build. A Slightly Included rating and a color H grade are the safest thresholds for an Asscher-cut stone. However, they come with downside qualities, such as the visibility of blemishes and yellow pigments from a wearer's perspective.
It also holds a strong fluorescence, resulting in a hazier appearance of this diamond. On the flip side, this piece is best worn on special occasions with a dimmer ambiance so that you can see how it emits a glow.
This product is a balance of the good and bad parts of an Asscher-cut diamond. For its size, its almost $9000 price is reasonable. However, its color and clarity may somehow offset this quality.
| Pros | Cons |
| --- | --- |
| Emits a strong glow in dark places | Lower color and clarity grades |
| Highlights its beautiful layers | The price is less practical |
| Well-cut proportions | Hazier look |
| Heavier carat weight | |
| GIA certified | |
---
Specifications:
Cut: Very Good
Color: D
Clarity: VVS2
Carat Weight: 1.70
Length to Width Ratio: 1.01
This 1.70-Carat Asscher Cut Diamond is the last Blue Nile item that we will feature. By far, it is the most expensive piece on our recommendation list. You may wonder why this costs more expensive than James Allen's, even if it has a smaller carat weight than the latter. Here is why.
This piece checks all the premium features needed in a diamond to have a higher monetary value. Apart from its significant size, it has a color D rating. By now, you already know that a colorless diamond is a rare find in the market. Coupled with a VVS2 clarity rating, you will get a clean and dazzling stone to which Asscher-cuts are popular.
This variety has a table that does not hide blemishes. You will still see unappealing spots floating in a VS2-graded diamond. Thus, a higher clarity standard is needed for this piece, especially that it has a larger size than the others.
More importantly, a step-cut stone, like Asscher, requires a balanced proportion. With a 1.01 length to width ratio, it would look like a perfectly square diamond, with stunning and soft edges. It even has a generous table percentage that better highlights its beautiful details face-up.
If you have the extra dollars to splurge on a luxurious item, better use it for this Blue Nile treasure. It is not the most valuable item, but its impressive qualities can justify its expensive price.
| Pros | Cons |
| --- | --- |
| Depth and table highlights its layered beauty well | Expensive price |
| Best clarity rating for a colorless diamond | |
| Justifiable quality and price | |
| Symmetrical proportions | |
| Lesser dark spots | |
---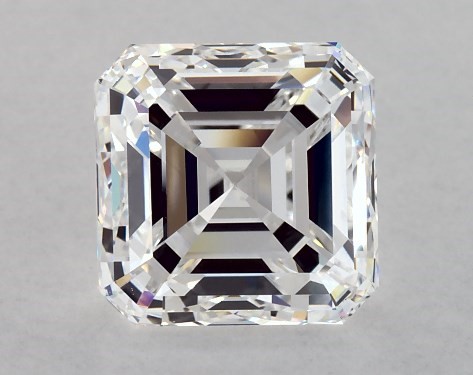 Specifications:
Cut: Very Good
Color: E
Clarity: VVS1
Carat Weight: 3.01
Length to Width Ratio: 1.00
Fluorescence: Faint
The possibility of spending more is undeniable when we talk about diamonds. Its market demand is the reason why most prices will cost you your car and house combined. A prime example is James Allen's 3.01 Carat Asscher Diamond, with a whopping price of around $48,000.
When it comes to your wife's happiness, the price does not matter anymore. However, it is best to know what you are getting for in this unbelievable amount.
The obvious reason for its cost is the carat weight. Among all the items we featured in this article, this piece is the heaviest. Moreover, its exceptional brilliance results from the color E grade, which stands as the second-highest rating in the colorless range. Plus, it has a VVS1 clarity feature that makes it look spotless and a well-polished piece.
While it is not the most practical purchase you will make, this Asscher-cut piece has a premium quality that stands along with our other recommended products.
| Pros | Cons |
| --- | --- |
| Higher color and clarity ratings | Size is too overwhelming for everyday wear |
| Perfect symmetry | An impractical choice for the price |
| Premium quality | |
| GIA certified | |
| Clean cut | |
---
Top Pick – Best Overall Asscher-Cut Diamond
From its inception and until today, Asscher-cut diamonds have infamous brilliance that outshines other diamond varieties. It is an even better pick than emerald-cuts because it looks cleaner and shines better. Its long-lasting beauty is the return for its valuable cost.
Once you hit the search button in an online jewelry shop, it will show thousands of results for you to pick. This scenario may overwhelm you, and we are here to help.
Among all the flashy options in the market, we highly suggest Blue Nile's 0.72-Carat Asscher Cut Diamond. It may not have a massive size that some women adore in diamonds, but it is enough to flaunt its elegant layers. Plus, the stone's cut, color, and clarity grades fall in ranges that make it look colorless and flawless.
Asscher-cut is sensitive to blemishes since it has a wider table percentage. Thus, this Blue Nile diamond has the right combination to make its flaws less visible to a wearer's eye.
It is not every day that you will find this piece, making it a rare and true find for an Asscher-cut diamond.
---
Best Brand for Asscher-Cut Diamonds
Blue Nile
Price is the main selling point of Blue Nile. Thus, if you are looking for an online jewelry shop that sells diamonds at a lower amount, this company is the right place.
Blue Nile has been in the market for more than two decades. Its history began in 1999 when the internet is not too popular yet, and the common way of buying a diamond is by physically going to a retail store.
This company revolutionized the standard way of shopping precious gemstones by introducing a virtual jewelry store. Checking a diamond's quality is now less hassling, and you may also view its real-life form through its Digital Display Technology.
You may wonder if they sell legitimate stones because of their price offerings. Yes, it is an authorized international company that follows a special business model. It partners directly with manufacturers, instead of the most common buy-and-sell technique. This way, it guarantees its customers the most valuable, if not the least, price possible.
Moreover, Blue Nile is also a favorite spot if you want to learn more about checking a diamond's quality. They accommodate customers 24 hours a day for any concerns through their reliable customer service team. You may even talk with an expert, upon your request, for a more guided shopping experience.
James Allen
This company is a close rival of Blue Nile and other known online jewelry shops. Almost all of them offer the same diamond quality and price range, which brings you to the ultimate question: Why James Allen?
The shopping experience with this brand is on a whole new level. Its 360-degree display technology will help you assess the diamond from every angle. You may even look into ring sizes, color radiant, and clarity quality without opening a new tab for more convenient comparison.
Moreover, it has a delicate and well-thought packaging that will boost your confidence as you hand the gift to your significant other. You can also request to customize your rings and other pieces of jewelry to make them more personalized and appealing to your taste.
Buying a James Allen product comes with several benefits that you may not find from other companies. It offers financing options to people who cannot afford to pay the exact amount immediately. You also acquire a lifetime warranty on your chosen piece, with a 30-day window to return your damaged items.
This brand offers other advantages: an insurance policy, free shipping worldwide, free resizing, and free engraving.
Choosing James Allen as your main source of diamonds and other gemstones can be the best decision you will ever make. You are clinging to a company whose goal is to satisfy you and attend to your concerns whenever possible. They know your worth, and you are the most valuable piece to their business.
---
History of Asscher-Cut Diamonds
Like a radiant-cut diamond, Asscher-cut is only a recent invention by gemstone cutters. Joseph Asscher is the name behind this diamond variety. He is Amsterdam's finest diamond creator, and some even called him the "Greatest Cleaver in the World" after cutting the Cullinan diamond in 1905.
In 1902, Joseph crafted the well-renowned Asscher-cut, which instantly gained attention from famous individuals and royalties. The Asscher Diamond Company, owned by him and his brother, immediately patented this piece to monopolize its production.
However, the Asscher family and the entire business crumbled during the Second World War. The enemies seized their diamonds, destroyed their company, and deported them back to the Netherlands. Most of their family members died in concentration camps, except for Louis and Joseph.
Thus, the two rebuilt the company in 1980. With the recognition of Holland's Queen Juliana, the business gained a royalty title. The younger generation of their family took the initiative to modernize the business until Edward and Joop produced the Royal Asscher-cut diamond.
Today, Royal Asscher Diamond Company is alive, well, and prospering. Its 158-year history is a story of success, failures, and a continuous journey as it remains the main producer of Asscher-cut diamonds in the world.
The difference between Standard Asscher-Cut From Royal Asscher-Cut Diamonds
The Royal Asscher Diamond Company is famous for patenting two Asscher-cut diamonds. In 1902, Joseph cleaved the first-ever standard Asscher-cut, and a hundred years later, newer family members discovered the Royal cut.
How do they differ?
The standard Asscher-cut diamond, which is the universal design of this variety, has 58 facets. It does not sparkle similar to other varieties, but it looks cleaner and more polished.
On the other hand, the Royal Asscher-cut is an upgraded version of the former. It has 74  facets, making its brilliance look brighter and more fascinating. Moreover, it has a higher crown and deeper pavilion that emphasizes the beautiful layers found within this step-cut diamond. Thus, you will never find a royal crown without this diamond. Most use it as the main piece.
Its complex design makes it a more expensive item than the original diamond.
---
Why You Should Not Buy an Asscher-Cut Diamond – A Buyer's Guide
'Rarest' is an understatement for an Asscher-cut diamond, especially for the royal one. That is why finding the best piece of this variety is like hunting a treasure down the Atlantis. Still, many people are obsessed with this stone because they are buying even the most expensive one.
If you are still new to this scene, you may want to look at the other side of the coin and convince yourself not to buy one. Here are some of the compelling reasons why you should skip this diamond and look somewhere else in the treasure box.
#1. It is a Truly Rare Find
Asscher-cut diamonds can be more expensive than any round or princess-cut diamonds with the same carat weight. Demand is the typical reason why a diamond has a higher market value. However, Asscher-cut has a different story.
Only 2% of mined diamonds in the world are converted to Asscher because it is quite complicated to cut and takes a lot of time and effort to perfect. With this supply, you may get a difficult time finding one with the most precise and perfect quality.
Most items available in the market today lack one aspect, making them less valuable. One Asscher may have the best color, but not the best symmetry. The other may have the best proportions but are filled with flaws.
If your goal is to obtain the rarest piece, Asscher is your perfect choice.
#2. They Do Not Sparkle
A shining, shimmering, and splendid gem is the common stereotype about diamonds. However, Asscher-cuts do not sparkle because of their step-cut design. Cutters arrange their facets in a parallel and rectangular manner resulting in a more orderly appearance.
Comparing with oval-cut and round diamonds, Asscher-cuts draws your focus to the center instead of reflecting flashy sparkles out of the light that surrounds it. It shows a hall-of-mirror effect that results in lesser colorful flashes.
Nevertheless, it still exudes a sophisticated look, but with a cleaner and more polished design.
#3. Most Asscher-Cut Diamonds Are Poorly Cut
Despite the existence of a standard cut grade for Asscher-cuts, most of them have poor proportions. If you look closely at this diamond, it has a windmill-like shape that should fall correctly at the center and have similar sizes. Most fail to deliver properly in this department.
At some point, this symmetry affects the kaleidoscope color that the diamond reflects. A poorly-made Asscher produces annoying and distracting colors at the center instead.
Moreover, some diamonds are too deep and thick, which tends to get more uncomfortable. Some cutters make them feel as heavy as possible, resulting in a carat weight that you do not see.
Windowing is also a typical problem in this cut. That dark spot you see at the center signifies light leakage, indicating that the light cannot pass through some of its parts. Other Asscher-cuts have larger windows, so you better watch out for this impediment.
We do not want to discourage you from buying this valuable piece because it is one of the world's most beautiful diamond cuts. However, we want to serve this as a warning for you to be warier and pickier when buying an Asscher-cut diamond. Again, it is rare, and no one wants to own one with less impressive quality.
---
Conclusion
Now that you have gained more knowledge about Asscher-cut diamonds, we hope that you already decided if you will buy one or not. Again, this piece is rarer than the other varieties in the market.
You have several things to consider when buying one, and being a smart and picky customer should be your default attitude. Patience is a virtue that you need when purchasing this precious item.
To recap, we strongly suggest that you check on Blue Nile's 0.72-Carat Asscher Cut Diamond. It has all the best qualities that you need, and it has great value for money. Most importantly, it does not fall into the poorly-made category that you must avoid.
The only downside of this piece is its carat size. Since some feel better with a larger-looking diamond, feel free to explore other options from James Allen.
---
Frequently Asked Questions
Are Asscher-cut diamonds more expensive?
It is one of the most expensive cuts among all diamond varieties because crafting this piece takes a tedious and more complex process.
Its parallel and rectangular arrangement is quite difficult to perfect. Thus, premium Asscher-cuts have more valuable costs than others.
Does an Asscher-cut diamond look larger?
No, it does not because cutters mostly focus on its depth. Thus, it compromises its appearance, making it look smaller.
If you prefer a larger-looking diamond, you can go for a cushion-cut, oval-cut, or radiant-cut diamonds.
What is the worst asset of an Asscher-cut diamond?
Unlike others, Asscher-cut hides blemishes poorly. Thus, if you purchased a diamond with a lower clarity rating, you may not find it appealing and worthy of the price. Its flaws are more apparent. That is why you must choose one with a clarity grade of at least VVS2.
Related Resources: