One of the most significant factors to consider when designing your dream engagement ring is to look at the carat size. Three-carat diamond rings, in particular, are the best ways to show your love in a lustrous fashion. 
These big, loose diamonds are perfect for making a dazzling dramatic center stone for any setting of your choice. When you shop for 3-carat diamonds, keep in mind that the diamond's cut grade should be made a priority for you to have the most brilliance.
Since you will be spending thousands to a hundred thousand dollars on this purchase, you must make the right purchase and avoid unnecessary costs. 
Well, you have come to the right place. If you're looking for the best 3-carat diamonds to purchase, keep scrolling, and read more about the following top picks from Blue Nile and James Allen.
Top 8 Best 3 Carat Diamond Rings Reviewed
14K White Gold Cushion Outline Pave Engagement Ring – Best Overall 
3 Carat Five-Stone Emerald-Cut Diamond Engagement Ring in Platinum – Editor's Choice
---
Specifications:
Carat Weight: 3.00

Brand: James Allen

Clarity: VS1 – SI1

Cut/Shape: Round, Cushion

Setting: Channel

Color: G-H

Metal: 14K White Gold

Price: 1,402 (Setting Only)
Excellently crafted with a beautiful halo to emphasize the diamond's shape, this gorgeous ring strikes a balance between boast and finesse. It gives you refined brilliance, making it an ideal choice if you are looking for an attractive ring that you can proudly wear every day.
With its cushion cut design, you can have a great combination of modern and round brilliant-cut patterns with a classic, old-mined surface cut, allowing it to have a soft square shape with its curved edges.
The nostalgic outline of this shape perfectly complements the glamour and brilliance of its round center stone, allowing it to bring out the best qualities of both shapes.
Best of all, you can have this ring in some beautiful options. It also comes with a traditional halo, fancy-shaped diamonds, and gemstones.
With its outstanding average clarity, you can only have minor inclusions that are only noticeable to a skilled grader. This feature uniquely allows the G-H – colored diamonds to shine best as it sits beautifully on a 1.8mm 14K White Gold ring band.
| Pros | Cons |
| --- | --- |
| Includes minimal inclusions that are unnoticeable to the naked eye | Complaints about inconsistencies with the product |
| Ring halo allows the diamond center stone to stand out | Does not look complementing on other metals |
| Comes available in both round shape and cushion cut | Late shipment for some customers |
| Great customer service from the company | Relatively more expensive setting |
| Beautiful cushion cut design | |
---
Specifications:
Carat Weight: 3.00

Brand: James Allen

Clarity: VS2 -SI1

Cut/Shape: Princess

Setting: Pave

Color: F-G

Metal: 14K White Gold

Price: 1,927 dollars (setting only)
This 3-carat diamond ring features two princess cut diamonds placed on both sides of the center stone to accentuate. More than that, eight princess cut diamonds set in channels flank the center stage diamonds. 
This three-stone ring is classic for all time. It features two princess-shaped diamonds on either side of a 3-carat center diamond of your choice. As it sits on pave settings, it glitters down. Aside from round and princess shapes, you can also have this ring with fancy-shaped diamonds by only adding 150 dollars.
Plus, its G coloration is perfect to set with an outstanding SI1 clarity, as it ultimately gives brilliance that you will adore in this kind of setting. However, its 14K carat metal may not be the finest option to match the diamond's color.
| Pros | Cons |
| --- | --- |
| Beautiful ring design and brilliance | Minor suggestions for changing the diamond's color |
| Excellent customer service | Some troubles about assembly |
| Amazing cut and shine | |
| Great price and quality | |
| Comfortable fit | |
---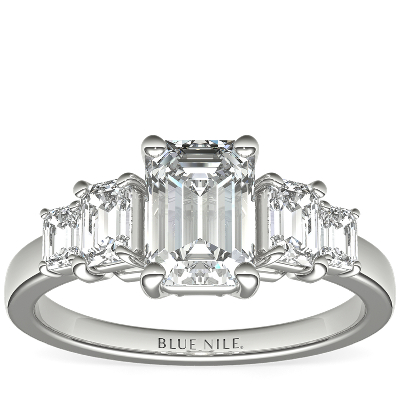 Specifications:
Carat Weight: 3.00

Brand: Blue Nile

Clarity: VS2

Cut/Shape: Emerald

Setting: Prong

Color: F (center stone), H (side stones)

Metal: 950 Platinum

Price: 30,300 dollars
Nothing celebrates the brilliance of a beautiful 3-carat diamond center stone more than this emerald-cut diamond engagement ring from Blue Nile. It features five emerald-cut diamonds, including a stunning center stone and two pairs of graduated emerald-cut side stones on both sides for a luxurious look.
With these kinds of dazzling diamonds, a rare 5mm-wide 950 Platinum is strong and durable enough to hold these diamonds well in a flattering place. Blue Nile surely does not accept any treated diamonds, and its four side emerald diamonds are no exception. More so, you can use these diamonds for everyday wear.
With a near-colorless grade, the H-colored side diamonds shows excellent value with a color grade that only goes noticed when compared to higher color grades. This feature complements the minor inclusions that are only somewhat easy to see at 10x magnification.
Best of all, the diamond center stone has an outstanding colorless grade, which makes it more stand out in the platinum material. A trained gemologist only detects this faint color, as this diamond possesses fine clarity that makes inclusions very difficult to see, even to a trained gemologist. 
Additionally, its metal prongs lift both of these gemstones and are only cut to give you a comfortable fit, as it beds over the crown to secure the diamonds in place.
| Pros | Cons |
| --- | --- |
| The design accentuates the asset of the diamonds | Inconsistencies with color grade and clarity for center stones and side stones |
| Highlights clarity better than other shapes | The width may be too thick |
| Near-colorless to colorless grade | Relatively expensive |
| Exemplary clarity | |
---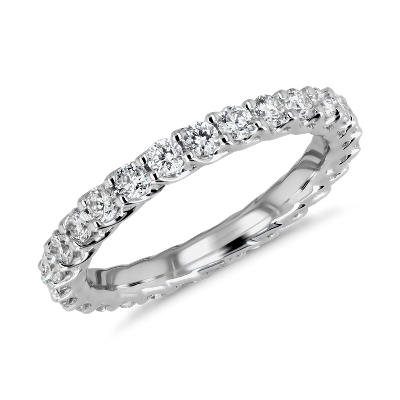 Specifications:
Carat Weight: 3.10

Brand: Blue Nile

Clarity: VS2

Cut/Shape: Round

Setting: Common Prong

Color: H

Metal: 950 Platinum

Price: 7,492 dollars
This 3-carat diamond eternity ring features a stunning divine tesserae weave side profile that details a sophisticated and dazzling look. More so, this ring is finished with a platinum material, which is a rare white metal considered a fine choice for jewelry. With that said, Blue Nile ensures that their platinum is 95 percent pure and hypoallergenic.
With its excellent width and height, you can have a ring that will get you compliments in every corner of the room. Plus, its comfortable fit allows you to use this ring for everyday wear.
Plus, its near-colorless grade showcases excellent quality along with an average clarity of minor inclusions that are much easier to identify at 10x magnification.
Compared to the other rings in this list, this platinum engagement ring comes with a common-prong setting. With this feature, the different diamonds share prongs with minimal space between them, allowing them to display a neat line of brilliance. As a result, you have an incredible line of diamonds neatly placed alongside each other, creating a beautiful, state of the art effect.
| Pros | Cons |
| --- | --- |
| Elegant design that is not overstated | It may not be ideal for emphasizing carat weight and size |
| Perfect for very special occasions | Needs to keep away from other jewelry to void damage |
| Well-received by customers | |
| Great brilliance and detail | |
| Comes in various sizes | |
---
Specifications:
Carat Weight: 3.00

Brand: James Allen

Clarity: VS2

Cut/Shape: Very Good, Round

Setting: Pave

Color: K

Metal: 18K Yellow Gold

Price: 27,055 dollars
If you're searching for a diamond ring that strikes the right balance between budget and class, then this masterpiece from James Allen is surely a great catch. 
It features a beautiful center diamond stone with nine diamond side stones on either side, making the center stone stand out when it comes to size and glamour. With different styles present in one ring, you will truly appreciate the great symmetry it possesses.
Made fit for a royal at heart, you can have this beautiful ring at a relatively lesser cost compared to other models from the brand. Keep in mind that a yellowish color may be detectable to the naked eye with its K-color grade. 
Still, you can never go wrong with the diamond's cut and 18K gold setting, as it comes perfectly suitable to the 3-carat diamond at hand. Besides, this ring is GIA-certified, so you can be sure that it was carefully assessed and passed all standards set for an alluring piece of jewelry.
| Pros | Cons |
| --- | --- |
| Big center diamond stone stands out with setting | Visible yellow colorations |
| Designed with eighteen diamond side stones | Minimal black inclusions |
| Complementing yellow gold metal | Low clarity |
| Aesthetic symmetrical look | |
| Comes with a thin band | |
---
Specifications:
Carat Weight: 3.42

Brand: James Allen

Clarity: VS1

Cut/Shape: Excellent Cut, Round

Setting: Solitaire

Color: I

Metal: Platinum

Price: 50,655 dollars
Crafted with superior quality and ultra-fine material, this captivating diamond ring has a great value that is worth its price. It has very simple yet uniquely superb specs that don't need to boast more than what the eyes can see. If you're looking for a diamond that makes an impact with less effort, then this ring is a great choice.
It comes with a minimalist design and an outstanding setting that places the center diamond ring at center stage. Therefore, the ring's solitaire setting will have your eyes set on the exquisite character of the 3.42-carat diamond.
It's a known fact that this simple design is the ideal go-to option for a diamond of this size. Plus, this James Allen ring is excellently cut makes it one of the best for the 3-carat diamond option, so you can never go wrong for investing in this ring.
Simple but classy, this round diamond ring has excellent proportions and receives outstanding grading reports from GIA. With this, you can ensure that you receive authenticity at its best.
| Pros | Cons |
| --- | --- |
| More emphasis on the diamond's elegance and beauty | The solitaire setting may not be fit for the diamond's size. |
| Made with top-quality material | Thick band size |
| Simple yet classy design | Expensive |
| GIA-certified | |
| Excellent cut | |
---

Specifications:
Carat Weight: 3.01

Brand: Blue Nile

Clarity: SI1

Cut/Shape: Oval 

Setting: Common prong

Color: H

Metal: 14K White Gold

Price: 11,994 dollars
This astonishing ring features seven elegantly arranged oval-shaped diamonds that you can wear proudly on any occasion. It can look lovely on its own or even paired with a wedding band. Nevertheless, this ring will last for a long time.
Unlike other rings in our list, it is made with fine rhodium plating, which helps to prevent tarnishing, keeps metal strong and durable for longevity, and gives a bright silvery-white finish for your ring. This comes very handy, especially in keeping this ring in shape.
You won't have problems when it comes to the ring's feel on your skin, as it is specially designed for a comfortable fit. Plus, you'll appreciate the look on this ring, as its near-colorless grade complements the stunning clarity of this ring. 
More so, its common prong setting allows the center stone and each elegant gemstone to display a clean line of brilliance as they are closely placed with one another. This adds even more to the ring's vibrant beauty. Overall, this ring will surely make a good impression on that big, special day.
| Pros | Cons |
| --- | --- |
| The setting looks amazing for the diamond's presence. | Inclusions may be detectable to a keen naked eye |
| Oval shape emphasizes the 3-carat diamond | Clarity looks better if eye-clean |
| Elegance at its finest | |
| Rhodium-plated | |
| Comfortable fit | |
---
Specifications:
Carat Weight: 3.13

Brand: Blue Nile

Clarity: SI2

Cut/Shape: Round

Setting: Prong

Color: I

Metal: 14K Rose Gold

Price: 6,392 dollars
Treat yourself with a never-ending string of dazzling French pave diamonds in this 14k rose gold eternity ring. For an amazing price of 6,392 dollars, you can have the fascinating look of 3-carat diamonds at a much less costly price.
It expands with wide 4.00 mm width and with tall stones at 3.2 height. Each stone is set in metal prongs that lift the gemstone and is cut to fit. These prongs bend over the crown to secure the stone.
The 3-carat diamonds are of I-coloration, which is only slightly detectable with close examination, therefore showing exceptional value. More so, slight inclusions present may only be visible to a keen unaided eye.
Plus, it is offered in two ring sizes. For each option, you'll have an outstanding number of 19 diamonds.
Offered in 58.3 percent gold, this ring's rose gold metal achieves its beautiful color with the higher proportion of copper mixed in the metal alloy. For this reason, you need some refinishing services to restore the metal's finish as it wears over time.
| Pros | Cons |
| --- | --- |
| Nineteen diamonds for each 3-carat option | Metal color may not compliment the diamond's color |
| Exceptional value for a less costly price | Inclusions may be detectable to an unaided eye. |
| Beautiful French pave diamonds | Limited two ring sizes for 3-carat weight |
| Great setting and details | |
---
Top Pick – Best 3 Carat Diamond Ring 
James Allen has yet made another good impression when it comes to diamond rings. The brand is known for its excellent quality and beautiful options, and its 14K White Gold Cushion Outline Pave Engagement Ring is no exception.
This ring has all the outstanding features that qualify it as the best 3-carat diamond ring for keeps. It's simple, fresh, and definitely catches the eyes with its dazzling beauty. As a stunning engagement ring, it will make that very special day's memories last for a lifetime.
It goes well with any wardrobe and skin color. Plus, it gives you a ton of brilliance in a very refined manner. With a color that perfectly matches clarity, you can have a 3-carat diamond ring that outshines the rest.
Although it weights similar to the other diamonds in this article, its halo setting helps create a larger look for the ring. The halo diamonds create a large stone appearance to the center diamond from a distance, which adds to its asset.
So, if you are looking for a diamond that will fit your interesting personality or that of the receiver, better to say it with this wonderful showpiece from James Allen.
---
Top Brands for 3 Carat Diamond Rings
Blue Nile
Blue Nile is one of the largest and most popular diamond retailers in the market. Some of the benefits you can have with the company include special orders, jewelry insurance, and guaranteed quality. Their most popular source of revenue are engagement rings, and they only operate online through their e-commerce store.
If you're looking for the best diamond cuts with exceptional value, then Blue Nile is for you. The brand comes with the largest inventory of diamonds, ring settings, and refined jewelry, all sold for a more affordable price.
Other than that, all rings are custom-made according to your choice. This fact may then lead you to blind buy diamonds and encounter problems with the budget. It means that an average buyer may not actually see what they are buying. Still, the company is highly popular for taking the extra mile to make sure that customers buy the best.
The company is also accredited by two well-known grading labs in the country, namely GIA and AGSL. With that said, Blue Nile proudly presents its stones as conflict-free and are taken from ethical sources. They proudly boast their diamonds as certified authentic and true to their price.
Blue Nile is a company known for signing exclusive agreements with several diamond wholesalers across the globe. These agreements give Blue Nile exclusivity to their diamonds. Because of this, the company can ensure that you have an outstanding line of choices from different, well-trusted companies worldwide.
James Allen
Founded in 1998 as a jewelry retailer with numerous options, James Allen says it all. With their outstanding customer service, appealing prices, and incredible diamond imagery, you will surely have a more satisfying overall experience. The company is one of the pioneers of online diamond sales, and up to this date, they continue to stand as one of the leading names in the market and industry.
They have a solid mark when it comes to returning customers, and this is one of the factors that make them undeniably unique. James Allen is a name that you can trust to deliver good quality every time. Built with sophistication and accredited by leading authorities, the company enjoys great success, and in 2015, they became one of the leading names in online jewelry sales.
Although the company comes at higher prices, the numbers reflect expertise for every ring, and it's no doubt that James Allen will provide you exemplary quality for the best possible prices. The company takes pride in their unique selection of fancy colors, which are very rare, remarkably precious, and is a unique personal touch to each piece of jewelry.
Plus, part of their focus on customer service involves operating solely online, allowing you to gain more savings in every purchase. You can have confidence and reassurance that you'll get what you expect in every purchase, as all diamonds sold by the company on their website are certified by AGS and GIA, which are known as the best-respected gem labs in the jewelry business.
---
Online Shopping for the Best 3 Carat Diamonds: Benefits and Ideas
It's no doubt that all of us want to have the perfect purchase when it comes to rings, especially if it's made for that very special person. Nonetheless, there is a reason why shopping for a three-carat diamond online is better than going to a physical store.
For starters, shopping online will help you access multiple options that you can set based on the categories and your preference. More so, you can also search online about the store and navigate your way to discover the best diamond at your utmost convenience. You can have several available options online compared to local stores. 
You are not forced to pick from a limited option. Instead, you can make a purchase at your own comfort and for your satisfaction, without the pushy salespeople that may sometimes force you to pick what you don't prefer.
Secondly, you can inspect each diamond at a more detailed level than what you usually experience at local stores. Online vendors like Blue Nile and James Allen have high-definition 360-degree videos that give you tangible cut data that you can use for comparison and analysis.
Plus, with a push of a button, you can view all the necessary specifications and a detailed guide for you to make a well-informed choice.
If you are searching for a three-carat diamond ring in the online market, you need to set a realistic budget and conduct your own price comparisons for each online vendor. You can start by building an idea or setting expectations of what works best for you. 
More importantly, you can look into our guidelines or communicate with customer service so you can have a satisfying purchase that will help you prepare for one of the biggest days of your life.
---
What to Consider When Buying 3 Carat Diamond Rings (Buyer's Guide)
Factors such as shape, cut, and carat play important roles in determining a 3-carat diamond ring's worth and overall value. Still, you need to consider personal preferences and assessing what works best for your budget. With that said, there are several ways to find a three-carat diamond ring that makes a statement with its overall quality.
Shape
Larger-mined diamonds are comparably more numerous than lab-grown ones. Ovals and Asschers are the most in-demand and fast sold shapes, but it may look either too big or too small for your hand, respectively. So, it is highly recommended that you consult an expert for perfect proportions.
Nevertheless, choosing a fancy shape will help you save much more than round shapes. For three-carats, fancy shapes might even look nicer on your finger than large circles, as they often have larger face-up sizes that make them look larger than round-shaped diamonds. 
Most importantly, choose a diamond shape that is most appealing to you and the receiver. Shape primarily reflects your personal style, so along with shape, choose a setting that is stable enough for the shape you chose.
Clarity
These features will vary from a diamond's shape and size. Usually, size magnifies a diamond's color and clarity. As the carat increases, color and clarity should also increase. 
Suggestions include considering diamonds of VS1 and VS2 quality and above to have an eye-clean, dazzling diamond. They offer the greatest value for what people can perceive with their unaided eye. Additionally, these grades allow blemishes and inclusions to go unnoticed.
Round Shape
It is a known fact that you need to stay above H color and SI1 clarity for this shape if you are sensitive to color. If you decide to go for a lower clarity, such as VS2 and SI1, then make sure that neither black inclusions nor inclusion near the main table are present.
Fancy Brilliant Cuts
Shape such as oval, pear, marquise, or cushion, it is recommended that you stay at G color and SI1 clarity. Shapes such as pear and oval can have more visible color on their tips, where color is concentrated. This becomes more evident in larger stones, like 3-carat diamonds.
Step Cuts
Going for this shape requires you to be extra sensitive to clarity. Step cuts such as Emeralds and Asschers will look best in H, VS2, and above range, so make sure that no black inclusions or inclusions are located under the main table are present.
Color
Three-carat diamonds possess great flexibility when it comes to color grade. However, they are not great indicators of your ring's look, as gemologists grade a diamond's color by looking at it from the side instead of its face-appearance. Most people find it very difficult to tell the difference from one color grade to another, though prices differ significantly. 
In general, GIA and AGS certified diamonds from D-K color is suitable for any 3-carat diamond ring. With the minute differences between color grades, what you see with your eyes is more important than what the GIA grades. 
For cheaper options, it is generally recommended to consider 3-carat diamonds in the nearly colorless range of G to I grading. The color differences are less seen in this grade than the D to F range, but they cost much less.
People can love either the icy white sparkle of a colorless diamond or the warm glow-colored diamonds perfectly set in warm rose or yellow gold, but when looking at 3-carat diamonds, make sure that the diamond appears white with its setting. They are also great ways to save some money for those who are not sensitive to color.
Setting
After finding the perfect stone, you need to choose your diamond's setting. You need to make countless decisions with this feature, and these include prong style, setting height, metal color, and setting type. Keep in mind that ring settings should improve and compliment your diamond's brilliance and appearance. They should allow your personality to shine.
When purchasing bigger diamonds, such as three-carat diamonds, a great rule of thumb is to go for a more minimal setting. The center stone does the heavy lifting, and 3-carat diamonds look best on a 1.5 mm band. Settings should handle this size to give you more durability and less worry.
Warmer-colored settings, namely yellow and rose gold, will help make diamonds with lower grades than H appear colorless, while white settings such as white gold and platinum are more suitable for H-I colors.
Another important thing to consider is to keep 3-carat stones vertical, as they will need added finger length to really stand out. More so, Emeralds and Asschers can also have more touch of mirror effect with side stones such as baguettes and trapezoids.
Cut
The cut is the most important factor among the four c's when it comes to a diamond's beauty and value. It is a fact that a three-carat diamond is only as beautiful as how it's cut. So, it is the job of the cutter and jewelry designer to bring out this beauty in each diamond. 
There are no substitutes for a precise cut diamond, but the result of the process is a sparkle, unlike any other. An exceptionally cut diamond will make it more difficult to notice the color, allowing your diamond to maximize fire and brilliance. 
Performance matters and this aspect comes from cut quality. So, your 3-carat diamond must show a great focus on style, taste, and lifestyle. Make sure that that you get an ideal cut or excellent grade from GIA.
Certification
Only consider diamonds with a GIA or AGS certificate. These are the only internationally recognized certifying labs that set the industry standards for grading diamonds.  It also assures you that what is described by a brand is validated by a well-trusted grading entity. Diamonds with other certificates have inflated grades and diamonds of poorer quality.
---
Conclusion
Three-carat diamonds are the most popular diamond to wear on any ring. The size looks flattering on anyone who wears it. Plus, it looks beautiful in the full range of diamond cuts. Although a 3-carat diamond ring will look different depending on your finger size, other factors such as cut, shape, and weight play a vital role when determining how a diamond looks.
A well-cut, brilliant three-carat diamond will surely capture the heart of the receiver and all those who set their eyes on it. Because of their beautiful carat weight, these diamond rings come in a wide variety of options that offers you a unique line of brilliance, sparkle, and shine. As a result, dramatic differences in the overall appeal and brilliance of diamonds of the same carat weight become apparent.
Nevertheless, a 3-carat diamond is a gorgeous weight for a ring on very special occasions, such as engagement. It allows you to have all sorts of impact and stylish sparkles while still looking great for everyday wear.
To have the most from 3-carat diamonds, you need to understand the different factors that make this ring worthwhile, especially the diamond's cut. Hopefully, this guide and list of the best 3-carat diamond rings from Blue Nile and James Allen helped you make the right choice for your recipient on that special day.
---
FAQs (Frequently Asked Questions)
How much is a three-carat diamond engagement ring?
One of the biggest concerns if individuals purchasing this ring is the price. When it comes to 3-carat diamond rings, the price depends on the diamond's quality. Usually, it ranges from ten-thousands to hundreds of thousands of dollars. 
If you're looking for something affordable yet of good quality, then finding the right balance for the Four C's is more than enough to keep your heart set on a diamond. More so, laboratory-created diamonds offer the same size and quality for an outstanding price.
What does "Cut is King" mean for 3-carat diamonds?
Among the different characteristics under the four C's, the cut is considered the most important factor indicating the diamond's beauty and brilliance. It's a common misconception that better color and clarity automatically translates to a more beautiful diamond. Well, sometimes the "perfect diamond" is not so flawless at all. 
Regardless of the price, color, and other specs, the most important aspect to look for in a 3-carat diamond is its cut. Good cut adds to the diamond's appeal and potential to have a lighter performance.
Why choose a 3-carats for a diamond?
There are many reasons to go for a 3-carat diamond to go with. For one, 3-carat rings are perfect for anyone with longer fingers or bigger hands. Usually, women's size is between M to L, so if you're confident that your partner's finger size falls in either option, then a three-carat diamond ring will suit just fine. 
These diamonds don't dwarf your finger, especially if your finger is a size 7. Nevertheless, a 3-carat diamond is great for a bigger diamond that gives the right amount of shine across the room.
Where can you purchase a three-carat diamond rings?
Three-carat diamond rings give you increased flexibility and more options for a larger budget and carat weight. You can find great options online for an excellent price. By doing so, you'll also come across two highly-reputable brands in the business – Blue Nile and James Allen.
Shopping online for 3-carat diamond rings gives you some helpful benefits. First, it allows you to easily access diamonds of various colors and clarity combinations and choose the best stone at your convenience and budget. You can also inspect diamonds at a more detailed level than what you normally experience in physical stores.
Which works better? Round brilliant cut or fancy diamond cut?
About 80 percent of the produced polished diamonds are round. If your recipient or partner does not have any particular shape in mind, then a traditional round brilliant cut diamond will work fine. 
Fancy cut diamonds like an emerald cut or marquise cut are mostly based on personal preferences. When going for 3-carat diamonds, some of the most popular shapes are ovals and Asschers. However, a round three-carat diamond may be perfectly proportioned to your finger, while an Asscher may appear too small, and an oval-shaped too big.
Related Resources: